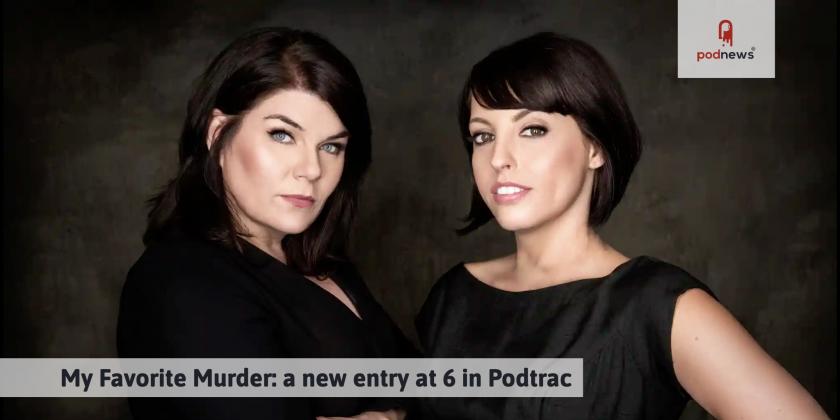 My Favorite Murder: a new entry at 6 in Podtrac
LISTEN
· · Updated · 4.6 minutes to read
Podtrac has published the top 20 podcasts for the US for April. There's no change in the top 5, but My Favorite Murder is brand new at #6. Amazon bought the rights in January; it's already a top ten podcast with Triton Digital's Podcast Ranker and Edison Research's Podcast Consumer Tracking Report. Podtrac's data is participating publishers, now including Exactly Right Media.

Of interest, Anchor artwork appears as Google's Knowledge Graph image for My Favorite Murder, rather than the real podcast image. On Spotify, a search for "My Favorite Murder" takes you to a poorly produced music album by "Penny Bank", called "Murder Podcasts", with somebody reading out a critique of podcast artwork over a cheap electronic drumbeat; and a set of more than ten playlists with the artwork and shows jumbled up into a random order. "Spotify respects the rights of intellectual property owners", they say, though when we tried to find that quote, Spotify's main website had fallen over.

First look: Veritonic has just launched an attribution solution to measure ad performance across apps, hosting platforms and listening devices.

Slate has announced that Slow Burn season 7 will be about Roe vs Wade. It's a good reminder that podcasts, over any other medium, can be agile and reflect current events.
In the UK? Make podcasts? Can you help AudioUK understand the value of the podcasts you make? The industry body has launched the 2022 Audio Production Census today; it's open to UK audio production companies of all sizes, as well as freelancers and those otherwise working independently to produce their own radio programmes, podcasts and audiobooks.

Nielsen's Gracenote is to work with Samsung Free to help them deliver better podcast recommendations and discovery. Gracenote contains enriched information about more than two million podcasts.

The Podcast Show 2022 in London (May 25-26) will start with a keynote from Podnews's Editor, James Cridland, on the present and future of podcasting. (Use code PODNEWS to save on your ticket).

Facebook has started emailing podcasters telling them that podcasts on Facebook are going away (though they never launched them outside the US anyway). It's up to us to tell our audience.

The New Zealand Podcasting Summit 2022 is on Saturday May 14 in Auckland. Expect speakers from community radio as well as Acast, Triton Digital, RØDE and RNZ.

A new service called Pod Cards makes "beautiful podcast cards" for sharing in social media or for newsletters. It's free.

Speaker submissions for Podcast Movement are closing on Friday evening. The event is in Dallas TX this August.

Popular audio editor Hindenburg can now publish directly to Headliner. The audio-to-shareable-video service joins a number of other publish targets from the editor, like popular podcast hosts and Auphonic. Headliner itself has also added support for automatic uploading to LinkedIn.

Podcast hosting tool Sounder has revealed a new analytics dashboard, including scheduled email reporting.

In Germany, Julep Hosting has enhanced their dynamic ad insertion tool to switch all ads in an entire podcast. The service also adds an impression capping tool, allowing ads to be automatically switched out once they reach enough plays.

In Austria, Hitradio Ö3 is to host what they call the first podcast festival in the country. Creatives meet Creators will be held on Jun 2 in Vienna.

In the UK? Please remember to vote today.
Tips and tricks - with SoundStack
Podcast News - with Lemonada Media
Pod Events
Getting
the
five
latest
events
This section is continually updated. Data: Podevents. See more and add yours, free
Latest Pod Jobs
This section is continually updated. Data: Podjobs. See more and add yours, free