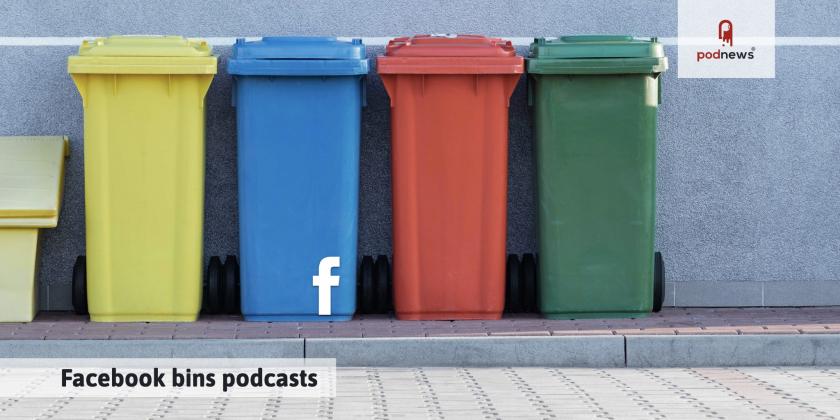 Facebook bins podcasts
LISTEN
· · Updated · 3.2 minutes to read
Facebook is pulling out of podcasts and will close the service starting Jun 3. The company will stop creators adding podcasts to the service this week. They don't plan to communicate the closure to Facebook users.

Announced in Apr 2021, and initially a Spotify-powered player, Facebook's podcast player appeared in Jun 2021, though it was only ever available in the US. It could be that Spotify's public content moderation issues had given the company second thoughts. It's a blow for podcasting, though.
Facebook was responsible for just 0.3% of all podcast downloads last month, says Buzzsprout. It had reached 0.5% in February, making it the 17th largest podcast app.

Michael Mignano is to leave Spotify next month. More below.

Nolan Investigates is to get a number of nominations in the UK's ARIAS radio and podcast awards tonight. However, the podcast contains openly transphobic material according to 166 audio professionals who privately wrote to the Radio Academy, the awards organisers, expressing their concern last month. The group released a public statement today asking that the Academy reconsiders its position; the Radio Academy has issued Podnews this response, clarifying the judging process and its policy towards diversity and representation. The investigative podcast, produced for BBC Radio Ulster by a BBC journalist, has been championed by anti-trans campaigners, and led to the BBC removing diversity schemes after impartiality concerns. The BBC is one of the Radio Academy's patrons.
Moves and hires
Michael Mignano is to leave Spotify. He's said to have given his resignation last week, and leaves at the end of June. He was co-founder of Anchor and is currently Head of Talk (Podcasts, Live, and Video) at Spotify. In January he was "Global Head of Talk Verticals" Spotify; he had been "Head of Podcaster Mission" for a while, and has also variously been called "Head of Podcasts, Live and Video", and "Head of Creation Platform". He joins Courtney Holt and Lydia Polgreen in departing the company.

Adam Donaldson has been made VP, Business Development for the Wonder Media Network. The company is hiring for more roles.
Tips and tricks - with SoundStack
Podcast News - with Lemonada Media

From Lemonada Media's BEING Studios:
Welcome to BEING: reality TV for your ears. This season, it's
BEING Trans
. Over the course of the season, you'll meet Jeffrey, a transgender man and standup comic navigating a relationship with his partner, Emma. You'll meet Mariana, a trans woman from Guatemala who is tackling tough issues at a local LGBTQ center along with her coworker Kadence. You'll meet Chloe, who's new to Los Angeles, and new to dating as a trans woman. And you'll meet Sy, who's figuring out their relationship and family dynamics with their husband Robert since coming out as non-binary trans. This is audio reality. This is BEING Trans.

Pod Events
Getting
the
five
latest
events
This section is continually updated. Data: Podevents. See more and add yours, free
Latest Pod Jobs
This section is continually updated. Data: Podjobs. See more and add yours, free
Comments via boostagram
To send us a comment, listen to this episode on a supported podcast app, and send a message using a "boost". It will appear here within ten minutes.