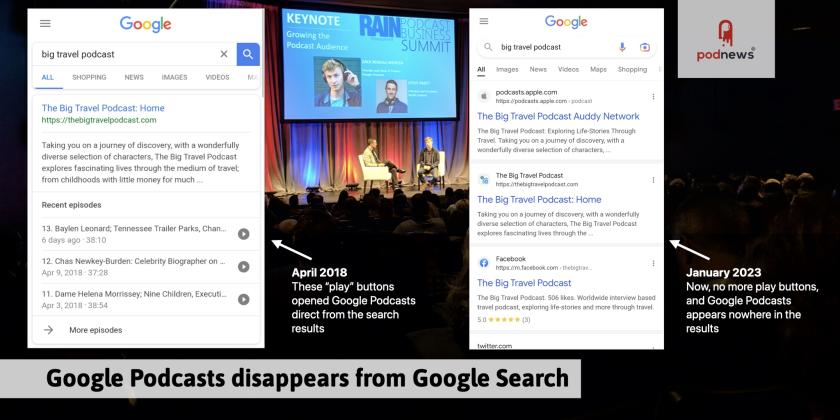 Google Podcasts disappears from Google Search
Exclusive: Google Podcasts has been removed from Google Search.

In April 2018, Google started showing individual podcast episodes and play buttons in Google Search, which opened a Google Podcasts branded player. Now, a Google search for a podcast no longer shows any play buttons linking to the service, or any links to Google Podcasts itself. A search for "history podcasts" lists a number of shows, but links to reviews, Apple Podcasts pages and other platforms.Apple 🇺🇸 Apple Podcasts 🇺🇸
A Google spokesperson tells us that this is "as intended", adding "we're constantly experimenting with ways to improve the experience for our users".
The Google Podcasts app has had no feature updates for the last eighteen months; the Google Podcasts Creators Program closed this month; and now with the removal of the product from Google Search, the business unit that owns the app, we asked if Google Podcasts is to close. The answer: "YouTube and Google Podcasts serve different needs. Both serve podcast listeners today and we are not changing this right now. We have nothing more to share at this time."

Sounds Profitable has announced new research and content partners, and their presence at SXSW and Podcast Movement Evolutions.

Magellan AI has added support for analysing Spanish language podcasts in the US and Mexico. The product is already monitoring more than 2,000 advertisers.
Moves and hires
Manuela Bedoya has been made Head of Operations at Sounds Profitable. She was with LWC Studios.
Tips and tricks - with Podcast Movement Evolutions
Podcast News - with editaudio
Mark Your Place in Internet History
Paid content
Enter The Webbys. Mark Your Place in Internet History.
Since 1996, The Webby Awards has been recognized as the preeminent international honor for Internet excellence. Last year's Webby Awards received over 14,000 entries from around the world.
By participating in The Webbys, you place your work on the same stage as boundary-pushing talent, like past Webby Winners Crooked Media, VOX, The Washington Post, The Daily, Sticher, California Love and Lemonada Media, to name a few.
Crooked Media 🇺🇸
For the first time, The Webby Awards will recognize the company with the most wins, nominations, and honored entries across categories as Podcast Company of the Year. Plus, new Podcast honors recognizing Best Partnership or Collaboration, Experimental & Innovation and Best Video Series.
Claim your place in the spotlight. The last chance to enter The Webby Award is Friday, February 10th, 2023.
Podcast data for Jan 18
Pod Events - with Radiodays Europe 2023
Getting
the
five
latest
events
This section is continually updated. Data: Podevents. See more and add yours, free
Latest Pod Jobs
This section is continually updated. Data: Podjobs. See more and add yours, free