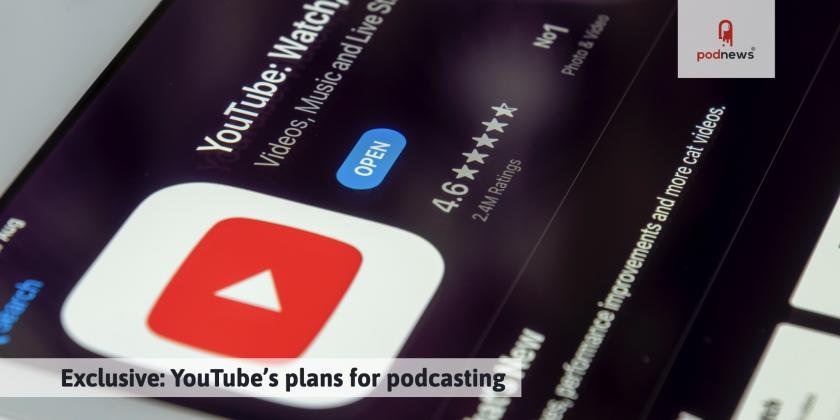 Exclusive: YouTube's plans for podcasting
This article is at least a year old
In this week's Sounds Profitable with Claritas, Bryan Barletta suggests we make competitive separation a priority in podcasting. Not to do so, he argues, is a bad listener experience - and bad business. Subscribe here.


Sep 12 2023: This broken link now points to the Internet Archive.Claritas
Exclusive: YouTube is planning tighter integration, monetisation and analytics for podcastsYouTube
Despite no announcement from YouTube's director of podcasting, Kai Chuk, at Podcast Movement Evolutions last week, Podnews has been sent an 84-page presentation produced by YouTube, intended for podcast publishers. In it, three slides marked "Looking Ahead" allow us a view into what YouTube is planning…
YouTube
Podnews
Podcast Movement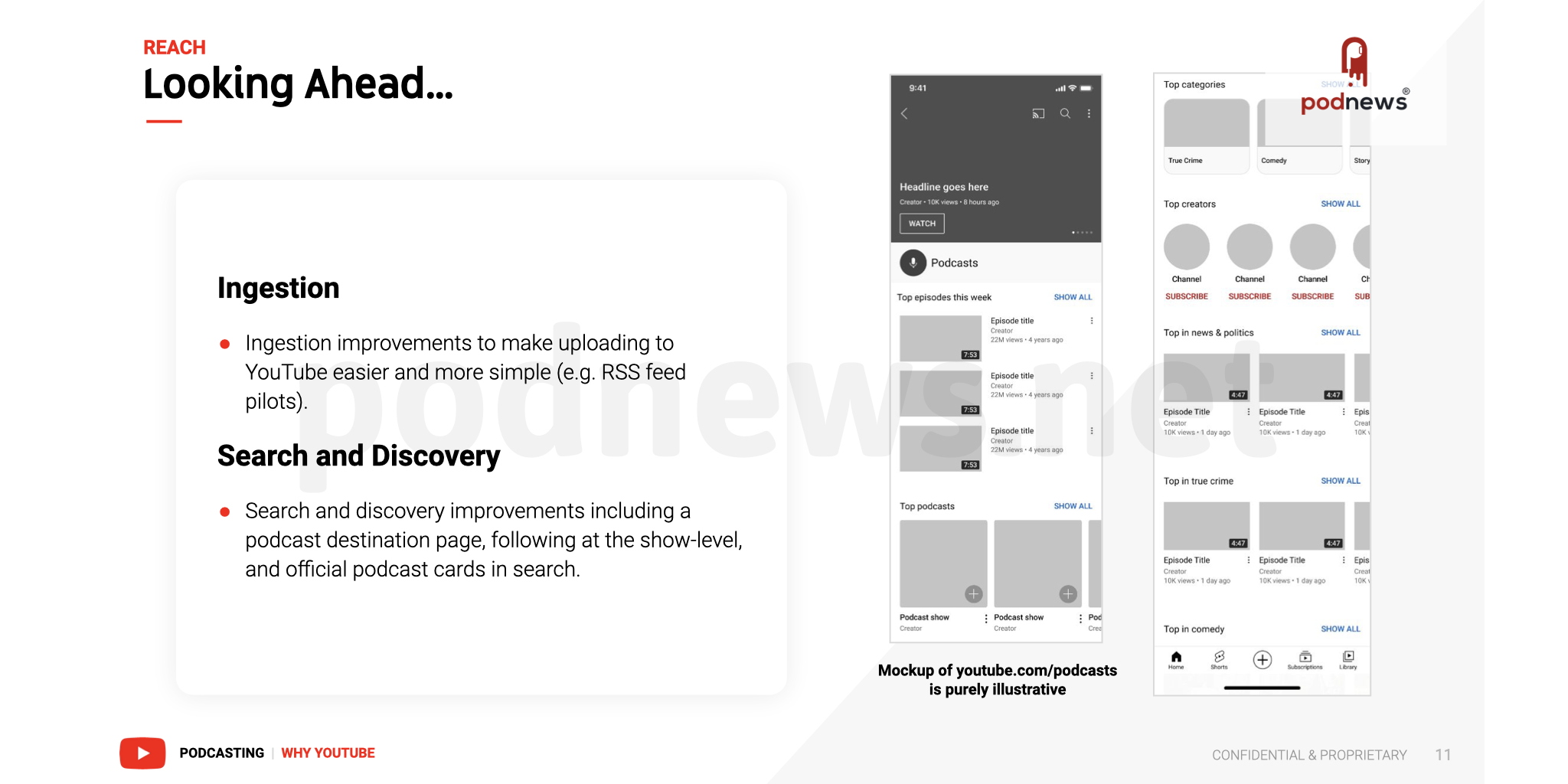 YouTube
YouTube is looking at ingesting podcast RSS feeds directly, the slides suggest, with a new podcasts homepage to be at youtube.com/podcasts (a URL that doesn't work, yet). Podcasts appear to be promoted with familiar, square, artwork thumbnails.
YouTube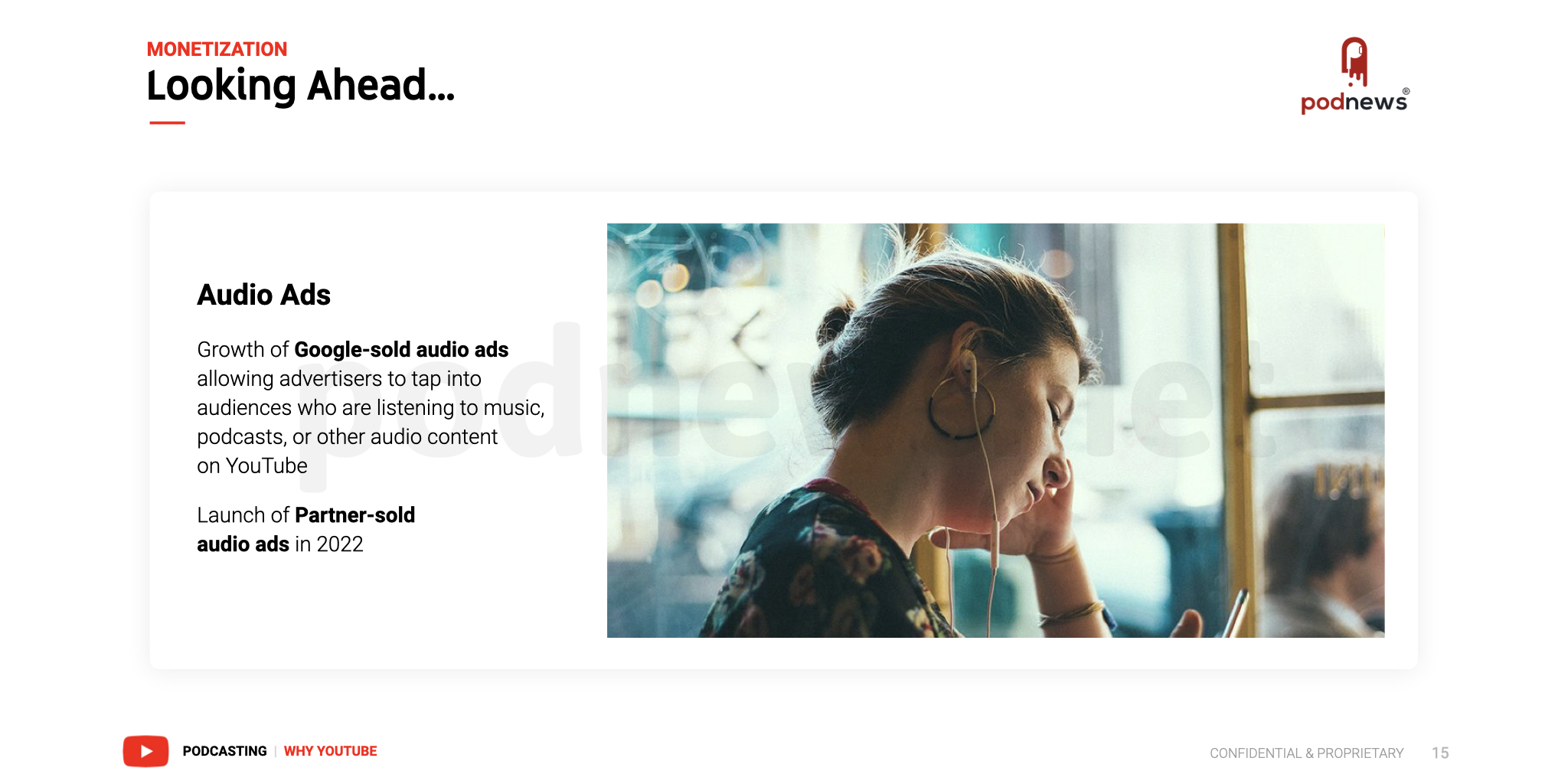 YouTube
YouTube is to feature audio ads: both sold by Google but also by partners too, if they're large enough. YouTube's standard practice has been to share revenue with publishers, so we might expect, perhaps, revenue to be shared for podcast publishers as well.
Google
YouTube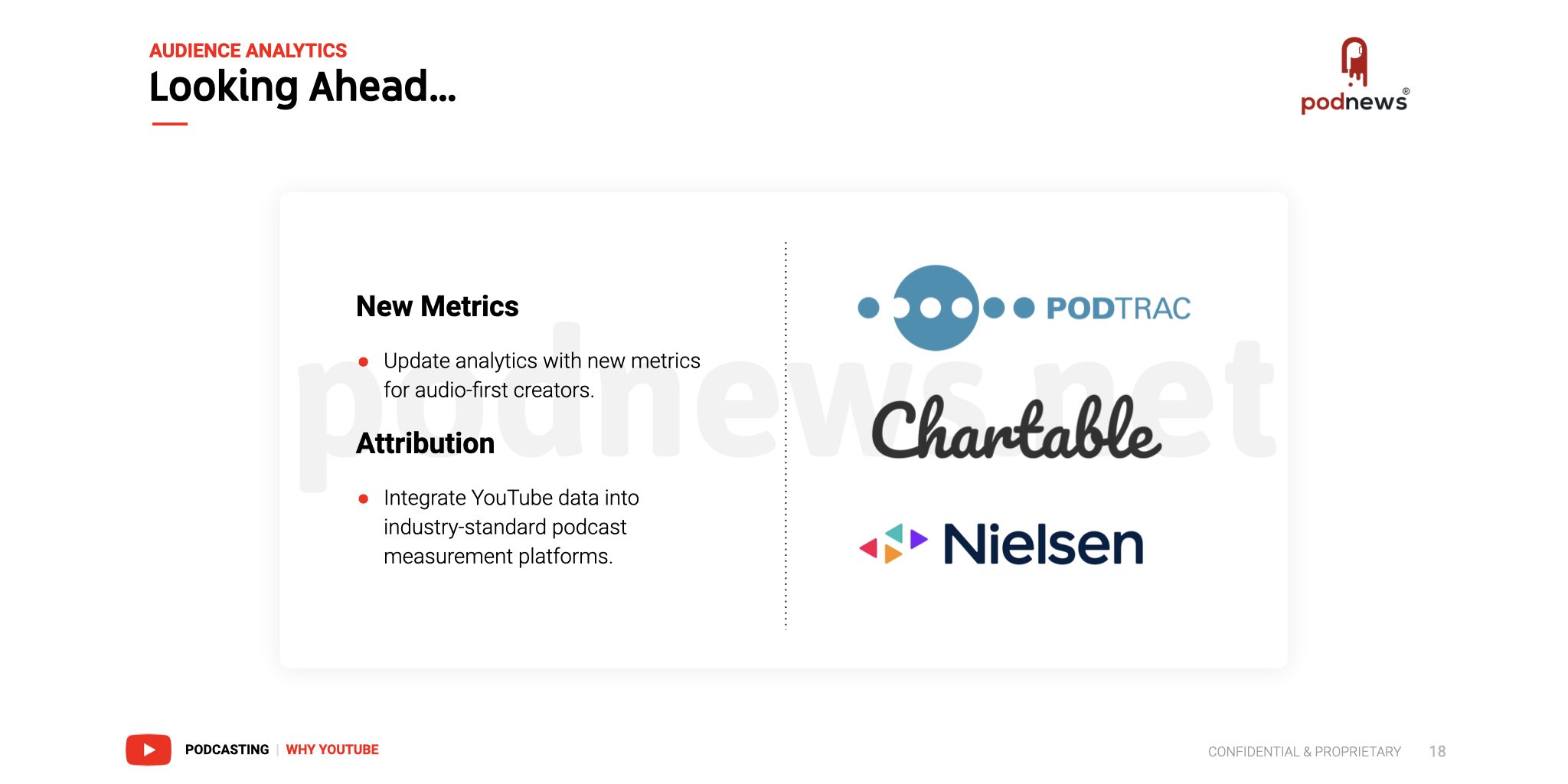 YouTube
YouTube will also supply analytics, particularly "new metrics for audio-first creators". We might expect something aligning with the IAB guidelines, perhaps. And the company appears to be working with podcast attribution, like that available from Nielsen, Podtrac, and Chartable. Chartable was bought by Spotify in February, so perhaps this slide shows companies that YouTube have worked with, rather than companies it might work with in future.
Spotify
YouTube
Chartable
IAB
We've contacted YouTube for comment.
YouTube
Supercast
Podcast News



Petrified
won a New York Festivals Radio Award for Drama Podcast in 2020 despite having only six episodes, and garnered rave reviews and gained legions of horror fans worldwide in the process. Season two of this hugely acclaimed horror fiction anthology podcast from a darker Ireland launches today, from Peter Dunne (writer/director) and Liam Geraghty (producer). Petrified tells the chilling tales of ordinary people encountering the supernatural, and their terrifying fates.