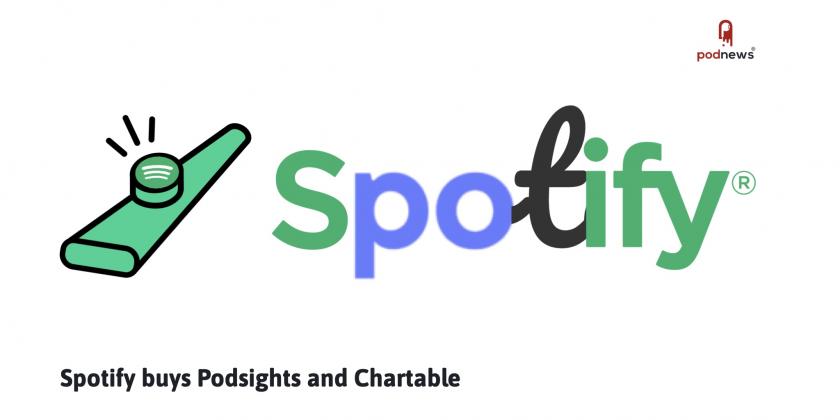 Spotify buys Podsights and Chartable
LISTEN
· · 3.7 minutes to read
Spotify has acquired Podsights and Chartable. Spotify describes Podsights as "a leading podcast advertising measurement service that helps advertisers better measure and scale their podcast advertising", and Chartable as "a podcast analytics platform that enables publishers to know and grow their podcast audiences through promotional attribution and audience insight tools". No terms were given.
Third-party analytics and attribution are critical to a growing advertising ecosystem. In podcasting, Chartable and Podsights were two of the three core providers that helped drive that point home. Spotify has bought great technology and acquired an all-star technical and sales talent, but these companies are no longer third party solutions due to Spotify's role as a publisher, hosting platform, and ad seller. Just like with Adswizz's attribution pixel and the Triton ranker, these solutions can still add value, but with this acquisition, they now lack the ability to be seen as truly neutral. - Bryan Barletta, Sounds Profitable
Thank you to Gumball for becoming our newest silver supporter. Host-read podcast ads connect listeners to brands - Gumball connects advertisers with podcast hosts to make it happen in a few clicks. You should be like Gumball.
And, thank you to Lindsay Graham for becoming our newest personal supporter. He's the host of History Daily, which has just hit 3m downloads since its launch on Nov 1. You should be like Lindsay.
Moves and hires
Podcast News - with Quill

Produced by Quill:
Contributors
features provoking conversations about how to take your organization one step further by prioritizing more than just the bottom line. Hosts Marnie Niemi Hood and Russell Evans from the CAAT Pension Plan sit down with leaders who are contributing to the well-being of the country and global stage by innovating industries and leading change.
Pod Events
Getting
the
five
latest
events
This section is continually updated. Data: Podevents. See more and add yours, free
Latest Pod Jobs
This section is continually updated. Data: Podjobs. See more and add yours, free