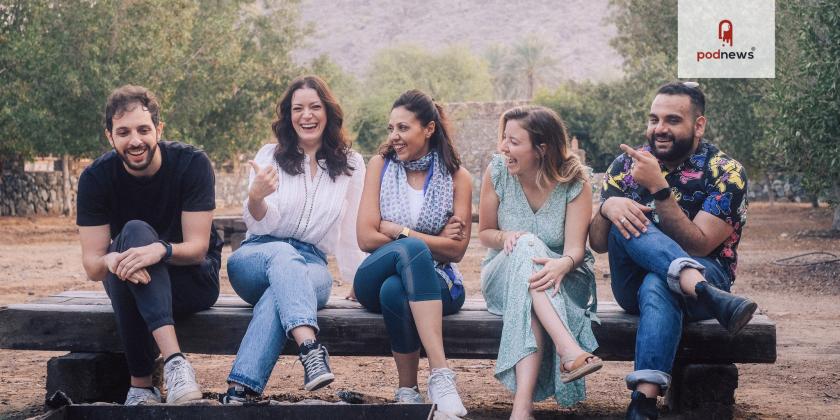 Award-winning podcast platform Kerning Cultures Network signs with Creative Artists Agency
Press Release ·
Kerning Cultures Network has signed with Creative Artists Agency, the leading entertainment and sports agency, marking the first time the influential talent agency signs a podcast network from the Middle East and North Africa.
Founded in 2015, Kerning Cultures produces immersive Arabic and English podcasts, reaching audiences across the Middle East and the U.S. One of the largest podcast networks in the region, the network's shows include B'Hob (With Love), which was awarded Apple Podcasts' 2020 Show of the Year in the Arab world, al empire, and its namesake podcast Kerning Cultures. The company has also collaborated with Gimlet, This American Life, Radiolab, and 99% Invisible, among others.
Kerning Cultures Network will work with CAA to find opportunities to adapt existing podcast IP for television, motion picture, and books, as well as breaking into global markets.
About Kerning Cultures Network
Founded in 2015, Kerning Cultures is female-led and the first venture-funded podcast company in the Middle East. Kerning Cultures features a lineup of award-winning immersive Arabic and English podcasts for curious listeners. https://kerningcultures.com/
About Creative Artists Agency
Creative Artists Agency (CAA) is the leading entertainment and sports agency, with global expertise in filmed and live entertainment, digital media, publishing, sponsorship sales and endorsements, media finance, consumer investing, fashion, trademark licensing, and philanthropy. Distinguished by its culture of collaboration and exceptional client service, CAA's diverse workforce identifies, innovates, and amplifies opportunities for the people and organizations that shape culture and inspire the world. The trailblazer of the agency business, CAA was the first to build a sports business, create an investment bank, launch a venture fund, found technology start-up companies, establish a philanthropic arm, build a business in China, and form a brand marketing services division, among other innovations. Named Most Valuable Sports Agency by Forbes for seven consecutive years, CAA represents more than 2,000 of the world's top athletes in football, baseball, basketball, hockey, soccer, Olympics and action sports, in addition to coaches, on-air broadcasters, and sports personalities and works in the areas of broadcast rights, corporate marketing initiatives, social impact, and sports properties for sales and sponsorship opportunities. Founded in 1975, CAA is headquartered in Los Angeles, and has offices in New York, Nashville, Memphis, Chicago, Miami, London, Munich, Geneva, Stockholm, Shanghai, and Beijing, among other locations globally. For more information, please visit www.caa.com.
This is a press release which we link to from our daily newsletter about podcasting and on-demand. This is reprinted verbatim; we may rewrite headlines and descriptions.