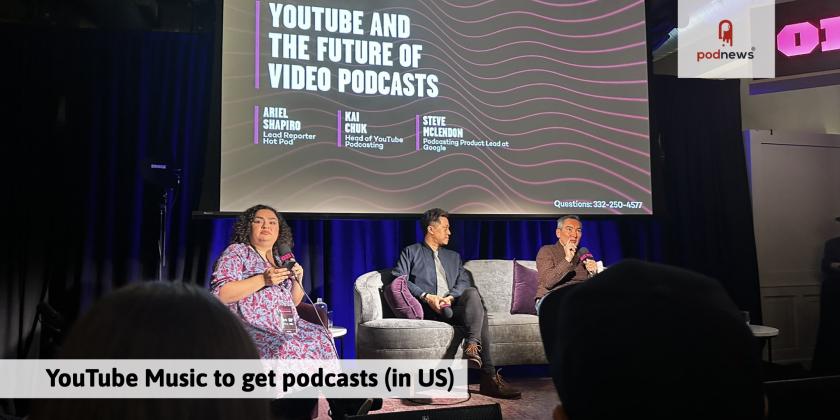 YouTube Music to get podcasts (in US)
LISTEN
· · Updated · 5.9 minutes to read
Podcast Movement
Outgoing Spotify/Parcast exec Max Cutler has posted his predictions for the industry as a whole on LinkedIn. (The piece was highlighted to us by a PR consultant, who we think is personally retained by Cutler.)

Parcast

Showbiz site TMZ is to launch a podcast network called the TMZ Audio Network.

The recipient of the Podcast Academy's Board of Governors Award will be announced later today. The honor "recognizes the impact a podcast or individual has had on the industry". We assume that The Hollywood Reporter will have all the information you should be aware of.

Futuri Media has launched RadioGPT, a service that could produce a 24-hour live and local news radio station using a mix of the company's TopicPulse trends-watching technology, AI, and automated voices.

Podsqueeze is a new service that generates shownotes, timestamps, newsletters and more for your podcast "with one click", apparently generated by AI.

Layoffs:
Thank you to Magellan AI who has increased its support level this week - the company has been a Podnews supporter for five years. Cameron Hendrix has also become a personal supporter.
Podnews
Also, thank you to Voxtopica who become a supporter today. Based in Washington DC, the company helps subject matter experts make great podcasts. Supporters help us lessen our reliance on advertising, and allow us to focus on new tools and features to benefit us all. You can support us too!
Moves and hires
Podcast News
YouTube, Google, and podcasting
Google
YouTube
In its entirety, YouTube's announcement as supplied to us:
We will soon start to bring both audio and video-first podcasts to YouTube Music for users in the US, making podcasts more discoverable and accessible, with more regions to come. This will help make the podcasts that users already love on YouTube, available in all the places they want to listen.

YouTube YouTube Music

We're also rolling out podcast creation in YouTube Studio, making it easier for Creators to set their videos as podcasts. Podcast playlists will be eligible for current and upcoming podcast features on YouTube, such as eligibility for youtube.com/podcasts, podcast badging, and inclusion in the YouTube Music app.

YouTube YouTube Music

Later this year, we'll offer support for creators to upload their audio podcasts via RSS feeds directly to YouTube.

YouTube
The announcement from the company was not accompanied by a press release or any more detail.
YouTube Music is the music app for YouTube. "Listeners will be able to consume podcasts with a locked screen" (a feature currently only available on YouTube Music to paying customers, but will be available to all for podcasts). Some reports suggest this will be ad-supported.
YouTube
YouTube Music
The product will "unify the audio and video experience for the audience". This is likely to be achieved with a switch to turn on the video, as is currently seen in YouTube Music for songs.
YouTube
YouTube Music
There will be a "podcast badge" to designate shows, and "enhanced library tools" (no detail was given).
Podcasts in YouTube Music will only be available in the US for now, though creator tools and features within YouTube will be available globally. (As one example, Podnews Daily is marked as a podcast, and plays globally).
YouTube
YouTube Music
Podnews
You can create a podcast in YouTube Studio in a feature being rolled-out: the YouTube Help website has a new page about how podcasts work on the platform.
YouTube
Audio ads will be coming to YouTube and podcasts on YouTube Music. We'd expect monetisation to be available to larger shows, as currently happens for video creators. YouTube claimed to have paid out $50bn to creators over the past three years.
YouTube
YouTube Music
The Google Podcasts app will continue to be available. It's no longer linked from Google Search, however.
Google
Google Podcasts
Is this big news? Our Editor's thoughts
YouTube is a big service: with more than 2.5bn active users (compared to just 489mn for Spotify). However, YouTube Music, where podcasts will be mainly consumed, isn't anywhere near as large: it has 80 million premium subscribers globally - Spotify has 205mn premium subscribers. And - these are global figures: and podcasts in YouTube Music won't be globally available at launch.
Spotify
YouTube
YouTube Music
The US-only launch is puzzling. Podcasts don't have rights issues, and open podcasts are available everywhere. US-only launches have been used in the past by YouTube's predecessor Google Play Music (who's podcast initiative failed/closed); Facebook (failed/closed); Pandora (failing); and Amazon Music (a market share of just 0.7%).
Amazon
Google
Amazon Music
Pandora
Podcasts can't market themselves as "available in YouTube Music" if most of their users globally can't find podcasts in there. Podcasts need to be available in every territory YouTube Music is, for this to be a success - even if the editorial curation is only US-focused at first.
YouTube
YouTube Music
Google Podcasts, meanwhile, continues in parallel: a baffling yet familiar pattern to watchers of Google products. That product is a real RSS podcast app; YouTube Music won't be (though may use RSS to grab and cache audio it uses, breaking any dynamic ad insertion on the way).
Google
Google Podcasts
YouTube
YouTube Music
YouTube Music could have a big effect on podcast consumption - or, at least, consumption of shows that we also upload to YouTube. In the short term, this is good news for companies like Adori, Vizzy or Headliner who all have services to help turn audio-first shows into video. As to whether it's good news for podcasting, I'm not so sure. Hit reply if you've strong views either way, and we'll cover your thoughts on Monday.
YouTube
YouTube Music
Podcast data for Feb 24
Pod Events - with Radiodays Europe 2023
Getting
the
five
latest
events
This section is continually updated. Data: Podevents. See more and add yours, free
Latest Pod Jobs
This section is continually updated. Data: Podjobs. See more and add yours, free