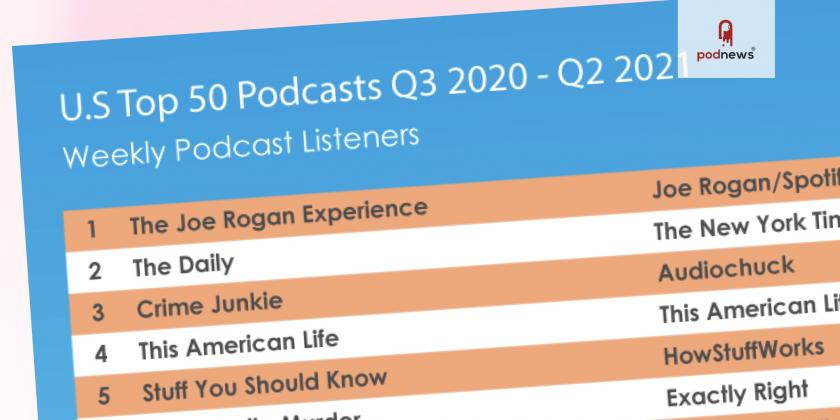 Edison Research Announces Top 50 U.S. Podcasts by Audience Size for Q2 2021
Press Release · Somerville NJ, USA · · Updated
Edison Research announces the comprehensive U.S. Top 50 Podcast chart for Q2 2021.This list ranks the 50 biggest podcasts by audience size, based on the Podcast Consumer Tracking Report, the only podcast measurement service that measures the relative audience size and demographics of all podcast networks. The Podcast Consumer Tracking Report is the only measurement based on actual listening, not downloads.
The entire list of 50 is below. The top three podcasts, The Joe Rogan Experience, The Daily, and Crime Junkie, also ranked in 1-2-3 order in the Top 50 Podcasts of 2020.
"This is the second anniversary of the Podcast Consumer Tracker, and the top shows have been fairly consistent over that time. Because our research covers the entire space, regardless of publisher or listening application, we have been able to report that stability even as the space continues to evolve," said Edison Research SVP Tom Webster.
The Edison Research Top 50 Podcasts of 2021 list is derived from data collected continuously from Q3 2020 – Q2 2021, from surveying weekly podcast consumers ages 18 and older in the U.S. Participants indicate which podcasts they listened to in the past week along with a variety of demographic, psychographic, and purchase behavior information. The results are then coded and analyzed to ascertain the genre, network, and sales representation for each podcast. The relative audience size of each podcast network is then calculated and expressed as the percentage of weekly podcast listeners reached by that network. Surveys of over 8,000 podcast listeners were conducted Q3 2020 through Q2 2021.
"What is fascinating about these data is that we are seeing some marked differences between people who primarily get their podcasts through Apple Podcasts, those who primarily use Spotify, and those who mainly use YouTube. The character of the shows--and of the audiences--differs by platform," added Webster.
Current subscribers to the Podcast Consumer Tracker include the top networks in podcasting as well as leading technology platforms, and is growing quarterly. Subscribers include SXM Media, Google, NPR, Wondery, ESPN/ABC/Disney, WarnerMedia, and more.
Editor's note: Podnews has taken the list as supplied by Edison Research, and linked to each show. We've also compared these podcasts with the last data from Edison Research for the calendar year of 2020. Note that the data overlaps by six months.
Compiled Jul 7 2020 to Jun 30 2021; 8,015 respondents. Comparison with "2020" figures: Jan 6 2020 to Dec 23 2020; 8,042 respondents
This is a press release which we link to from our daily newsletter about podcasting and on-demand. This is reprinted verbatim; we may rewrite headlines and descriptions.