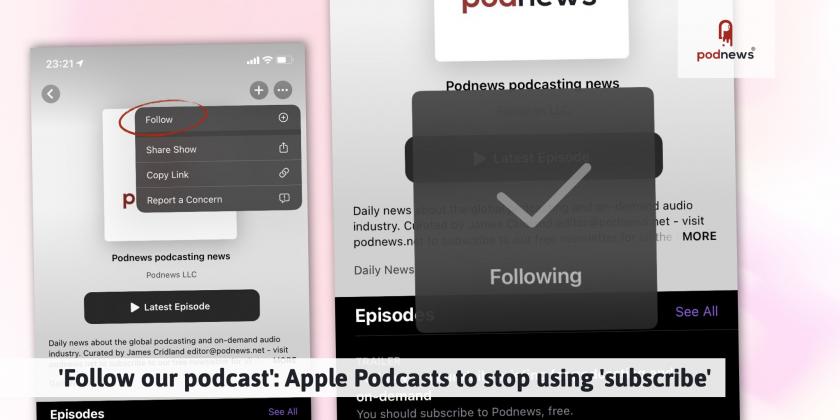 'Follow our podcast': Apple Podcasts to stop using 'subscribe'
LISTEN
· · 4.2 minutes to read
This article is at least a year old
A small change with a big impact: no more "subscribe" as podcasting moves to "follow"
Exclusive: Apple Podcasts will no longer use the word "subscribe" in a few weeks. Listeners will be invited to "follow" their favourite podcasts instead. The new wording will be in iOS 14.5, which should be released later this month (and is available in beta). We expect Apple to communicate further with creators, and listeners, when this version of iOS is released.

This seemingly small change could dramatically affect the industry. Tom Webster from Edison Research says 47% of people who don't currently listen to podcasts think that 'subscribing' to a podcast will cost money, describing it as a stone in the shoe of podcasting's growth run. He tells Podnews: "Today, Apple, Spotify, and YouTube are the three most widely used services to play podcasts, and now the word Subscribe means 'automatically download for free' in exactly none of them. Podcasters will have no choice but to adapt their language accordingly or risk confusing listeners."

Other larger podcast apps have already changed: Spotify and Audible use "follow", Stitcher uses "+ follow", and Amazon Music uses "♡ follow". Meanwhile, Google Podcasts and Castbox use "+ Subscribe", and Overcast and Castro uses "Subscribe".
Opinion: The word 'subscribe' has been confusing potential listeners for more than fifteen years. It's time for every podcast app to copy Spotify, Stitcher, Apple and Amazon by using 'follow' - and for every podcaster to follow their lead. The way we talk about podcasts has changed forever: and that's probably a good thing.
Magellan AI investigates how daily news shows place ads in their episodes. Of note: the New York Times insists on full, verbatim scripts, not talking points.
Hubbard Broadcasting, a US radio operator, has launched PodcastDC, a podcast app focusing on shows about Washington DC.
Apple is adding kids podcast recommendations to Apple Podcasts in the US, working with a non-profit company called Common Sense Media.
Gina Garrubbo, the President and CEO of National Public Media, has been named the Chair of the IAB's Board of Directors. National Public Media sells sponsorship opportunities across NPR, PBS and member stations.
Resonate Recordings has taken on a $250,000 loan from Render Capital to develop new software with the mission to make podcasting easier. They are currently developing an iOS app, the Resonate Recorder, and Resonate Hosting.
ARN's iHeartPodcast Network Australia is celebrating record year-on-year growth. The company has published detailed genre details: Business and Finance is the fastest growing category.
AdLarge has made some promotions to their senior management team. Donelle Brown has been promoted to Senior Vice President of Marketing Insights & Client Relations, and Ilwira Marciszek is now Senior Vice President, Head of Revenue Operations and Digital Sales.
Evergreen Podcasts have made an investment in the UK's Podcast Radio. The deal includes an agreement to host and distribute podcasts. No terms were given.
Back when Luminary launched, Anchor declined to allow its shows to be listed. There must have been a change of heart: there are now plenty of them to be found.
Business Insider claims, in a paywalled article, that some podcasters are "charging up to $3,500 for guests to appear on their shows without disclosing their pay-to-play tactics to listeners".
White-label voice assistants will win the battle for podcast discovery, says Techcrunch: "the voice assistant that can … search, sample and discover content through shareable bite-sized pieces will win". The paywalled piece is presented as editorial, but it's written by Amir Hirsh from Audioburst - who, coincidentally, operates a white-label voice assistant that can search content through shareable bite-sized pieces.
Want to hear podcast news every day? Follow Podnews in your favourite podcast app.
Tips and tricks - with Radiodays Asia
Podcast News

Cold Case Crime Cuts
actually elicited some laughing out loud over the weekend - it's very good. "From 'who shot who?' at the Copacabana to 'was the Deputy, in fact, asking for it?' in 'I Shot The Sheriff', American journalist (and also podcaster) Mason Lane unravels the mysteries both behind and inside the enigmas." Very recommended.
Sözəbaxanlar
is the first podcast we've ever been pitched in the language of Azerbaijani. "We talk about society and main problems that may interest majority," says one of the hosts, Nijat Ahmadli. "I wanted to share this with you, as Podnews is one of main sources that helps me while working on the episodes." (There are just 43 shows in Azerbaijani).
Pod Events
Getting
the
five
latest
events
This section is continually updated. Data: Podevents. See more and add yours, free
Latest Pod Jobs
This section is continually updated. Data: Podjobs. See more and add yours, free