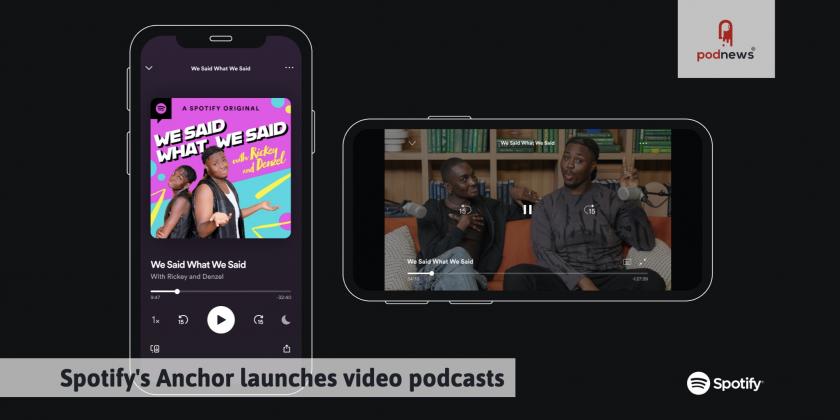 Spotify's Anchor launches video podcasts
LISTEN
· · 5.1 minutes to read
Spotify's Anchor has rolled out proprietary video podcasts to all Anchor users in the US, Canada, New Zealand, Australia, and the UK. Paid subscriptions will be available for these shows, too; additionally, Anchor has integrated with Riverside, to streamline the production of video podcasts. Anchor has posted more details, and here are Anchor's FAQs.

How do Anchor's proprietary video podcasts work technically?

We gave it a go - producing a 73MB video file in Quicktime and uploading it to Anchor. On Spotify's web player in Chrome, when signed in, the video plays - it's a .webm format video file, served in two chunks - one 34,988 bytes, one 1.5 MB, and served with security tokens by Amazon S3 via Akamai. You need to be signed-in to Spotify to see the video, otherwise you only hear the audio.
Apple's Safari doesn't, yet, support .webm format video files. On this platform it plays a number of MPEG2 .ts segments, which are presumably larger filesizes.
If you subscribe to the RSS feed from Anchor, the episode appears as audio only. The audio in the RSS feed is a 128kbps/44.1kHz stereo MP3 file, 131KB large, encoded with the libavcodec. It doesn't appear to have been normalised, so it's quite quiet. (Incidentally, we were given the RSS feed by default; but it lacks an email address - you have to configure that separately.)

What other options are there for video podcasts?

Many podcasts are available in a separate video format, like the New Media Show (video) in a different feed from the audio version of the New Media Show. Unlike Spotify's solution, they work everywhere else: Apple Podcasts, PocketCasts, and many others.
A better future alternative (perhaps) is to support the alternateEnclosure tag. That means one RSS feed, and the opportunity for a supporting RSS player to choose a different version (and perhaps switch between video and audio services as you consume it). Our RSS feed (view the source) doesn't include video, but does include an alternate low-bitrate version of our podcast.
And, of course, there's always YouTube, which allows monetisation of your videos and access to the world's second-biggest search engine. Podnews recently gained access to YouTube's pitch deck detailing its podcasting plans. YouTube's announcements are, apparently, imminent; perhaps Anchor's news will awaken the video streaming giant.
Moves and hires
Tips and tricks - with SoundStack
Podcast News - with Acast
Pod Events
Getting
the
five
latest
events
This section is continually updated. Data: Podevents. See more and add yours, free
Latest Pod Jobs
This section is continually updated. Data: Podjobs. See more and add yours, free