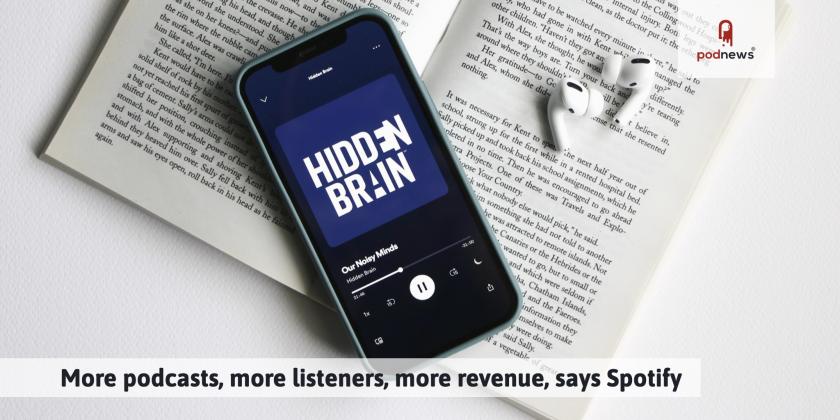 More podcasts, more listeners, more revenue, says Spotify
LISTEN
· · 5.3 minutes to read
This article is at least a year old
Spotify released its Q3/21 results. We have analysis below; but in the investor call, we learnt:


Sep 8 2023: This broken link now points to the Internet Archive.Spotify

It has 3.2m podcasts in its platform (subtext: beating Apple)
"We have become the top platform for podcast consumption in 60-plus countries. And now, according to Edison Research and our own internal sources, we recently became the number one podcast platform US listeners use the most" (subtext: beating Apple)Edison Research
In the quarter, podcast ad revenue grew 627% year-on-year, and is ahead of its plans. Revenue per listening hour is growing (and unlike music, the costs don't increase with them). But podcasts are expensive for Spotify, and "a drag on overall gross margins".Spotify
The podcast share of overall consumption hours [on Spotify] has reached an all-time high; but "one of the big things that we're still trying to learn and improve upon is just providing an even better discovery experience on podcasting".
Daniel Ek is on the Spotify: On The Record show to talk about more.

The Ed Mylett Show has signed with SiriusXM. He was hosting with Libsyn, and was independently represented.

Libsyn

The X Fronts are today (Thurs Oct 28) at 10am EST - a free, industry leading indie podcast upfront featuring some of the smartest people in the industry.
To That Point is a new podcast media company, run by Montana Blair and Jasmin Escher.
Slate is to add behind-the-scenes reading for the next series of Slow Burn to Pocket, an online reading tool from Mozilla.
Moves and hires - with Pod People
Tips and tricks
Podcast News - with AdLarge Media

Presented by AdLarge Media:
Angela Yee's Lip Service
Join hip hop radio star Angela Yee and her cast of good girlfriends as she talks sex, relationships, and everything in between with the hottest stars in hip-hop and R&B. Each week this award-winning podcast gets up close and personal in a forum that is pure fun, with storytelling like you've never heard before.


Sex, Lies and Murder
is new from Reelz and PodcastOne; there'll be 40 episodes of this to come, with the real stories of sex driven crimes that have rocked communities.
Spotify Analysis
Spotify
our Editor, James Cridland, writes:
The "number one podcast platform US listeners use the most" line will cause many tedious arguments. But, it's very carefully stated - and is related to total users, not total downloads - strictly, the answer to "What platform or service do you use MOST to listen to podcasts?" That's from Edison Research's Podcast Consumer Tracker, and is published here. It should be no real surprise. Spotify is available on Android, which has a 46% share of the US mobile market: but, despite Apple Music and Apple TV being available on Android, Apple hasn't bothered to release Apple Podcasts there. Additionally, Spotify does have a long way to go to be the #1 podcast platform for downloads, as anyone will tell you.
Apple
Spotify
Apple Podcasts
The total number of podcasts that Spotify has in its platform, 3.2m, is a relatively meaningless figure. "Over 80% of new podcasters on [Spotify] are using the Anchor platform", they say, and that's no surprise - given that Anchor automatically publishes to Spotify, and doesn't to Apple. It's not just Anchor users: only 60% of Buzzsprout's shows are on Apple; and that may be because Apple hasn't given any APIs to podcast hosting companies to make it easier. Guess who has? Spotify. If Apple are smarting at being called second-biggest and second-best, they only have themselves to blame.
Apple
Spotify
Anchor
Podcasts are significantly helping Spotify's ad revenue, which was up 75% year-on-year to €323 million ($374m). That looks good, though a) total revenue is €2,501 million ($2.9 billion), so ad revenue accounts for just 13%; and b) Q3 last year was still significantly affected by the pandemic, so a decent increase should be expected. This time last year, Spotify wasn't selling Joe Rogan, either.
Spotify
Spotify says that "the percentage of MAUs [monthly active users] that engaged with podcast content continued to increase throughout the quarter", but they aren't telling us what that number is any more - back in Q4/20, it was 25% (95m people in today's figures). A "podcast MAU" is defined as someone who has listened to more than 0 milliseconds of a podcast in a month: it's odd that they wouldn't follow the IAB standard of at least 60-seconds. As it is, if you mistakenly choose their 'driving to work' playlist, and stab hurriedly at the dashboard to avoid any hint of Michael Barbaro, you'll be classified as someone who listens to podcasts. Exaggerated though the numbers might be, we'd be keen to understand why three-quarters of Spotify users steer clear of podcasts altogether.
Spotify
IAB