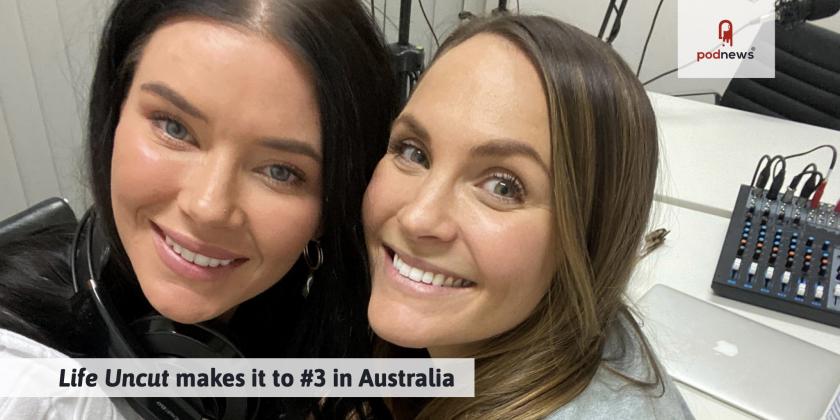 iHeartRadio still No.1 in Australia
LISTEN
· · 3.9 minutes to read
This article is at least a year old
January's Australian Podcast Ranker is out. Stuff You Should Know, represented in Australia by ARN's iHeartPodcast Network Australia, continues as #1 podcast; Life Uncut, above, is #3. Diamantina Media (represented by ARN's iHeartPodcast Network Australia) is a new publisher at #9. Downloads for the top ten publishers increased by 5.5% month-on-month.

An incomplete ranker, it measures participating publishers only. The country's largest podcaster, the ABC, is still absent.

Amazon Music has signed an exclusive podcast. COLD, which was a Wondery show, is to stream season 2 exclusively on Amazon Music next month. COLD is currently in the top 100 in 40 countries; but podcasts from Amazon Music are currently available in just six of them, leaving many fans frozen out.

Amazon Wondery Amazon Music

Podz is a new app (iOS only) that gives you automatically generated clips of podcasts to help you discover new ones. Described as a newsfeed, Katie Couric and Paris Hilton are apparently investors. CEO Doug Imbruce told Techcrunch: "The experience of discovering and consuming podcasts is ancient. It literally feels like browsing the web in 1997."
Podcast link-sharing platform pod․link has been acquired by Podsights. The deal also includes its founder, Nathan Gathright. The product is now free to podcasters.
Sounder has added a new premium user management system, allowing podcast teams to collaborate on their podcasts.
Sounder
In Austria, the Ö3 Podcast Award, which it claims is the first award for podcasts in Austria, has taken place. From 30,000 nominations, the first prize went to Erklär mir die Welt ("Explain the world to me"). Run and judged by state broadcaster Ö3, no Ö3 podcasts were eligible.


Aug 31 2023: This broken link now points to the Internet Archive.
Also in Austria, a set of regional news podcasts have been built with a tool called Sonarbird - which integrates national and local news with bespoke advertising (and from AdsWizz).


This link is no longer available, as at Aug 31 2023
Entercom has signed the Locked On Podcast Network for adsales and distribution. The network was bought by TEGNA earlier this year. Entercom will also co-produce some new shows with their own on-air personalities.
Locked On
Binaural '3D Sound' Podcasts
iHeart's announcement about their innovative new binaural "3D Audio" came as welcome validation to many binaural podcast producers.

Aug 31 2023: This broken link now points to the Internet Archive.
Tips and tricks
Podcast News - with CBC Podcasts