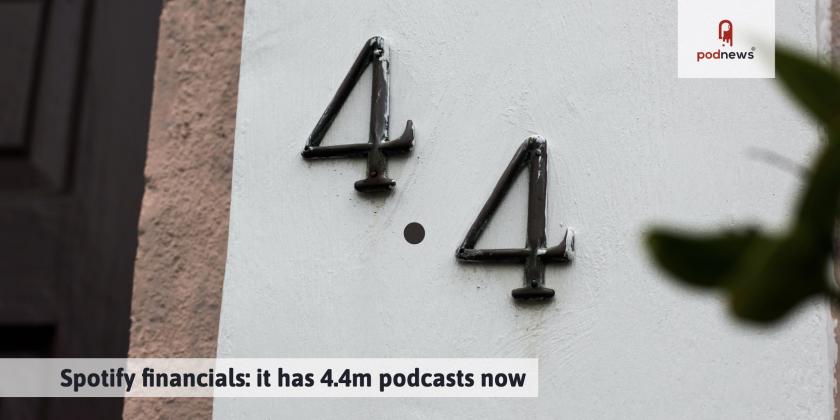 Spotify financials: it has 4.4m podcasts now
LISTEN
· · 3.3 minutes to read
Spotify published its Q2/21 financial report. which out-performed market expectation. Ignoring currency fluctuations, ad-supported revenue (including podcasting) is up 31%; the platform now has 4.4m podcasts. "The number of (monthly active users) that engaged with podcasts grew in the substantial double-digits Y/Y and per user podcast consumption rates continued to rise," though no numbers were given.

Monthly active users rose 18.6% year-on-year, a record growth; margin fell to 24.6%; the company lost €194m, the biggest loss for some time. It will hire 25% fewer people in H2/22.
Spotify has ceased selling their Car Thing product, which aimed to replace the car radio. It cost them €31m to do so.

Two CNN journalists and podcasters have been confirmed as the closing keynote for Podcast Movement 2022. Audie Cornish, a former NPR presenter and host of "a new podcast from CNN Audio", and Dr Sanjay Gupta, will be being hosted by Erica Mandy.

The BBC could be examining ways to change their financial reporting to hide their presenters' earnings for podcasts. Currently, podcasts are paid from public service money (which has to be reported, like on page 97 of their Annual Report); one potential plan is to get the commercial arm, BBC Studios, to make the shows and pay the presenters, which wouldn't fall under these rules.
Moves and hires
Exclusive: Jim Ballas has joined Magellan AI as Head of Publisher Partnerships. Ballas was CTO and VP of Operations at PodcastOne.

Mimi O'Donnell has been promoted to Head of Scripted Fiction at Spotify Studios. She's been Head of Scripted Fiction at Gimlet for the past six years, and will report to Julie McNamara, Spotify's head of talk studios.

Matthew Rouse has joined Octave Audio as Podcast lead. He joins from Mindshare. Octave Audio is a joint venture between News UK's Wireless and Bauer Media. He also hosts a podcast about house music, called House Culture.
Podcast News - with Pushkin Industries

From Pushkin:
This season on
Revisionist History
, Malcolm Gladwell focuses on experiments. Experiments that end up in salt factories and file drawers filled with carbon copies. Experimental endings to Hollywood classics and a deep dive involving… Will & Grace. On today's episode, Malcolm tells the story of his parents and their friends sponsoring Vietnamese refugees in the aftermath of the Vietnam War. Malcolm wonders: Do we underestimate the value of ordinary acts of kindness?


Harmful
is new from SBS, tackling the subject of bullying. Bullying touches most of us at some point in our lives; and this podcast asks how we can better tackle this pervasive issue in our schools, workplaces and online. It's hosted by Rae Johnston.
Number one for podcasts - Jul 28
Pod Events
Getting
the
five
latest
events
This section is continually updated. Data: Podevents. See more and add yours, free
Latest Pod Jobs
This section is continually updated. Data: Podjobs. See more and add yours, free
Comments via boostagram
To send us a comment, listen to this episode on a supported podcast app, and send a message using a "boost". It will appear here within ten minutes.