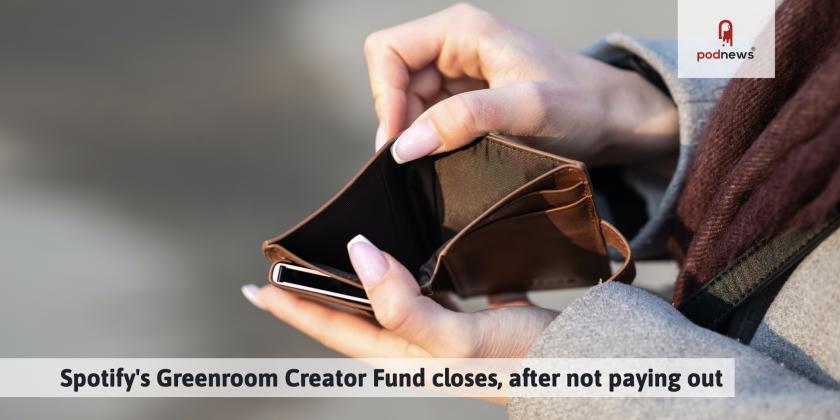 Spotify's Greenroom Creator Fund closes, doesn't pay
LISTEN
· · Updated · 4.1 minutes to read
In June 2021, Spotify announced the Spotify Greenroom Creator Fund for US creators to "support and reward creators for the communities they build and the experiences they create", as part of the launch of Spotify Greenroom. However, the fund never launched; and yesterday, Spotify emailed applicants, admitting that the program had been cancelled.

While the launch website's FAQs promised that the Fund would begin payouts "later in summer" 2021, the website still said "later in summer" in Oct 2021, and by Mar 2022, it had been amended to say that the Fund "goes live in 2022". We can find no evidence that the fund ever paid out any money.
Spotify has a track record of announcing exciting things that never materialise but which have the effect of improving its share price. In this case, the Spotify Greenroom Creator Fund, and app, allowed Spotify to outperform the market on its launch day by 0.13% (adding around $60m to its market capitalisation).

Spotify has quietly rolled-out a new misinformation policy that says it may hide shows, or in their words "restrict content's discoverability". NiemanLab has discovered the company's new rules, which Spotify have yet to announce: and nor have they added them to their public Platform Rules page.

Will podcast content be regulated? The Brookings Institution has written a document that highlights current platform policies, describes how Spotify and Apple allow listeners to report shows, and suggests areas that policy-makers might focus on.
Tips and tricks
The Logitech M650L wireless mouse (US $39) has near-silent buttons (so your microphone won't hear you clicking), can work using Bluetooth (so no USB dongle required), and has two additional thumb buttons, which you can configure for each application. We've configured one to 'cut' in our audio editor; thus removing any need for us to use the keyboard or the toolbar when editing out bad takes.
"To help me check for level - what did you have for breakfast this morning?" - many people don't eat breakfast, so Australian radio journalist Avani Dias asked for better questions to ask. She got plenty.
Podcast News - with Acast
Pod Events
Getting
the
five
latest
events
This section is continually updated. Data: Podevents. See more and add yours, free
Latest Pod Jobs
This section is continually updated. Data: Podjobs. See more and add yours, free