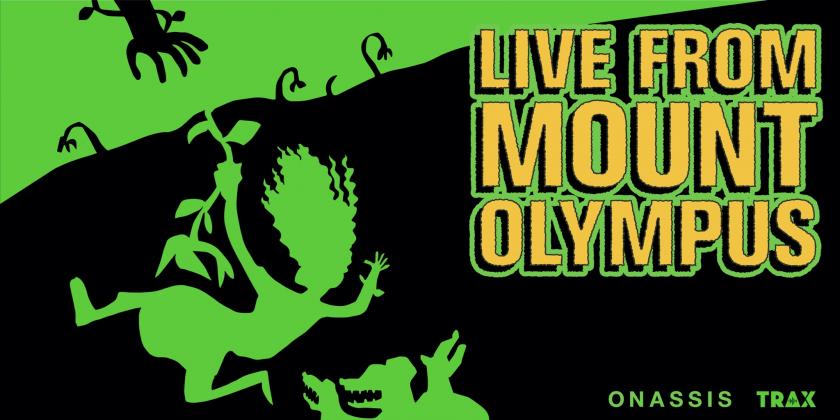 Live from Mount Olympus, the Acclaimed Greek Myth Podcast for Tweens, Returns for a Second Season
Press Release · Boston, MA, USA ·
The Onassis Foundation and TRAX from PRX are pleased to announce a new season of Live from Mount Olympus, created in partnership with the Brooklyn-based theater company the TEAM and premiering April 19. Combining the artistry of some of the foremost contemporary theater-makers with the timeless stories of Greek myth and the imaginative power of audio, Live from Mount Olympus is an adventure for tweens and families of all ages.
This season, dramatizing the myth of Persephone, Tony winner Rachel Chavkin (Hadestown; Natasha, Pierre and the Great Comet of 1812) and Keenan Tyler Oliphant (Associate Director of Hadestown and director of PlayCo's upcoming U.S. premiere of Ebru Nihan Celkan's Will You Come with Me?) co-direct a cast including Joanne Hernandez as Persephone, Tony winner André De Shields (Hadestown, the Wiz) as Hermes, with performers from the TEAM and alumnae of Epic Theatre Ensemble programs. Celebrated actors Anna Kendrick and Isabella Rossellini make cameo appearances, as Eos and Iris, respectively.
Live from Mount Olympus Season 2 begins as Persephone longs for the chance to do more than paint the flowers that bloom spontaneously in a kaleidoscope of colors as she trails behind her mother, Demeter, the goddess who makes everything grow. When Persephone breaks free to join her friends Artemis and Athena for a picnic, she is suddenly stolen away to the underworld, full of powerful gods and misunderstood monsters, by Hades, who, unbeknownst to her, has been been given her hand in marriage by her father, Zeus. On her own for the first time, Persephone struggles to find her way in the world below. In her grief, Demeter tears apart the world above to bring her daughter back to the sunlight, and nothing grows. And when nothing grows, humans starve. Will the gods resolve their conflicts so humanity can survive?
The season will comprise 10 episodes released free on-demand to listening audiences, with new episodes appearing weekly on Tuesdays, across all major podcast listening platforms, including Apple Podcasts, Google Podcasts, Sensical, Stitcher, Spotify, and Amazon Music.
Live from Mount Olympus Season 2 features artists from the TEAM including Kayla Bennett (Kallidike), Eric Berryman (Hades), Vinie Burrows (Trophonia), Jaaliyah Casey (Kallithoe), Divine Garland (Triptolemus), Mari Harris (River Styx), Joanne Hernandez (Persephone), Modesto "Flako" Jimenez (Charon), Libby King (Athena) Ian Lassiter (Zeus, Cerberus), Zhailon Levingston (Announcer), Christina Liberus (Artemis), Nehemiah Luckett (Apollo) Kimberly Marable (Metaneira), Jake Margolin (Oceanus & Keleus), James Harrison Monaco (Ares & Helios), Kristen Sieh (Rhea, Iambe, The Hundred Handed Ones), Nidra Sous la Terre (Demeter), Ching Valdes-Aran (Hecate), and André De Shields as Hermes.
Live from Mount Olympus is created and produced by show-runner Julie Burstein, creator of public radio's Studio 360 with Kurt Andersen, and executive-produced by Karen Brooks Hopkins, Senior Advisor of Onassis USA, who served as President of the Brooklyn Academy of Music (BAM) from 1999 to 2015, and co-produced by the TEAM.
Live from Mount Olympus is written by Nathan Yungerberg. Tessa Zitter is assistant producer, and Yonatan Rekem is assistant editor. The audio production and mix is by John Melillo. Magdalini Giannikou composed the music, with help from Luca Bordonaro, and the score is performed by Banda Magda. New Yorker cartoonist Jason Adam Katzenstein created the illustrations and serves as humor consultant for the series.
The first season of Live from Mount Olympus dramatized the myth of Perseus and garnered vast praise upon its release last year. In a Critic's Pick review for The New York Times, Maya Phillips called the podcast "delightful" and wrote, "Between the rivalries and the affairs, it's everything tweens catch between the morning bell and sixth period, with the added bonus of fantastical landscapes and magical happenings. But there is also heft to these stories." Live from Mount Olympus appeared on New York Magazine's Approval Matrix as "brilliant"; was included by WIRED as one of the "Best Podcasts for Kids"; and was featured on ABC's "Good Morning America" and WNYC's "All of It with Alison Stewart." It was also nominated for a 2021 Webby Award for best limited series and a 2022 Kidscreen Award for best mixed-media series and was recognized as Best Kids Podcast in Bullhorn's 2021 Podcast Awards.
To tide fans over between seasons 1 and 2, the Onassis Foundation and TRAX have launched a series of monthly short audio stories called "mythlets" that can be found now in the podcast feed.
Onassis Foundation President Antonis Papadimitriou says, "I am so proud that the Onassis Foundation has initiated this wonderful podcast, breathing contemporary life into these magnificent ancient Greek stories. Live From Mount Olympus connects with a broad range of listeners, showing the universal appeal and timeless nature of these traditional myths."
Karen Brooks Hopkins says, "I am so grateful to our remarkable Live from Mount Olympus creators and artists as well as the Onassis Foundation for bringing these incredible stories to our large family audience. The tale of Persephone is electrifying and features a young woman entering adulthood and being cast into the scary universe of the underworld and simultaneously into marriage with Hades. Live from Mount Olympus finds the optimism and humor in the story, as Persephone grapples with her own choices and what it means to be a grown up."
Julie Burstein says, "Once upon a time, myths helped us understand how the world works and how we find our own place within it. They still do. It is thrilling to work with such a talented team to explore facets of this ancient story that resonate today. The medium of audio is ideal for creating the strangeness and beauty of this mythic world and activating the imaginations of our listeners."
Keenan Tyler Oliphant explains, "It's been such a pleasure getting to dig into Persephone this season and to see the real magnitude that these ancient stories hold. I was struck particularly by the personal connection I formed with Persephone, as her journey so mirrored my experience as an immigrant. The way she has to navigate the emotional experience of living in two worlds is such a potent expression of the liminality of immigration. How do you hold both the joy and the pain of being away from home or your homeland? Witnessing Joanne grapple with that reality through her performance was really beautiful. I was also continually struck by the depths of the mother-daughter relationship and the way it evolved over the reason. I think it's really quite illuminating and exciting to see the ways stories that we know can continue to give us new perspectives based on the way we look at them."
Rachel Chavkin says, "The process of making Live from Mount Olympus is one of the most exuberant creative experiences I've ever had, and I love this season. Nathan has done an extraordinary job telling the coming of age story of a bold young woman who is bringing color and her own voice to the world—both above ground and below. Joanne as Persephone is emotional and hilarious. The whole cast is bringing JOY."
For more information, please visit onassis.link/olympus.
Listen
This is a press release which we link to from our daily newsletter about podcasting and on-demand. This is reprinted verbatim; we may rewrite headlines and descriptions.
This page contains automated links to Apple Podcasts. We may receive a commission for any purchases made.