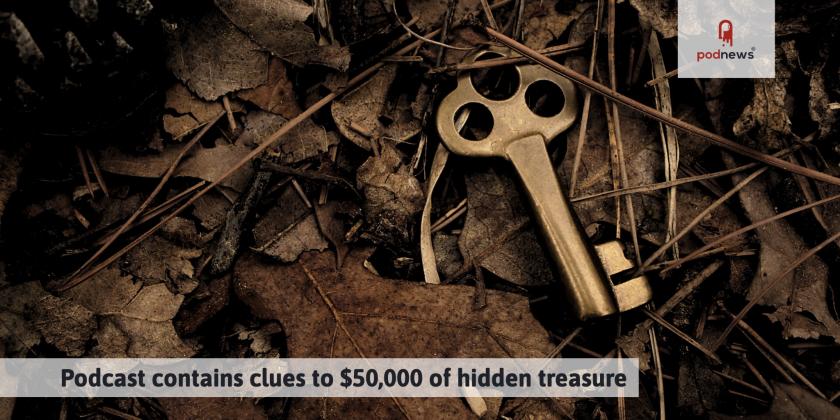 Podcast contains clues to $50,000 of hidden treasure
LISTEN
· · 4.5 minutes to read
Cavalry Audio is running a hidden treasure hunt as a podcast. Buried in the episodes of X Marks the Spot: The Legend of Forrest Fenn lie clues to $50,000 of treasure. The podcast was launched in June; but only now has the company unveiled the existence of the hidden treasure. The show follows the history and subsequent controversy surrounding Forrest Fenn, a New Mexico art dealer who, in 2010, reportedly buried $2 million in gold somewhere in the Rocky Mountains.

In a step forward for podcasters wishing to enable value-for-value streaming, podcast host RSS.com has partnered with Alby to seamlessly power "boosts" and "boostagrams" with a free lightning wallet for every one of their podcasters, to support the new payment and comment standard. RSS has produced a video showing how it works on their platform.

Black Podcasts are an "untapped ownership opportunity", says Lloyd George, writing for Sounds Profitable. "The podcast industry is ready for more Black creators, startup founders, and executives."
The Dutch public broadcaster NPO has shared with Podnews the results of some research they did on podcast artwork. Testing a set of different artwork alternatives on more than 1,000 people with research company GfK, they discovered that people prefer: a. being able to see the title of the show in the artwork, b. to have an image of the host (which is 'almost always best'), and c. that a publisher logo on thumbnails is preferable to most people. Stijn Roelofs would love to hear from others who've done similar research.

Acast has teamed up with Wondery to host, monetize and distribute three shows, translated into Italian for the first time: Business Wars, Dr. Death, and almost inevitably, Bunga, Bunga the story of the former Italian prime minister (and would-be presidential candidate), Silvio Berlusconi.

The Irish Podcast Awards has announced the inaugural list of nominees. The winners will be announced on Sept 16 in Dublin.
The first podcaster?
It's been great to hear from people about whether Robin Williams was the first podcaster, as we wondered yesterday. Many agree.
We suggested in the article that it wasn't an automatic download. Guy Story, who led Audible's technology at the time, corrects us: "It was possible to get automatic download of subscription content, such as the Robin Williams program. If your Audible MobilePlayer was sitting in its dock, the Audible desktop software would download the new episode and transfer it to the device. No RSS yet, but still pretty great." (Sounds like a podcast to us!)
Some, like the Argentinian podcast En Caso De Que El Mundo Se Desintegre, suggest that they might have been the first podcast, delivered using the Channel Definition Format within Microsoft Internet Explorer 4 in 1999. (Our take: yes, but the CDF specification didn't appear to have a concept of audio, the user interface wasn't for audio, and there was no interface for downloading and transferral to a portable player.)
Others suggest that they posted RealAudio files to stream on their websites, or MP3s to download. San Francisco's Edward Champion pointed us towards Pirate Jack's shows, including his stuff, and this beautiful website for The White Noise Radio Theatre. Rob Greenlee was doing similar. (Our take: yes, but without software to download and transfer the shows to a portable player, is that a podcast, or just on-demand audio?)
What's clear: the first "audio referenced by an enclosure tag in an RSS feed", later known as a podcast, was Christopher Lydon, on Jul 9, 2003.
But, although he wasn't using RSS, Williams's description of what he was doing is, undoubtedly, what we would call a podcast today: producing a show that you could automatically download and transfer onto your portable player.
Many of our readers feel warmly towards Robin Williams; and there are no right or wrong answers here. It's been a pleasure to show just a little of the history of our medium.
Podcast News - with Pushkin Industries
Number one for podcasts - Jul 27
Pod Events
Getting
the
five
latest
events
This section is continually updated. Data: Podevents. See more and add yours, free
Latest Pod Jobs
This section is continually updated. Data: Podjobs. See more and add yours, free
Comments via boostagram
To send us a comment, listen to this episode on a supported podcast app, and send a message using a "boost". It will appear here within ten minutes.