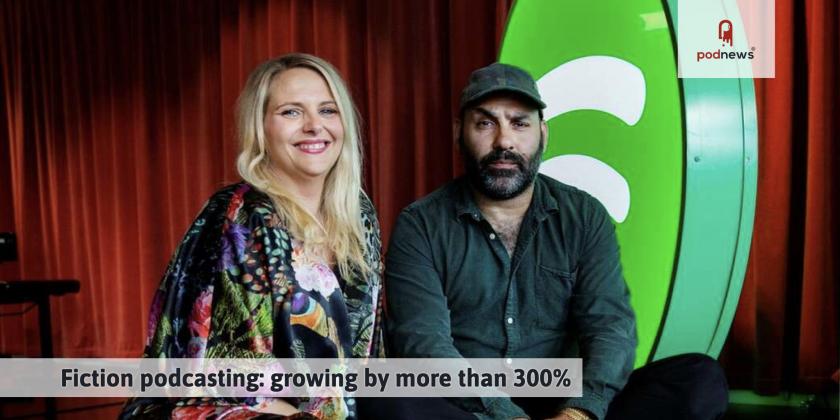 Fiction podcasting: growing by more than 300 percent
LISTEN
· · 2.3 minutes to read
This article is at least a year old
Listening to fiction podcasts have grown by as much as 338% in Sweden in the past year, according to Karin Bäckmark, Spotify's Nordic podcast manager (pictured, left). The company has announced a new audio drama, called De Fria, which will start recording on location near Nynäshamn in September. It'll be released in 2022, and will be directed by award-winning director Peter Grönlund (pictured, right), produced by Munck Media.

The social podcasting app GoodPods has received an update this week, with good news for indie podcasters. The leaderboards (hit search, then scroll down) have an "indie only" switch, which filters out the corporate shows. There's also a "your friends listened-to" view, also to help discover new shows. You should claim your podcast (edit your profile), too.

The June 2021 US Podcast Report is out from Triton Digital. Stitcher are #1 for a second month, beating NPR (though iH eartRadio isn't measured). Average weekly downloads for the top 10 publishers were up by 5% year-on-year, in spite of an Apple Podcasts auto-download bug and a shift to IAB v2.1. (One investment analyst recently used figures from the competing Podtrac ranker to claim podcasting was in negative growth).

Apple Apple Podcasts Triton Digital Stitcher IAB
Podcast Movement
Digital Music News suggests that Meghan Markle and Prince Harry got $25m from Spotify last year, but so far have only made one, 35-minute, show.
Spotify
Tips and tricks
Podcast News

Podland News
this week with James Cridland and Sam Sethi talks to Nick Hilton about his new podcast, Jemily Rime talks about the future of podcasting, and Zach and Rock from Squadcast talk about their new release, which'll go down well with one of the sponsors, Riverside FM. Also sponsored by Buzzsprout.
Buzzsprout
Riverside

Jools and Jim's Joyride
is back for a new season: musician Jools Holland and surreal comedian Jim Moir have a relaxed, rambling chat with celebrity friends about transport, travel, trips and tittle tattle. The first guest is Rob Brydon.