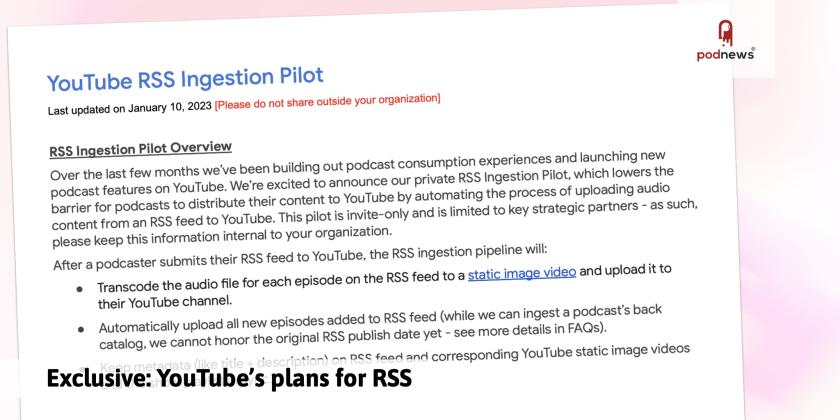 Exclusive: YouTube's plans for RSS
LISTEN
· · 2.4 minutes to read
Exclusive: Podnews has obtained a document with full details of a YouTube "RSS Ingestion" pilot that it is running with some partners. The service pulls new audio from an RSS feed to upload it to YouTube, complete with a static image of the show art. Shows already using it are CNN's One Thing and CityCast Pittsburgh.

YouTube Podnews

Unlike other RSS-based podcast platforms, YouTube will not offer "passthrough": the RSS feed is just a way to automatically ingest the audio, once, to their systems. "Your hosting company cannot see how many times a podcast episode was listened to on YouTube because all podcast content on YouTube is hosted on YouTube."YouTube
YouTube requires that podcasts must not contain any ads. "Regular ads are not allowed to be uploaded to YouTube. We request feeds to be ad-free." Sponsored segments can, however, be included if manually marked as such.YouTube
On a technical level, YouTube crawls each RSS feed every five minutes. Publishers can add a rectangular image for YouTube, using a media:thumbnail tag; only static images are supported.YouTube

The Ben Shapiro Show and other Daily Wire podcasts will be distributed on Twitter, the company has announced, after success with one of its shows.

The Podcast Show 2023 in London has kicked off. Our Editor was the first speaker: highlighting that the industry should focus more on engagement and time spent listening to grow podcasting, and defend the unique nature of the open medium.
Apple
Google
Apple Podcasts
Podcast Movement
BBC Sounds has announced a set of new shows, and that the BBC is to work with Spotify's Megaphone to "recommend relevant content to audiences on other podcast platforms in the UK". The deal means that Spotify's Megaphone will programmatically schedule trailers, for UK listeners, on BBC shows carried on third-party platforms. The BBC has confirmed to Podnews that this does not affect the BBC's deal with Acast for monetising their shows outside the UK.

Acast Podnews Megaphone

The second annual CLUE Awards, 'dedicated entirely to excellence and responsible storytelling in true crime content', is open for submissions. You've until July 31 to enter.

How will AI transform the podcast industry? Maxime Piquette, the CEO of Ausha, suggests it is possible to use AI in every step of podcast creation.

Ausha

Steven Goldstein reviews the New York Times's new NYT Audio app.

Ever Gonzalez writes about the successful Outlier Podcast Festival, which took place this weekend.

A new podcast data website has been launched. "This will allow users to query the Podcast Index in a user friendly way, with extra data that we computed," says the website owner, Benjamin Bellamy. The initial beta focuses on French-speaking podcasts.
Tips and tricks - with Podnews Live - where podcasting connects
Podcast data for May 24
#1 in Apple Podcasts

Blind Plea (Lemonada Media)

The Diary Of A CEO with Steven Bartlett (Steven Bartlett)
#1 in Spotify

The Joe Rogan Experience (Joe Rogan)

The Joe Rogan Experience (Joe Rogan)
Over the last week, 204,357 podcasts published at least one new episode (down 5.6%). source
Events
Getting
the
five
latest
events
This section is continually updated. See more and add yours, free
Latest Jobs
This section is continually updated. See more and add your vacancies, free