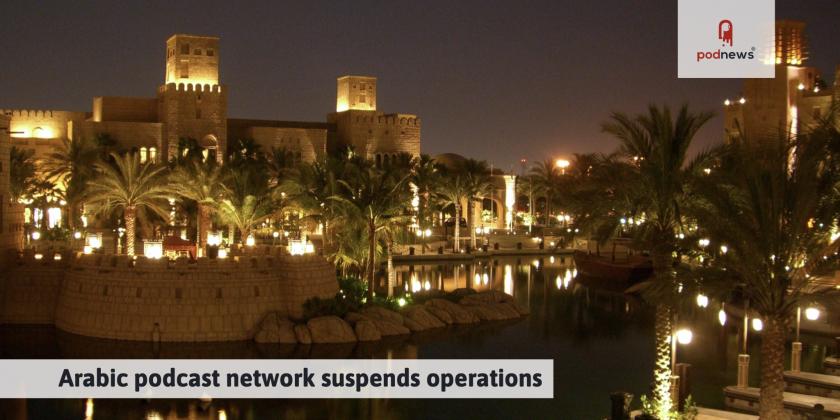 Arabic podcast network suspends operations
LISTEN
· · 4.7 minutes to read
Google
Podcast Movement
Triton Digital (Podcast Movement booth #201) released the US Podcast Ranker for July.

Triton Digital Podcast Movement

Music royalties organisation SoundExchange has filed a lawsuit against SiriusXM (#520) for unpaid music royalties. The lawsuit is related to the company's radio services, not podcasts.

SiriusXM

Libsyn (#101) is doing a $250,000 podcast advertising giveaway at Podcast Movement next week.

Libsyn Podcast Movement

Starglow Media, a kids and family audio company, launched in Los Angeles. Some shows on their slate join from Glassbox Media (#412) and Wondery (#864).

Wondery Glassbox Media

PodcastDb and Sonnant have launched a podcast advertiser directory to allow agencies to find and buy into podcasts of all sizes.

In Kenya, podcast hosting and distribution platform Afripods has formally announced its brodcast-to-podcast platform. It's already being used for more than a hundred stations across Africa.

In Nigeria, The Podcast Assembly has been announced for September 30, International Podcast Day. The event will be held in Lagos, with sessions, panel discussions, and interactive workshops.

The nominations of the New Jersey Web Fest were announced. There are nominations from a large number of audio fiction producers.

Audio Wave Network, a podcast studio in Detroit, suffered a breakin.
The
Podnews Weekly Review
today features a number of interviews including Jay LeBoeuf from Descript, Zach and Rock from SquadCast. The show uses chapters - so you can skip to the best bits.
Podnews
Descript
SquadCast
Acast vs Spotify cage fight
Acast
Spotify
Acast's decision to refuse advertising using Spotify's Ad Analytics from Sep 1, which we reported yesterday, has Spotify giving us this comment:
Spotify
"The ongoing results of Spotify's commitment to growing audiences and monetization for creators speak for themselves with tens of millions of new podcast listeners and industry-wide podcast ad revenue growth of over 250% since 2019. By working closely with partners across the industry and innovating to meet their needs, we've become the number one platform in many markets worldwide. Acast's decision to limit campaign insights, reach and performance will negatively impact advertisers, publishers, and creators, hurting the openness of the ecosystem and creating a downstream impact on their bottom line. We remain committed to investing in the industry's long-term success."
Ross Adams, Acast's CEO, wrote: "I firmly believe that the key to unlocking the true potential of podcast advertising lies in detailed and impartial measurement, especially when it comes to attribution … As champions of the open podcasting ecosystem, we firmly believe that a rising tide lifts all boats. We are dedicated to fostering an ecosystem that benefits all players, where success is shared by creators, advertisers, and the industry as a whole. … At Acast, we recognize that independence and objectivity are vital for advertisers and the industry as a whole when it comes to measurement. To ensure that impartiality, we have always partnered with trusted third-party partners for measuring and reporting on campaigns."
Acast
Tips and tricks - with Pod Predictor by Coleman Insights
Podcast News - with Airwave

Part of the Airwave podcast network:
Tumble Science Podcast for Kids
explores stories of science discovery - for the whole family. Join Lindsay Patterson and Marshall Escamilla as they ask questions, uncover mysteries, and share what science is all about.


HOFs The Podcast
is a new show "offering a unique experience of deep dives into the lives of sports' most iconic figures
from the legends themselves
". It's hosted by C. Lamont Smith, a renowned sports agent who guided the career of five Hall of Famers.

Employees Only
is a new improv series from iHeartPodcasts and Imagine Audio featuring the news of the day through the comedic voices of the colorful employees that make up the fictional retail giant, Buywell. Listeners are invited to be a "fly-on-the-wall" in Buywell's break room as its employees give their unfiltered take on the news that really "matters."


Waterlands
is
back for a second season
; the show from The Wildfowl & Wetlands Trust looks at the watery habitats that surround us, telling the stories of the people and places that have been shaped by them. It's produced by 18Sixty.
Podcast data for Aug 18
Pod Events
Getting
the
five
latest
events
This section is continually updated. Data: Podevents. See more and add yours, free
Latest Pod Jobs
This section is continually updated. Data: Podjobs. See more and add yours, free