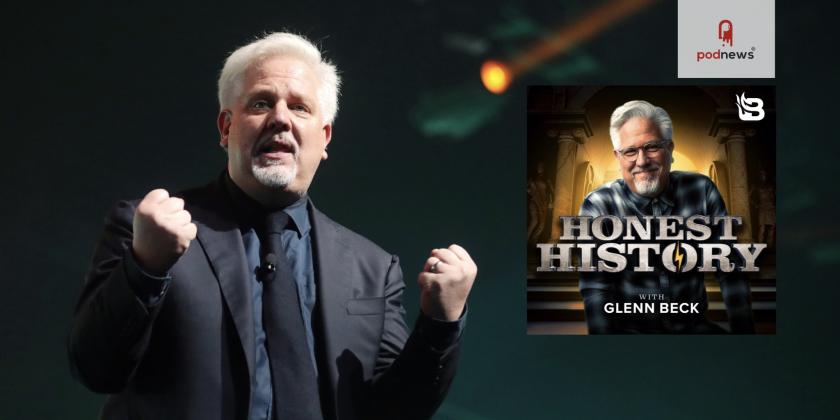 Was Glenn Beck censored by Apple Podcasts?
· By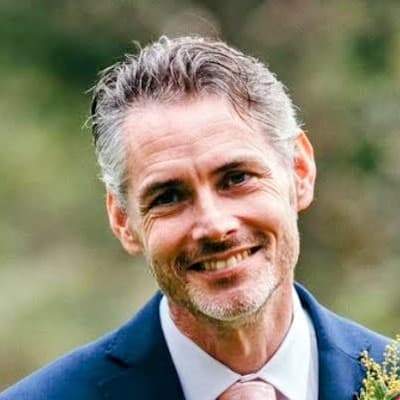 James Cridland
· 3.6 minutes to read
"We're not playing this game! We don't censor anybody. And out of all the shows, my show is the one to get nailed." - Glenn Beck, in a video, after Apple Podcasts temporarily removed his show from the platform.
Was he cancelled? Censored? Or was it just a glitch?
A new history podcast
On June 25, Beck released a pilot of a new history show called Honest History into the feed of The Glenn Beck Program.

The show had Honest History branding, and a description talking about science and experts. According to a trailer: "For those of you who can't get enough of Glenn's unique takes on history, there is good news: Glenn is starting a new podcast pilot called Honest History in which Glenn will trace the roots of modern issues and ideas back through the years and shed light on figures concealed by the fog of time."
Honest History magazine complains
Honest History is a magazine - with a podcast - for kids. It has a number of registered trademarks, including 6504087, which is for "… audio recordings, in the fields of history and education for children …".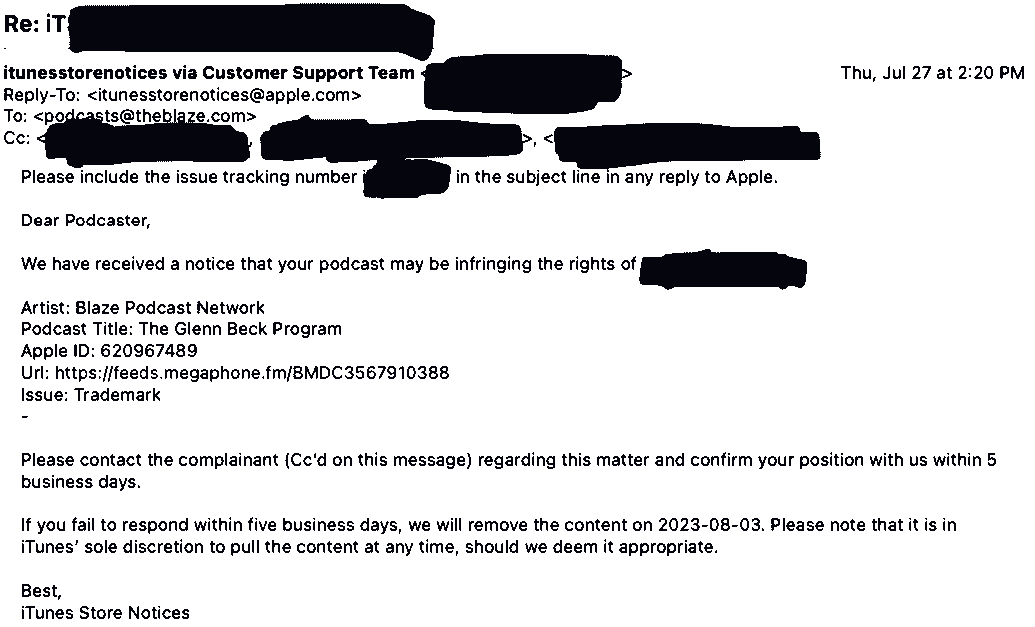 Honest History Co made a trademark dispute with Apple Podcasts, and Apple sent an email, above, on July 27 to the Blaze Podcast Network.
"If you fail to respond within five business days, we will remove the content, on 2023-08-03", the email said. However, Podnews understands that Beck's team failed to respond.
The show was removed, seemingly on Aug 16, triggering another email from Apple.
Beck released a video, making insinuations that the show was removed deliberately:
I cannot imagine what they are basing this one on. I mean, have we even had strikes? Nothing. Right? This is crazy. Crazy. You need to please retweet this and start a campaign to Apple to say put the podcast back on. This is absolutely freedom of speech. There's nothing that we have said that would warrant any removal. Again, it's probably just a "glitch". But it's amazing how we have to have a whole bunch of people point out the "glitch" before the "glitch" is found and it's put back. Man. This is huge. Well, I'm getting ready to do the show for or rehearse the show for tonight. Tonight's a really important maybe that's what it is, is they are they just maybe they're just smoked because, you know, I'm pointing out the real crime family tonight on Blaze TV. This is why it's so important to get Blaze TV, because we're not playing this game. We don't censor anybody. And out of all the shows, my show is the one to get nailed. Interesting!
However, after the show's removal, it appears that someone in Beck's team read the email and acted upon it, removing the Honest History episode and republishing the feed.
Apple reinstated the feed to their directory within a few hours, we understand. Throughout, existing listeners on Apple Podcasts were unaffected, though the show disappeared from search while the show was not available.
On Glenn Beck's website, the show's page is now called "History Pilot"; but, as you can see below, not every trace of Honest History has disappeared from the site's data.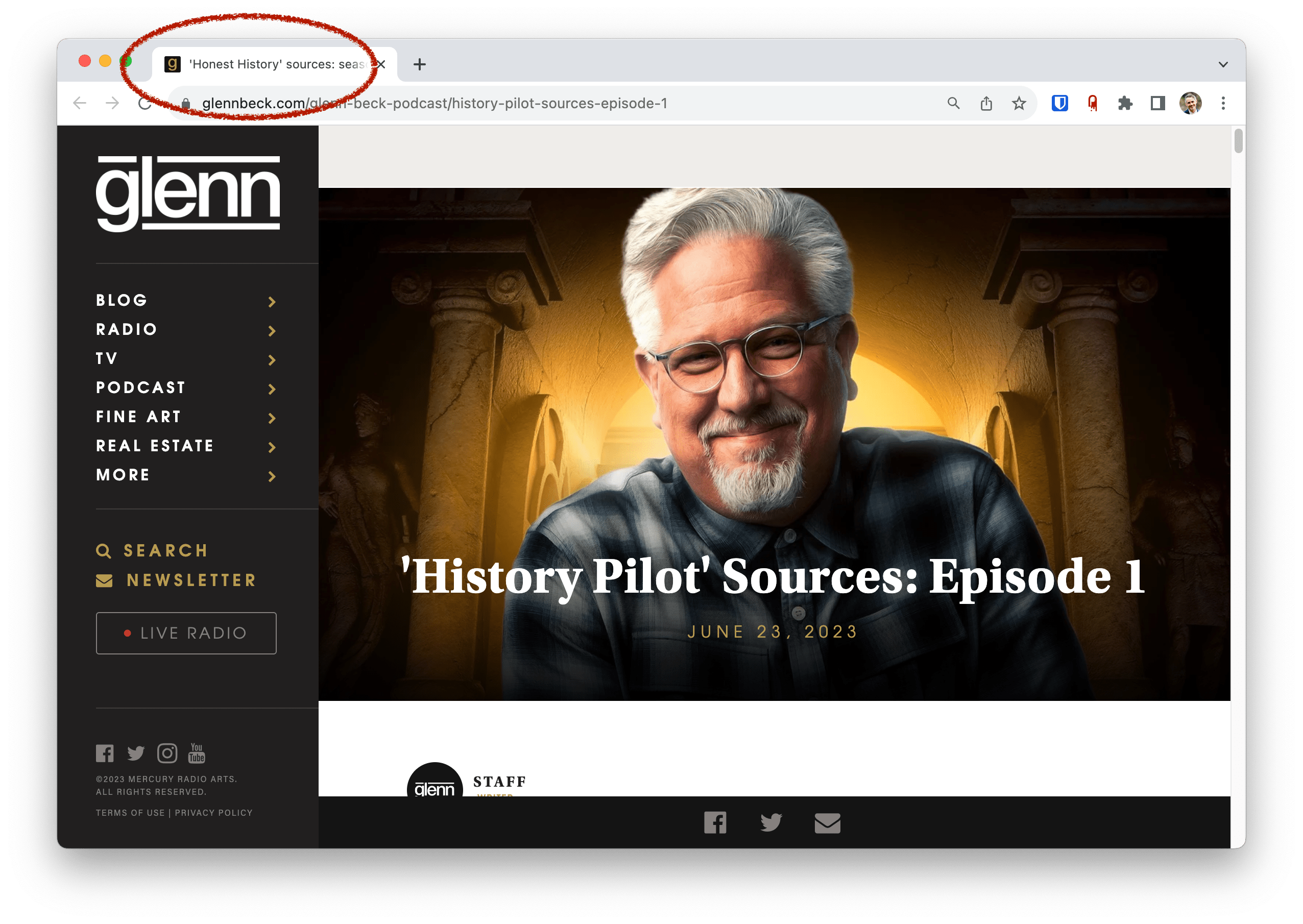 Was it an 'honest' mistake?
You might think it was just a mistake to use Honest History's trademark. How would Beck have known about this kids history magazine, after all?
Beck did know about Honest History magazine before; because Glenn Beck had legal action taken against him by Honest History magazine in November 2021.
Beck's non-profit, Mercury One Inc, runs a website at honesthistory.com - a domain name that Honest History Co would like to use. So, Honest History Co took Beck's Mercury One to copyright tribunal, alleging cybersquatting.
As Domainwire reports, Honest History failed.
But, it's clear that Beck's use of Honest History as a name for his new history show - against the existing registered trademark - was done even after his team had successfully defended a legal complaint less than two years ago: a complaint that would have meant the legal team reviewed all trademarks owned by both parties.
That hasn't stopped Beck repeating claims he was censored; retweeting others that have claimed that he was censored; and trying to sell subscriptions to his TV channel.
If your ideas are "censored", it's a gift - you have ideas too dangerous to be heard! So it's no surprise to see Glenn Beck amplifying suggestions that he was the subject of censorship. But, in reality, all that happened here was a misuse of someone else's trademark; and somebody in Glenn Beck's organisation not bothering to read their email.
| | |
| --- | --- |
| | James Cridland is the Editor of Podnews, a keynote speaker and consultant. He wrote his first podcast RSS feed in January 2005; and also launched the first live radio streaming app for mobile phones in the same year. He's worked in the audio industry since 1989. |