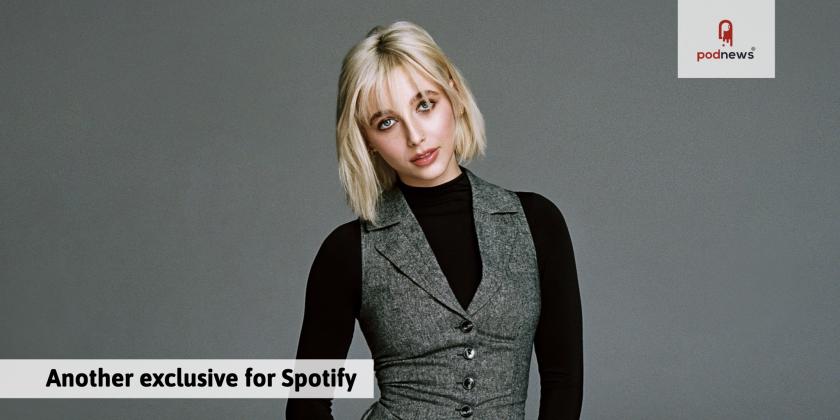 Another exclusive for Spotify
LISTEN
· · Updated · 4.1 minutes to read
Spotify has signed another exclusive: Anything Goes with Emma Chamberlain, described as one of the world's most listened-to podcasts, will be exclusive on Spotify early next year. The deal includes video podcasts. The show was with UTA and Cadence13's Ramble Podcast Network, and is another loss for owner Audacy which is threatened with stock market de-listing.

The Infinite Dial New Zealand was published by Edison Research. 39% of adults in the country are monthly podcast listeners, placing them (just) above the US. 30% are weekly podcast listeners; and radio continues to do particularly well in the country.

Dan Misener at Bumper has looked at the new topics that Apple Podcasts is automatically allocating to shows (see our coverage on Nov 15, including our topics viewer). He's produced a number of network maps, designed to show links between different shows; and produced episode topic maps for every category in Apple Podcasts.
Moves and hires
Podcast News - with CBC Podcasts

From CBC Podcasts
#8 is:
The Secret Life of Canada
A podcast about the beautiful, terrible and weird histories of the 'Great White North'.
'The truth behind the boy in the picture'
investigates one of the most referenced images connected to Canada's Residential School system. It's an episode worth listening to, no matter where you call home.

My Spouse Has Dementia
is produced by Zita Christian, who started podcasting at 69 and is now 75. The show uses personal stories, occasional interviews, and simple rituals to support dementia caregiving spouses. Here's a separate post-produced short piece,
My Alzheimer's Secret
, which is worth a listen.

What do you do when you have audio you don't know what to do with? Launch a new podcast.
Podnews Extra
is here for extra interviews and audio from across the industry - including an interview that was too long for our normal weekly podcast, with Chris Messina: an inventor of ActivityStreams, which went on to become ActivityPub, powering Mastodon.


Enter The Webbys. Mark Your Spot in History.
Paid content
The Webby Awards have been honoring the very best of the Internet since 1996. Winners range from iconic early Web throwbacks, to recent viral sensations, to powerhouse digital icons that have withstood the test of time. By participating, you can place your work on the same stage as boundary-pushing talent, like past Webby Winners The Meteor, Audible, HBO, Apple, The Washington Post, The Daily, Crimetown, The New York Times, Pivot, California Love and Lemonada Media, to name a few. Help them continue celebrating the most innovative, creative, and transformative work that shapes the online zeitgeist.
Learn more, and enter the 27th Annual Webby Awards by our Final Entry Deadline of December 16th, 2022.
Podcast data for Nov 18
Pod Events
Getting
the
five
latest
events
This section is continually updated. Data: Podevents. See more and add yours, free
Latest Pod Jobs
This section is continually updated. Data: Podjobs. See more and add yours, free