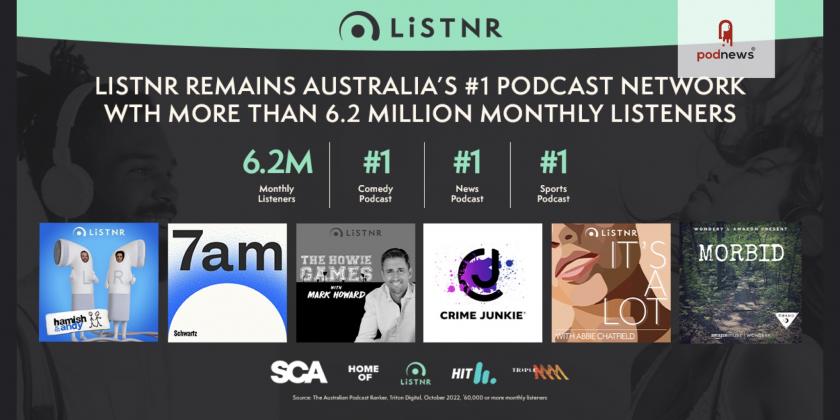 LiSTNR remains Australia's number one podcast network with more than 6.2 million monthly listeners
Press Release · Sydney NSW, Australia · via SCA ·
LiSTNR has retained its position as Australia's number one podcast network with more than 6.2 million monthly listeners in the October Triton Podcast Ranker*.
LiSTNR has nine of the top 20 podcast titles and three of Australia's top podcasts in their genres:
•   No. 1 comedy podcast - Hamish & Andy
•   No. 1 news podcast - 7am with Schwartz Media
•   No. 1 sports podcast - The Howie Games
Other LiSTNR podcasts in the top 20 include Crime Junkie, It's A Lot with Abbie Chatfield, Morbid, On Purpose with Jay Shetty, SmartLess, and Triple M's Rush Hour with JB & Billy.
LiSTNR also has the most podcasts ranked in the Top 50 Podcasts including My Favorite Murder, The Briefing, Triple M's The Marty Sheargold Show, 2 Bears 1 Cave with Tom Segura & Bert Kreischer, Just the Gist, Hamish & Andy's Remembering Project, Last Podcast On The Left, Freakonomics Radio, Conan O'Brien Needs A Friend, KICPOD, and 99% Invisible.
That's Enough Already with Urzila Carlson jumped 20 places to make its debut in the Top 100 Podcasts, while The Generation Why Podcast with Wondery rose 34 places to also make its Top 100 debut.
Real Crime: Australian Detectives and The Mel Robbins Podcast with Stitcher Media made their debut in the Top 150 Podcasts Ranker in October.
"Remaining the number one podcast network is a great result. As we head into summer and the new year, LiSTNR will continue to publish new episodes across current titles and also with new original podcasts, such as the docu-series, The Children in the Pictures, the Peking Duk Podcast from the Australian music sensations of the same name, and Willow Talk for cricket fans," SCA Executive Head LiSTNR Podcasts, Grant Tothill, said.
"There are more new original podcasts publishing in November and December and early 2023 as we continue to curate and create a diverse, premium library of podcasts to serve our growing audience across entertainment, sport, factual and drama, parenting and kids, and news and information."
Source: *Triton Podcast Ranker Top 100 Podcasts and Top Sales Representatives – October 2022
This is a press release from SCA which we link to from Podnews, our daily newsletter about podcasting and on-demand. This is reprinted verbatim; we may rewrite headlines and descriptions.