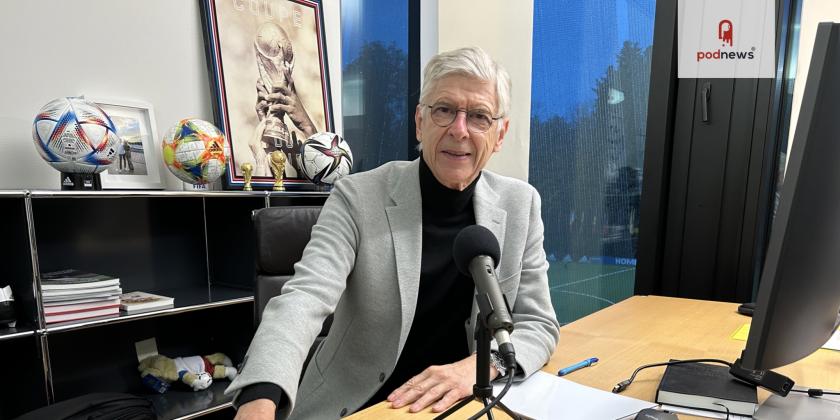 FIFA Insight Live is Arsène Wenger's new podcast for the upcoming FIFA World Cup™
Press Release · Doha, Qatar · via HWY61 ·
Arsène Wenger and the FIFA Training Centre are changing how we understand football. And FIFA Insight Live, his new podcast for the upcoming FIFA World Cup™ in Qatar, will help do that
Arsène Wenger is fronting his first ever podcast during the 2022 FIFA World Cup™ in Qatar.
FIFA Insight Live: A Training Centre Podcast will take football fans inside the game like never before, helping them understand football in a whole new way.
Now FIFA's Chief of Global Football Development, Wenger will be joined by a team of football experts – the FIFA Technical Study Group (TSG) – who are attending all 64 FIFA FIFA World CupTM matches, providing technical insight at the final whistle.
Wenger said: "Part of the excitement of any World Cup is to go into a restaurant or bar after the game and hearing fans talking about it. So this podcast and access to the TSG in this way will hopefully help those discussions among fans."
"I promise, we're not trying to make it more complicated to understand football. You don't need hyper intelligence to understand the things we will be discussing."
"We hope fans will be able to see the game from a different perspective during the World Cup."
The FIFA Technical Study Group includes: • Former Germany FIFA World CupTM winner Jürgen Klinsmann • Ex-Japan FIFA World CupTM coach Alberto Zaccheroni • Faryd Mondragón, who appeared at two FIFA World CupsTM with Colombia • Ex-Switzerland international goalkeeper Pascal Zuberbühler • Nigerian FIFA World CupTM star Sunday Oliseh • Cha Du-Ri, a former Korea Republic international
FIFA Insight Live: A Training Centre Podcast will introduce fans to a whole new perspective of football, including: • The FIFA Football Language – FIFA's blueprint for how we analyse football in the future. The language breaks down each area of the game into fine detail and provides operational definitions to clearly define each action. • Enhanced Football Intelligence (EFI) – a series of new data metrics for how we watch and understand football. Why teams are performing well or not; why a player is in good form. These new metrics will help fans see football in a whole new way. • Behind the scenes access to the TSG – after every game, fans will be taken inside the car as FIFA's team of experts travel to their next game. Fans will hear the conversations as the TSG members break down the match they've just seen, applying the principles of the Football Language and EFI metrics.
Podcast episodes will stream shortly after the final whistle of every match at the FIFA World Cup™, providing fans with unrivalled insight that isn't available anywhere else.
The first episode, an exclusive 35-minute discussion featuring Wenger and Chris Loxston, FIFA's Group Leader Football Performance Analysis & Insights, is currently streaming now.
FIFA Insight Live: A Training Centre Podcast is available wherever you get your podcasts, including Apple, Spotify and Amazon.
FIFA Insight Live: A Training Centre Podcast is being produced by HWY61, a UK-based podcast production company that specialises in sports and narrative content.
Director of Podcasts at HWY61, Garry Hayes, said: "This is a really exciting project as football fans across the globe will be exposed to a side of the game they have never seen before.
"Our podcast is taking discussion around football onto a whole other level, using live data and expert analysis on the whistle to help explain what we've just seen in every match.
"Fans are rarely exposed to this level of access or insight to what happens at the highest level in football and now they're going to be given it.
"This will be a World Cup unlike any other. And with the talent and expertise we have, FIFA Insight Live really is going to be a podcast unlike any other."
Listen
This is a press release from HWY61 which we link to from Podnews, our daily newsletter about podcasting and on-demand. This is reprinted verbatim; we may rewrite headlines and descriptions.
This page contains automated links to Apple Podcasts. We may receive a commission for any purchases made.