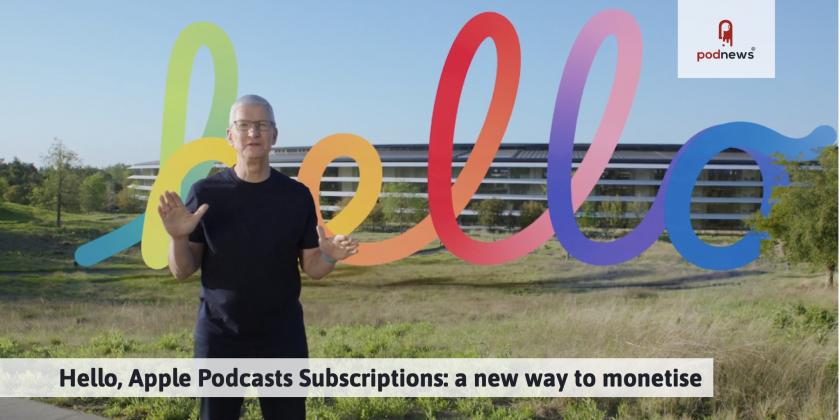 Apple Podcasts Subscriptions is launched
LISTEN
· · 6.3 minutes to read
This article is at least a year old
In our ad-tech newsletter, Sounds Profitable, this week: how to explain podcast impression tracking to digital ad buyers. "Just because podcast advertising is different, it doesn't mean it's not right for ad buyers and their clients," says Bryan Barletta. Subscribe now
What you need to know about the Apple announcements
The details of the subscription
Apple Podcasts will take a 30% commission of the subscription price for a subscriber's first year, dropping to 15% for additional years. As a podcaster, if you want to list Freemium or Paid podcasts, there's also a US $19.99/year fee (there's a $99/year fee to sell apps with Apple already).

There is no exclusivity clause: so you can make your show available for subscription on other platforms as well, if you choose to, and assuming they don't have exclusivity themselves. See Luminary's announcement for an example of a company doing just that.

Want to offer a free trial? Sure, you can do that (there are a set of durations offered by Apple).

Paid podcasts are hosted by Apple, not by your podcast host. "Subscriber audio is only accessible on Apple Podcasts and is protected by Digital Rights Management". You'll be uploading uncompressed WAV or FLAC files; Apple will do the audio compression, and will also handle analytics.

They've made no announcement about Apple Podcasts going onto additional platforms; however, clause 2.3 of the Apple Podcasts Program Agreement discusses rights for Apple Podcasts "on any platform", and specifically mentions Windows and Android.

They've made no announcements about transcripts, either, but clause 2.2 (c) lets them make transcripts, and lets you opt out.

Podcasters can set pricing, and availability, by country. Apple Podcasts is available in 170 territories.

Unlike Patreon, Supporting Cast or similar models, Apple Podcasts will not give you access to any personal data about your paid subscribers, like their emails or names.
Additionally
Some have suggested that this screenshot on Apple's site shows you can set up "hosts and guests" for your show; something previously not changeable without being specially chosen. However, the hosts and guests feature isn't showing for our incredibly successful podcast about time, PodClock; or for Podnews which does have hosts and guests enabled.

The iTunes API will continue to be supported. ("Supported", the pedant would note, is not the same as "unchanged" - see below why many podcasts are appearing in their API without the RSS feed URL).

None of these changes were communicated ahead of time to any podcast host we've spoken to.

Apple's marketing guidelines still tell us to use "Subscribe", not "Follow".

What should you do next? You don't need to do anything. And - read on - you probably don't want to.
A new feature - and a serious bug??
The adventurous might want to log into (the new) Apple Podcasts Connect and "set up your account". However, this took eight hours for us to activate our account (and crashed the first time with an error message).
A new feature in the new Apple Podcasts Connect is this checkbox that allows podcasts to opt into being in Apple's API. It's checked by default - and says "this control exposes your RSS feed URL to our API, making your show discoverable for a larger audience".
However, existing shows appear to all be opted out of the API. Any editing of your show, even if you don't edit the RSS feed, appears to opt out of the API. You don't want that.
More than that, editing your show currently appears to… well, delete your entire show from Apple Podcasts. At least, our published show listing isn't working right now. At all.
Others on Twitter are also reporting their podcasts have disappeared, too.
UPDATE: After a few hours, and after we contacted Apple Podcasts support, it mysteriously came back again. Which is good, but a bit concerning.
Who's in for subscriptions?
Luminary is adding their shows to Apple Podcasts Subscriptions. All 35 original podcasts will be available in the Apple Podcasts Luminary channel, and continue in Luminary's own app. Pricing is $5.99/month on both Luminary's app and on Apple Podcasts; though there's a cheaper annual option in the Luminary app.

NPR will be a launch partner on Apple and Spotify's paid podcast subscription platforms, according to a staff email obtained by Podnews. The NPR Board has also approved development of NPR's own sponsorship-free public radio podcast subscription service, which member stations will also have access to. However, sponsor-supported shows will still be free: "NPR remains committed to making news and other content available to the public free of charge as part of its public service mission," Podnews is told.

A set of other publishers have announced, including…
Opinions
It would be churlish not to link to our Editor's Podcasting: what Apple should do next article from March 2019. There's a reason he calls himself a "futurologist": step one in the article is now achieved: even getting the Apple commission split correct! Now for step two… ;)

What Apple Podcasts Subscriptions means for Supporting Cast, Slate, and Our Podcasters - Supporting Cast, who sponsored Podnews last month, point out the benefits of their platform over Apple's.

Supercast, another subscription product, welcomes Apple to the party, saying subscription podcasting is going mainstream. But who owns your customers?

Steve Wilson, now at QCODE but previously at Apple Podcasts, said that "the thoughtfulness that went into this release, the features and the localisation, is something that I'm proud of, even though I'm no longer there." He was speaking in the Real Talk Podcasting Clubhouse room.

Eric Johnson notes the big difference between Apple Podcasts subscriptions and those from companies like Glow and Patreon: no copying of private RSS links.

James Parkinson: "Apple Podcasts subscriptions might not be the best fit for your show and your audience, and that's okay."

Nathan Gathright discovers even more in the Apple Podcasts Program terms and conditions.

The Podcast Index twitter account says: "Wake me up when any podcast app developer can add the Subscribe button and share a % of the revenue." Their value4value method gives revenue to independent app developers as well as podcast publishers.

Matt Deegan pleads for parity: "Spotify have talked about rolling their own subs platform out. Please Spotify folk, and I know you read this, for the love of all that's holy, please at least match these features," adding: "Subscriptions will truly become a big opportunity for podcasters when something similar is available on Spotify and when Apple release Apple Podcasts for Android."
This page contains automated links to Apple Podcasts. We may receive a commission for purchases made.
Pod Events
Getting
the
five
latest
events
This section is continually updated. Data: Podevents. See more and add yours, free
Latest Pod Jobs
This section is continually updated. Data: Podjobs. See more and add yours, free