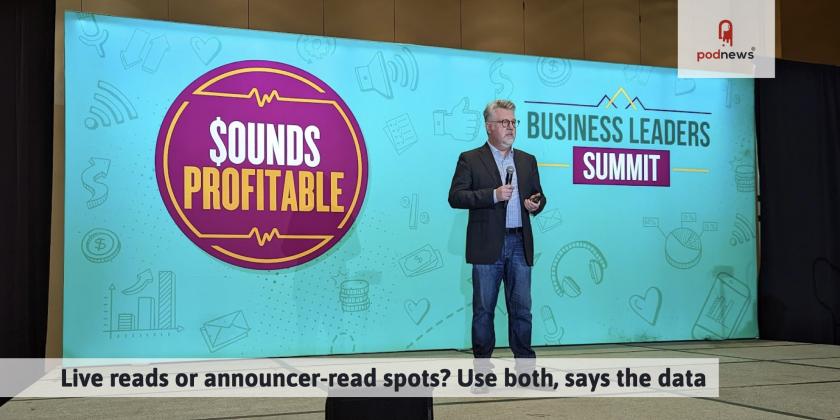 Live reads or announcer-read spots? Use both, says the data
LISTEN
· via · · 3.6 minutes to read
Live, host-read ads perform the best, according to After These Messages, new research presented yesterday by Sounds Profitable's Tom Webster: but well-produced scripted or programmatic ads work almost as well, says the study. Webster suggested to use both live reads and announcer-read ads throughout the course of a campaign. The research is available to download here, y también en español.

Libsyn will today be announcing a new programmatic ad solution for Libsyn-hosted shows. The beta program for Libsyn's Auto Ads, which allows pre, mid and post-roll, is now open for application. Additionally, the company has announced it has made more than $50m in advertising earnings for podcasters.

The Podcast Broker, a new service for buying and selling podcasts, was launched at Podcast Movement. The service is the brainchild of TrueNativeMedia's Heather Osgood, and aims to make it easy to buy and sell podcasts just like you would trade any other business. (Podnews's Editor is an advisor. Disclosures)
Podcast News

Code Story
is kicking off season 7 of its podcast; interviewing startup builders themselves about the human stories of creating something from nothing, the technical tools used, finding product market fit… and building a team that has your back. It's hosted by Noah Labhart, and launched yesterday.

Ugly Things Magazine, the ultimate rock 'n' roll read
is now a bi-weekly podcast!
Ugly Things
launched yesterday, with guests like The Troggs and Lenny Kaye. It's an adaptation of the long running print magazine, which covers the obscure and overlooked music of the 1950s,'60s,'70s and beyond.


Number one for podcasts - Aug 24
Pod Events
Getting
the
five
latest
events
This section is continually updated. Data: Podevents. See more and add yours, free
Latest Pod Jobs
This section is continually updated. Data: Podjobs. See more and add yours, free