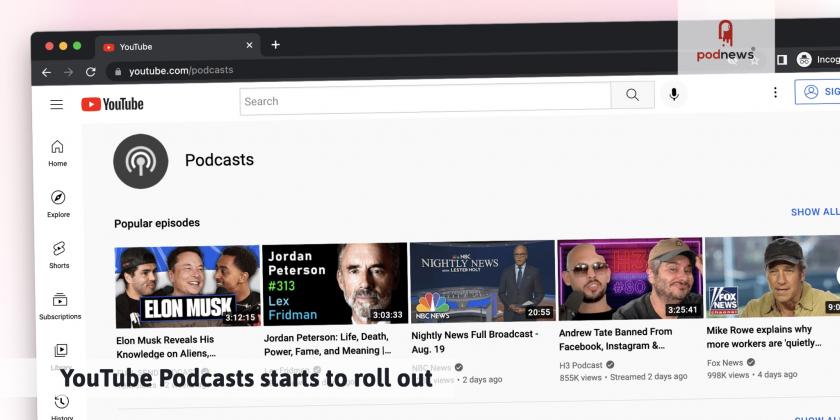 YouTube Podcasts starts to roll out
LISTEN
· · 5.7 minutes to read
YouTube appears to be rolling out YouTube Podcasts in the US. Available from the explore page, the podcast front page contains popular episodes, playlists and recommendations, then a list of creators and categories like true crime, sports and music. It's unclear how shows been chosen; NBC News bulletins appear in the list for some reason; Podnews doesn't.

YouTube Podcasts is only available in the US: trying our enabled account from the UK via a VPN gives us a 404 error.
It's also still rolling out to users. Podnews's Editor's personal account is not enabled, and even in the US gives a 404 error.
Podnews broke the story of YouTube's podcast ambitions in March. However, almost nothing of their March plans appear to be in this soft August launch: the confidential document being presented to partners six months ago promised RSS ingestion, search improvements, audio ads, and audio-aligned analytics.
Erica, a Strategic Partner Manager from YouTube, shared tips about podcasting podcasts in June, including the suggestion "that you make a playlist for your podcast episodes". That may have been informed by the "popular playlists" navigation in the new YouTube Podcasts homepage.
Kai Chuk, YouTube's Director of Podcasting, will speak at Podcast Movement on Thursday. We reached out to YouTube's PR team for comment, but have heard nothing back.

Apple Podcasts has announced a number of changes to the platform's RSS feed requirements "in 2023". The big technical change: no more email addresses in RSS feeds: a welcome change which will dramatically reduce the amount of spam sent to podcasters. (Other technical changes include support of ETAG and Last-Modified, which will dramatically reduce the amount of bandwidth used for RSS feed checking).

The company has also announced changes to how podcast approval will work. In 2023, you'll instantly get into the Apple Podcasts directory as soon as you submit a show; it'll be available in search and and recommendations after approval.

Spotify has put the company's new podcast ad experience live in their app. Chris Messina has captured and posted what it looks like, on an ad with multiple advertisers: giving the listener a set of links for the ads they heard. Ads open in a webview, which potentially means Spotify can monitor the actions taken by the listener.
How much could you get for your podcast?
Paid content
Just like businesses get bought and sold, so can podcasts.
Your podcast has value: but if you want to sell it (along with its assets, like websites, domains, social media and email lists), The Podcast Broker can help get your podcast a new home for a great price.
Launched today at Podcast Movement, The Podcast Broker is the first marketplace for buying or selling podcasts. You'll deal directly with the buyer, and The Podcast Broker will help ensure a seamless experience for your listeners.
The Podcast Broker will take you through every step: evaluations, due diligence, legal contracts and even assist with transitioning your audience.
Get your free podcast evaluation from The Podcast Broker
Moves and hires
Podcast News

In
Russian Resistance
, "we want to show that the Russian anti-war movement actually exists and share the voices of those who support it. It seems important to us to talk about the situation in Russia on behalf of those who oppose the war. We believe that public awareness of the topic helps the resistance movement, which is slowly but diligently fighting the Putin regime."

Caffeine, the social broadcasting company, has partnered with
Checc'n In w/ BIG U
to produce video versions of the podcast two weeks before they release on other podcast platforms. The show features LA street legend and entrepreneur, Eugene "Big U" Henley as he invites his A-list friends from across the culture to sit down for in-depth, unfiltered conversations.
Snoop Dogg stars on the first episode of the new partnership
.


Global has announced
that
The News Agents
is the name of a new daily podcast from Emily Maitlis and Jon Sopel (daily Mon-Thu), and Lewis Goodall hosting the show on Friday. It's produced by Persephonica, the podcast company founded by Dino Sofos, and will launch on Aug 30.
Number one for podcasts - Aug 23
Pod Events
Getting
the
five
latest
events
This section is continually updated. Data: Podevents. See more and add yours, free
Latest Pod Jobs
This section is continually updated. Data: Podjobs. See more and add yours, free