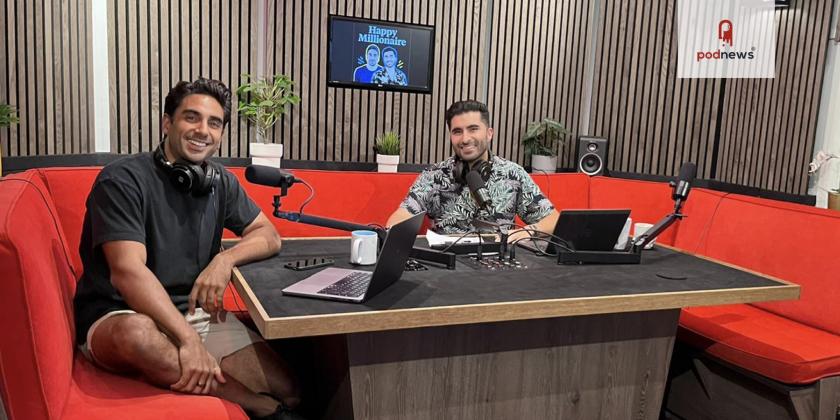 Doctor's Kitchen Dr Rupy Partners with Tech Entrepreneur Jay Radia to Find the Recipe for Success
Press Release · London, UK ·
New podcast Happy Millionaire, launching today, is aiming to help people find the combination of happiness and success in their entrepreneurial journeys by talking about how to succeed as an entrepreneur while leading a happy, healthy and fulfilled life.
Friends Dr Rupy Aujla and Jay Radia co-host the series and have honest conversations to look beyond the bottom line and explore what's important in life and ask if founders have to sacrifice their happiness in the pursuit of wealth.
British entrepreneur Jay Radia knows of these struggles all too well. Over the last 10 years he has founded 3 businesses, together worth over half a billion dollars and his latest venture, ReachDesk, has grown 600% in the last two years to become one of Britain's most-watched start-ups. Now with any personal financial problems firmly in the rear-view mirror, Jay is looking to share the lessons he's learned with other budding entrepreneurs.
Jay says: "This is a show about succeeding in business and not losing sight of your purpose along the way. You can have all the money in the world but if you aren't happy, what's the point?"
Dr Rupy Aujla has built a name for himself as one of Britain's leading health influencers and host of the Doctor's Kitchen podcast. He has recently become a tech entrepreneur with his new app that looks beyond the recipe books and social media, to help everyone feel happier and healthier through food.
Dr Rupy says: "I want listeners to get the feeling that Jay is coaching them as well as me. I'm privy to his knowledge and he's not holding anything back so listeners will get access to his lived experience and insight".
Throughout the podcast, Jay takes the role of mentor as the two friends chat about the process and challenges of starting a business in 2022. Along with the business chat, they delve into topics like mental health and wellbeing. The show fights back against the fetishizing of long hours and general self-flagellation present in the start-up scene.
Jay's business know-how paired with Rupy's experience as a doctor offers a fresh take on the world of start-ups. Episodes will cover a variety of topics, such as how to find a co-founder, dating apps, the value of business coaches, the Spotlight Syndrome and more.
Listen
This is a press release which we link to from Podnews, our daily newsletter about podcasting and on-demand. This is reprinted verbatim; we may rewrite headlines and descriptions.
This page contains automated links to Apple Podcasts. We may receive a commission for any purchases made.