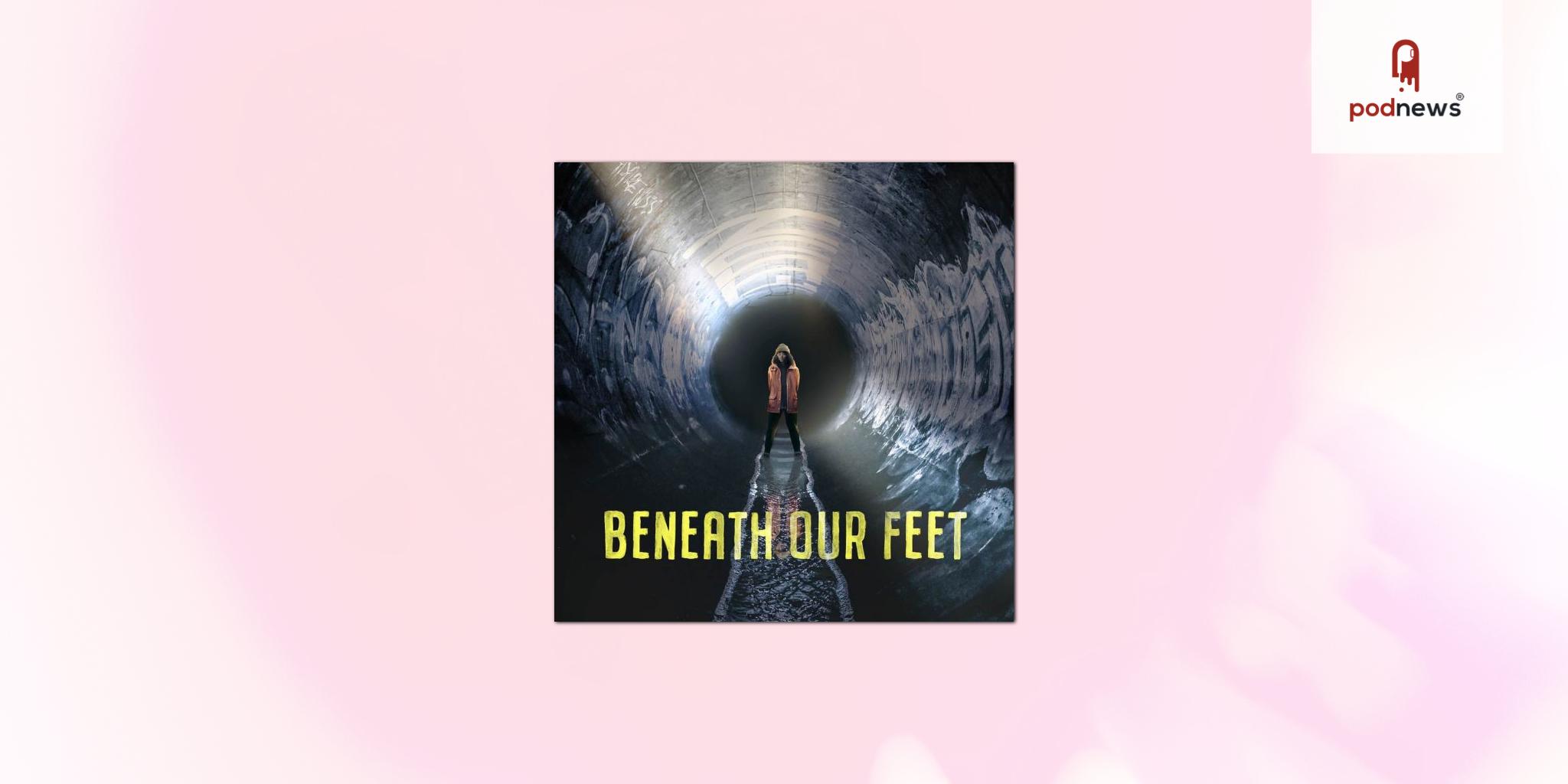 Beneath Our Feet: New 6-Part Audio Drama Series
Press Release ·
Jump Spark and no more superheroes. today announce the second year of the RESOUND programme, conceived by audio creators Tash Hyman and Fay Lomas. RESOUND is an artist development programme, which provides opportunities for theatre artists to gain skills in audio creation. The announcement corresponds with the upcoming release of Beneath Our Feet, a brand new six-part audio drama about community resistance, myths, and vertical cities. Episodes are 15 minutes long, launching with episode one on August 24th.
Beneath Our Feet tells the story of a group of five young people - Tommy, Rosa, Finn, Jamal and Haroona - on the final night before the estate they live on is destroyed forever to 'regenerate' the area. They each find themselves drawn down to the cave system that lies beneath the estate for one final rave in the world beneath before it's shut off forever. But a cave collapse means they find themselves travelling deeper into the underground system and its stories than they ever expected.
At its heart, Beneath Our Feet is a drama about communities under siege: be it by gentrification, climate collapse, or cultural erasure. The series is a queer, vibrant, surreal love letter to resistance. It's about community action, solidarity, and working together across axes of marginalisation to survive.
Beneath Our Feet is funded by Arts Council England, directed and produced by Tash Hyman and Fay Lomas (award-winning creators of Land Skeins), with Janina Matthewson as lead dramaturg (Within the Wires, The Cipher), and Ella Watts as consultant producer (Doctor Who: Redacted). It was created through a writers room of writers Zia Ahmed, Subika Anwar-Khan, Sam Grabiner, Ellie Kendrick, Tiwa Lade and Am Stubberfield, with sound design by Alice Boyd and Munotida Chinyanga, and composition by Oliver Vibrans. The project works with the National Youth Theatre, starring emerging actors from their Rep Company. The project is supported by Stockroom, specialists in collective writing processes, by the Rose Theatre Kingston, and by Fable and Folly Podcast Network.
The RESOUND programme comprises the creation of the drama with mentoring from experienced audio professionals as well as a series of panel and networking events about the cross-over between theatrical and audio storytelling. The first year of the programme led to the creation of Land Skeins, working with writers Natasha Kaeda, Tife Kusoro, Eoin McAndrew and Sid Sagar, on the creation of an anthology series exploring fantastical encounters between humans and nature in the age of climate catastrophe. Land Skeins won the 'Innovative' OnComm Award for Digital Work (2021).
Episodes of Beneath Our Feet are 15 minutes long, releasing weekly from 24th August 2022, and can be found on all podcast platforms, or on social media @resoundaudiouk. Writer Am Stubberfield said 'As a queer, working class and trans writer it was a great opportunity to create characters with that lived experience who possessed a vibrancy and joy. Being in the writersroom was an amazing experience and an awesome opportunity to collaborate with a group of brilliantly talented artists to collectively build a world and story together. Writing for Beneath Our Feet has given me my first audio drama writing credit and I've gained invaluable skills through the process'.
Writer Subika Anwar-Khan said 'Writing an episode of an audio drama was a new experience which at first I found challenging. Over the course of my time in the writers room I was excited about structuring the plot and determining character traits. Learning about the craft of writing for audio is something I now want to continue developing.'
Ella Watts said 'It's so exciting to be involved with the Resound programme this year. Whilst radio and theatre have a long and storied history, there's often a disconnect between podcast producers and theatre makers in the UK. It's great to see Tash and Fay closing that gap with these pressing stories created by, for and about marginalised communities under siege.'
Listen
This is a press release which we link to from Podnews, our daily newsletter about podcasting and on-demand. This is reprinted verbatim; we may rewrite headlines and descriptions.
This page contains automated links to Apple Podcasts. We may receive a commission for any purchases made.