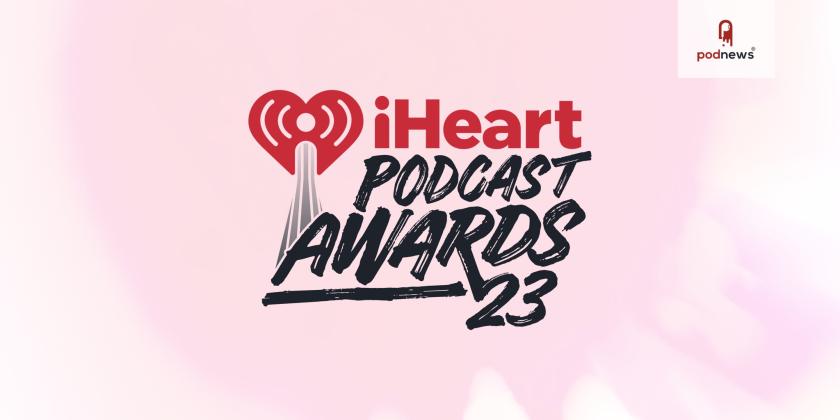 iHeartMedia announces nominees for the 2023 iHeartPodcast Awards streaming March 14 at 9pm ET
Press Release · New York, NY, USA ·
iHeartMedia, the No. 1 podcast publisher globally according to Podtrac, today announced the return of 2023 iHeartPodcast Awards and nominees across all 29 categories. The awards, which will honor the very best in podcasting throughout 2022 and celebrate the most innovative talent and content creators in the industry, will video stream on Tuesday, March 14 at 9 p.m. ET/6 p.m. PT on iHeartRadio's YouTube Channel and Facebook Page, as well as broadcast on select iHeartMedia radio stations across the country and everywhere listeners are via the iHeartRadio app. The show will also be available on demand following the initial stream.
Nominees across categories include podcasts from all creators, distributors and platforms with a judging panel composed of blue-ribbon podcast industry leaders, creatives and visionaries who will determine the winners in categories including entertainment, comedy, crime, news, sports, food, business and more, including a new category, Best Overall Ensemble.
Each year, podcast fans help decide the winner of the coveted Podcast of the Year award by socially voting on Twitter. This year's nominees include "Conan O'Brien Needs a Friend," "Crime Junkie," "Fly On The Wall with Dana Carvey and David Spade," "Las Culturistas," "Love and Noraebang," "Maintenance Phase," "Morbid," "On Purpose with Jay Shetty," "Scam Goddess" and "SmartLess." Voting will begin today and run through the end of the year. More information can be found at iHeart.com/podcast-awards.
In addition, the 2023 iHeartPodcast Awards will present Icon Awards to pay tribute to the creators, organizations and podcasts that have made groundbreaking contributions to podcasting's expanding role in today's popular culture. Kara Swisher, widely acclaimed journalist, editor and podcast host, will be honored with the 2023 Pioneer Award; Dr. Laurie Santos, host of "The Happiness Lab" podcast and creator of the free "Psychology and the Good Life" curriculum for high school teachers which teaches students about wiser choices and how to live a happy and fulfilling life, and Dr. Joy Harden Bradford, host of the wildly popular mental health podcast, "Therapy for Black Girls," whose work focuses on making mental health topics more relevant and accessible for Black women, will both be honored with a 2023 Social Impact Award; and Ashley Flowers, founder and CEO of audiochuck, the award-winning podcast production company, will be honored with the 2023 Innovator Award.
"We continue to see tremendous growth in the podcast industry, as this medium explodes with new creators and brand interest alike," said Conal Byrne, CEO of iHeartMedia's Digital Audio Group. "To celebrate the most noteworthy, innovative storytellers in podcasting, we are proud to host the signature event to honor this creativity and empower new and emerging voices around the world."
Last year, the 2022 iHeartPodcast Awards featured an array of celebrity presenters, guests and nominees recorded from multiple locations. Appearances included Jason Bateman, Sean Hayes and Will Arnett, Martha Stewart, Dua Lipa, Matt Rogers and Bowen Yang, Paris Hilton, Flame Monroe, Shonda Rhimes, Will Ferrell, Wilmer Valderrama and many more. Click HERE for more information on the 2022 iHeartPodcast Awards.
The full 2023 category nominees (in alphabetical order) are:
Podcast Of The Year
New! Best Overall Ensemble
Best Business & Finance Podcast
Best Comedy Podcast
Best Crime Podcast
Best Pop Culture Podcast
Best Food Podcast
Best Wellness & Fitness Podcast
Best History Podcast
Best Kids & Family Podcast
Best Music Podcast
Best News Podcast
Best Fiction Podcast
Best Sports Podcast
Best Science Podcast
Best Technology Podcast
Best Ad Read Podcast
Best Overall Host
Ashley Flowers Jay Shetty Kara Swisher Nicole Byer Sarah Marshall
Best Political Podcast
Best TV & Film Podcast
Best Spanish Language Podcast
Best Advice & Inspirational Podcast
Best Beauty & Fashion Podcast
Best Travel Podcast
Best Green Podcast
Climate of Change with Cate Blanchett and Danny Kennedy (an Audible exclusive)
Best Spirituality & Religion Podcast
Best Branded Podcast
Best Emerging Podcast
Best International Podcast
The 2023 iHeartPodcast Awards is part of iHeartMedia's roster of nationally recognized events including the iHeartRadio Music Awards, the iHeartRadio Music Festival, the nationwide iHeartRadio Jingle Ball Concert Tour, iHeartRadio Fiesta Latina, iHeartCountry Festival, iHeartRadio ALTer Ego and iHeartRadio Wango Tango.
Executive producers for the 2023 iHeartPodcast Awards are John Sykes, Tom Poleman, Conal Byrne and Bart Peters for iHeartMedia, and Deviants Media Studio founder Ivan Dudynsky and show runner Jayson Belt. More information including guest hosts, celebrity appearances and more will be announced in the coming months.
This is a press release which we link to from Podnews, our daily newsletter about podcasting and on-demand. This is reprinted verbatim; we may rewrite headlines and descriptions.