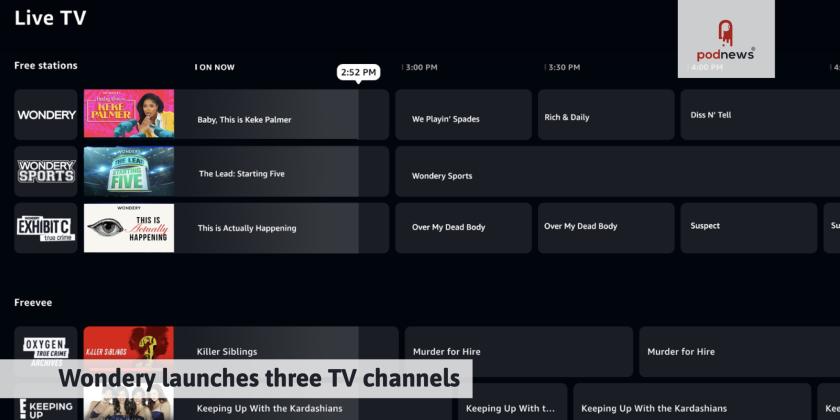 Wondery launches three TV channels
Wondery is turning its podcasts into three TV channels on Amazon Freevee. The Amazon-owned podcast publisher will be the first podcast video channels on Freevee, featuring over 20 Wondery series, centered around True Crime, Sports, and Entertainment & Pop Culture.

Amazon Wondery

CoHost has announced a prefix tool to enable brands and agencies to access CoHost's features without migrating from their current hosting provider. The tool gives advanced demographics, and allows B2B podcasters to know which companies are listening.

CoHost

Podcast hosting company Libsyn made a number of people redundant on Friday: among them, software developer Nick Michaels, Product Manager Yvette Jenny Menase, Web developers Gary Hlusko, Michael Scarlett, and Software Engineer Jeremiah Voltz. At Pair, Customer Service Rhonda Webb, Apps Security Jaime Eberley, and another five roles have been removed from Libsyn-owned Pair since June.

Libsyn

A company spokesperson told Podnews: "Libsyn is strategically allocating resources that include reducing the numbers of specific roles and the creation of new positions in our priority growth areas. These changes will allow us to align our resources with our Company's evolving needs and objectives."Libsyn
Google
US podcast listeners want to listen to more podcasts on the radio, according to a new study from Coleman Insights. Podcast Radio started broadcasting in the US earlier this year, in Detroit, Tampa, Charlotte and Fort Myers.

The most searched podcast is the Joe Rogan Experience, according to analysis by Podbam.

One negative review on Apple Podcasts might mean 42% fewer listeners, especially if it appears first, according to scientific research from the Journal of Marketing Research. It suggests that podcast app companies shouldn't just show 'latest review first', but instead, list them in different ways.

Apple Apple Podcasts

The data also suggests you try to address the negative reviews as soon as possible by replying to them; something currently impossible on Apple Podcasts.Apple Apple Podcasts

On Friday, we carried feedback from Megaphone customers that all data was lost about podcasts within Megaphone when moving to Spotify's "streaming-powered tools", which offer new analytics.

Megaphone

We're happy to clarify that it's streaming data from Spotify (only) which is lost from automated exports. Spotify tells us: Spotify plans to introduce streaming-based data within automated exports in the future.Spotify
We also said all data was removed from Megaphone's analytics tools; again - it's just streaming data from Spotify which is removed from some views. Spotify tells us: Spotify streams data is not currently reflected in the "Technology Performance by Downloads" widget because when a publishers turns on the streaming-powered tools, a podcast's "on-Spotify streaming data" is moved to an entirely new, robust streaming analytics tab where users will not only get to see how many "streams" their content is getting on Spotify but also other new streaming-based metrics, such as starts, completes, and reach.Spotify
Thank you to Resound, the AI podcast editor for creators, for becoming our latest gold supporter; and for the Earbuds Podcast Collective for becoming our newest personal supporter. We're grateful to you for helping fund our independent journalism. You can be like them.
Moves & Hires
Tips and tricks - with Spotify for Podcasters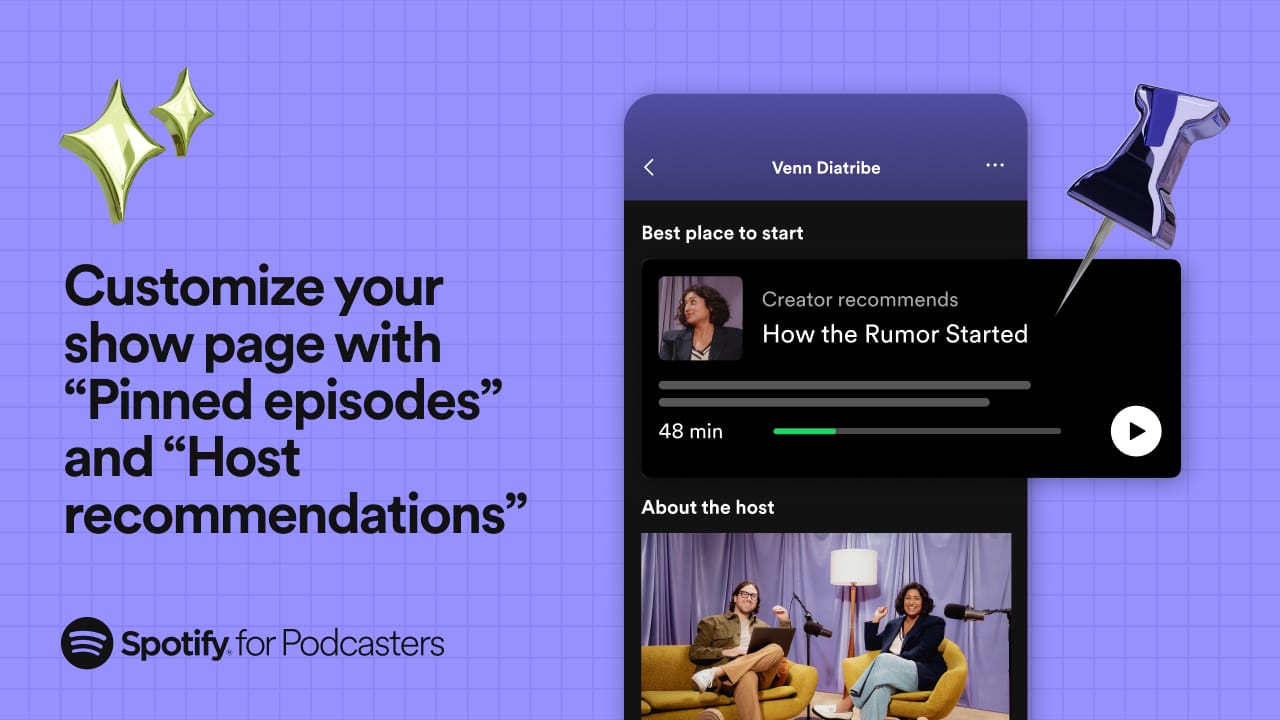 Spotify
Wherever your podcast is hosted, Spotify has free tools to help you find new fans and grow your show. And our latest updates give you even more ways to personalize your presence on one of the most important surfaces on our platform: your show page. This is where many of your fans began their listening journey, and now you can customize that experience to help turn more visitors into loyal fans. Guide first-time listeners to your favorite content by pinning a "Best place to start" episode. Then add up to two "Host recommendations" to cross-promote with another show or just share some of your favorite content on Spotify. Start curating your show page, and check out all the ways Spotify for Podcasters can help your show stand out.
Spotify
Podcast News
Podcast data for Oct 24
#1 in Apple Podcasts

Morrison Mysteries (NBC News)

The Rest Is Politics (Goalhanger Podcasts)
#1 in Spotify

The Joe Rogan Experience (Joe Rogan)

The Joe Rogan Experience (Joe Rogan)
Over the last week, 206,493 podcasts published at least one new episode (down 0.5%). source
Events
Getting
the
five
latest
events
This section is continually updated. See more and add yours, free
Latest Jobs
This section is continually updated. See more and add your vacancies, free