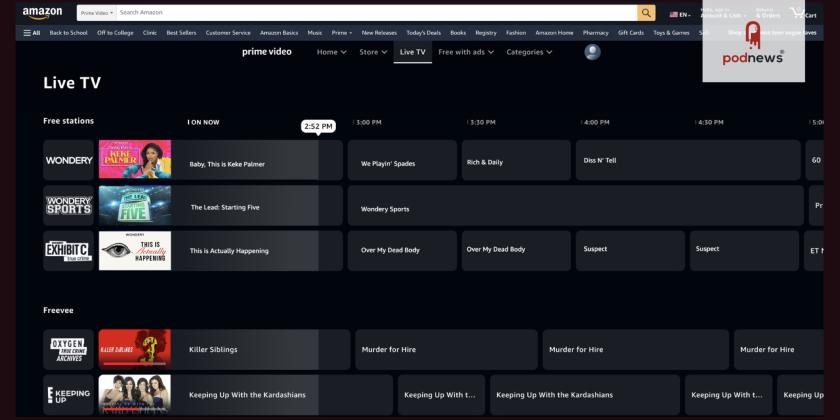 Wondery Launches Three FAST Channels on Amazon Freevee
Press Release · Culver City, CA, USA · via Wondery ·
Today, premium podcast studio Wondery announced three new free ad-supported (FAST) Channels that will launch on Amazon Freevee, as a new entry point for audiences to discover Wondery's premium content. Wondery's three new FAST Channels will be the first podcast video channels on Freevee, featuring over 20 Wondery series, centered around True Crime, Sports, and Entertainment & Pop Culture.
Starting October 31, Freevee viewers can discover new and old episodes of Wondery's fan-favorite podcasts through a mix of on-camera video, cinemagraphs, animation, and show artwork from series like Morbid, Business Wars, Dr. Death and Baby, this is Keke Palmer. These new FAST channels highlight Wondery's unique brand of immersive storytelling to audiences through a video-first free streaming service like Amazon Freevee.All FAST Channels available on Freevee can be accessed through the Freevee app, as well as within Fire TV and Prime Video.
"With podcast video being a means of discovery for many podcast newcomers, we're excited at the chance to grow our listener community through free ad-supported channels on Freevee," Jeanine Wright, COO, Wondery. "As podcast video become increasingly popular for both creators and consumers, Wondery's FAST channels on Freevee will provide a unique opportunity for brands to expand their reach and curate custom content for podcast fans."
Wondery Freevee FAST Channels include:
Exhibit C (True Crime) – RedHanded, Killer Psyche, This is Actually Happening, Dr. Death, Morbid, Over My Dead Body, Who Killed Daphne, Fed Up
Sports – Don't Call It a Comeback, Sports Wars, Six Trophies with Jason Concepcion and Shea Serrano, We Playin' Spades, Gladiator
Wondery – Baby, this is Keke Palmer, We Playin' Spades, I Love My Kids, But…, Don't Panic, Business Wars, American Scandal, The Best One Yet
"With over 400 FAST Channels to choose from, Freevee customers have an incredible selection of content at their fingertips," said Ryan Pirozzi, head of Amazon Freevee. "We're always innovating to offer an increasingly better FAST experience, and the addition of podcast video channels from Wondery is an entertaining and unique way to introduce a new format for our Freevee audience."
This is a press release which we link to from Podnews, our daily newsletter about podcasting and on-demand. We may make small edits for editorial reasons.