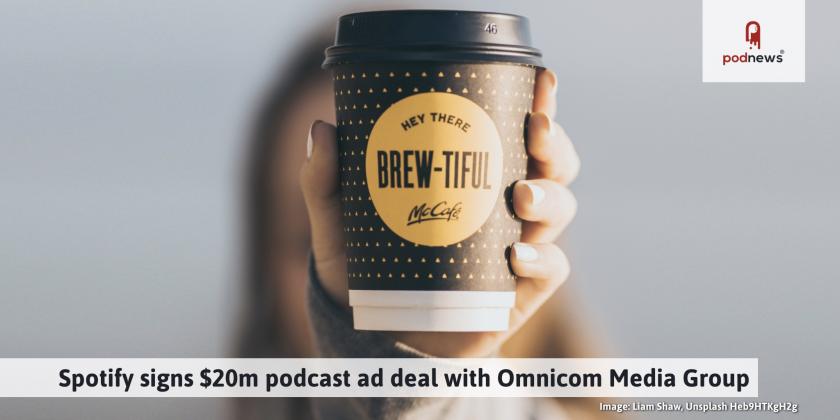 Spotify signs $20m deal with Omnicom Media Group
LISTEN
· · 3.8 minutes to read
This article is at least a year old
Omnicom Media Group (which owns ad agencies like OMD and PHD, representing companies like McDonald's, AT&T and PepsiCo) has signed a $20m podcast advertising deal with Spotify. "With its landmark content deals, established audience, and breakthrough tools that make podcasting addressable, Spotify has become the premier player in the category," says Catherine Sullivan, Chief Investment Officer, Omnicom Media Group North America. See our analysis, below.


Aug 25 2023: This broken link now points to the Internet Archive.Spotify

Do ID3 tags matter for podcast SEO? Does filling your ID3 tags full of helpful keywords mean people find your podcast in search engines and podcast apps? We ran a test to answer this question once and for all.
Castro
Supercast
The Podcast Academy has nearly 200 members (including your Editor). They're planning another webinar on Friday Jul 10 with an update.


This link is no longer available, as at Aug 25 2023The Podcast Academy
Podcast Movement has announced the speakers and presentations for the Podcast Movement University's SHIFT kickoff virtual event, on Jul 14.
Podcast Movement
Afros & Audio are offering a free podcasting tech workshop for Black creatives on Wednesday Jul 15.
Tips and tricks - with Podcorn
Podcast News
Analysis
On the Omnicom/Spotify deal: $20m sounds like a lot of money for the next six months, but it's a drop in the ocean when compared to Omnicom's $35bn annual spend. Indeed, US radio makes around $20bn from advertising every year.
Spotify
However, this represents a shift for Omnicom, who previously bought podcasts as individual shows. Now, they're purchasing more in bulk, which lowers their administrative costs as well as gaining more analytics from Spotify's player.
Spotify's podcasts are streamed, not downloaded, which offers considerable benefits to advertisers. Creative could include different messages based on time ("Come into McDonalds for breakfast!"), accurate location ("There are five branches here in downtown!"), or even weather ("Cool off with an iced coffee caramel frappe sugar-coma-ccino!").
Spotify also knows, using the music I listen to or my Facebook connection, how old I am: and offers significant targeting unavailable on other podcast platforms.
Spotify
Spotify tells us: "The deal also includes the development of joint research and best practices across targeting, reporting, and measurement capabilities, and custom audio solutions produced by Spotify's in-house Creative Solutions team."
Spotify
It's worth highlighting this portion of their announcement: this is a very clear sign that Spotify wants to own the podcast advertising market. With that estimated to hit $1bn soon, it could make the cost of Joe Rogan seem small in comparison.
Spotify