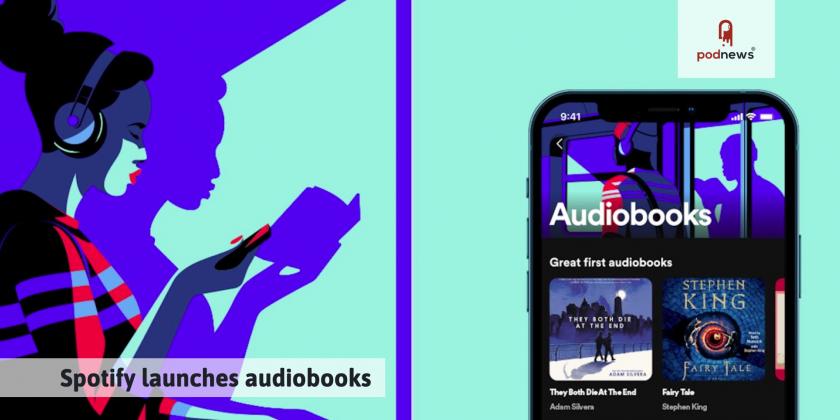 Spotify launches audiobooks
The Democracy Group has announced a student podcast fellowship, designed to help high school and college students make their voices heard on topics in democracy.
Podcast hosting company RSS Blue has added support for Alby and Fountain digital wallets for podcasting 2.0's value 4 value.
Do you want a PhD in podcasting and audio journalism? Do you like rain? You can bring those two joys in your life together at the University of Tasmania in Australia. The highlight that full scholarships are available; applications close Oct 10. (Note: since it's Australia, rain may be substituted with bushfires)
Moves and hires
Podcast News - with Lemonada Media

From Lemonada Media:
Add to Cart
is hosted by Kulap Vilaysack and SuChin Pak. From beauty products and health trends to celebrities and philosophies, they dig into anything we buy into and what it says about who we are.
Serial
released a new episode of its podcast, following the release of Adnan Syed from prison. The podcast doesn't take credit for the release; instead it notes the work of Rabia Chaudry and other campaigners, and puts the case in a wider context of US justice. The episode also replaced
The Daily
.
Who Wears the Pants
is
new from Audioboom
, featuring 'social media superstars' Josh and Abbie Herbert. The show looks at what happens when Abbie Herbert, an international fashion model, and Josh Herbert, a touring musician, settle down in the suburbs and experience life after marriage and having a baby.

Demand for skilled workers remains at an all-time high despite a topsy-turvy economy.
Hire Learning
is new,
talking with hiring managers at leading companies
, helping listeners better understand what decision makers are thinking when it comes to hiring people. It's produced for MSH, a global technology and talent solutions provider.


This is History: A Dynasty to Die For
is new from Sony Music Entertainment. Hosted by bestselling author and historian Dan Jones, it explores the story of the most dysfunctional royal family of the Middle Ages - The Plantagenets – and examines how power, greed, religion and sex fueled their lives with turmoil.

Drinks Adventures
is back for a fourteenth season, with none other than Dan Aykroyd, vodka advocate and entertainer. Dan is on the show primarily to talk about vodka, specifically Crystal Head Vodka, the brand he founded in 2008. We also get an update on his business interests in Canadian wine, and the challenges of launching the new Ghostbusters film during the pandemic.

A bite-sized podcast for kids and their adults that explains what's going on in the world,
The Ten News
has started season three with a new logo, new format, and new co-hosts. This season started with a back-to-school special and a helpful explainer of the terms used during Hispanic Heritage Month.
Number one for podcasts - Sep 21
Pod Events - with Podcast Day 24 on Oct 4
Getting
the
five
latest
events
This section is continually updated. Data: Podevents. See more and add yours, free
Latest Pod Jobs
This section is continually updated. Data: Podjobs. See more and add yours, free