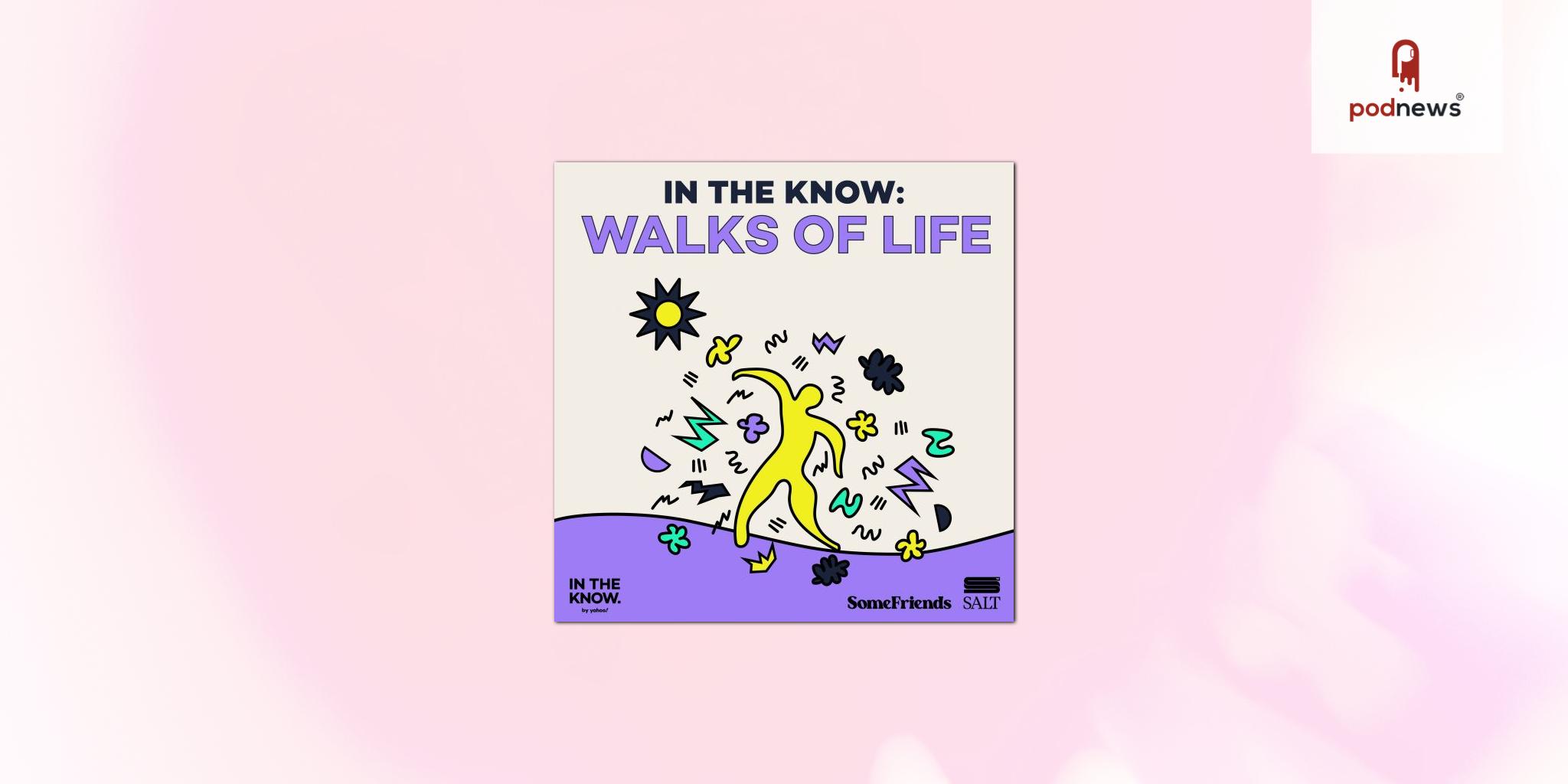 New podcast series, Walks of Life, premieres from SomeFriends and SALT
Press Release · New York, NY, USA ·
SomeFriends and SALT, in partnership with In The Know by Yahoo today announced the launch of Walks Of Life, a new ten-episode podcast series where anonymous Gen Zers share deeply personal stories, and confess their deepest anxieties and hopes for the future as they take a walk around their neighborhood. Created by Kareem Rahma, this innovative format features authentic stories told directly into the microphone by the youth of America and encapsulates all backgrounds, genders, sexualities, ethnicities and religions from big cities to small towns. Founded by media veterans Andrew Kuo and Kareem Rahma, SomeFriends launched with the conviction that BIPOC perspectives are universal stories and are working to tackle the lack of diversity in entertainment starting with audio, the fastest-growing and most vibrant media vertical.
The bold, new series offers a wide variety of topics featuring stories of gender transition while undergoing hormone therapy and voice training; a pansexual nomad living out of a car during the pandemic and the honest anecdotes from an immigrant perspective feeling the pressures to be both a devout Muslim and overachiever while living in Middle America. The 10 Gen Zers selected for WALKS OF LIFE were sent podcasting kits and given total anonymity - no script, no interviewer, no filter.
"Not only is Gen Z the most diverse and multicultural generation, they are also the only generation to grow up with 24/7 Internet and social media, making them natural born storytellers," said Kareem Rahma, SomeFriends Co-Founder and Creator of WALKS OF LIFE. "WALKS OF LIFE gives listeners the chance to 'walk a mile in someone else's shoes' and young people the opportunity to share their stories with the world."
Since SomeFriends' public launch in 2021, the team has been developing and producing podcasts that challenge and push the boundaries of audio storytelling. WALKS OF LIFE serves as their premiere podcast featuring a nontraditional, experimental and first-of-its-kind format. SomeFriends is also the company behind FIRST, an unscripted, comedy podcast hosted by Rahma where the show highlights groundbreaking people who were the 'first' to break down a racial barrier. In partnership with SALT and Lemonada Media, FIRST launches on November 1st.
"Kareem's creativity knows no bounds, and WALKS OF LIFE is a beautiful example of what is possible in podcasting. Bringing these perspectives to life in such an intimate way makes you feel the deepest empathy for the people behind the microphone. And, as a listener, there is much we can all learn," said Andrew Kuo, SomeFriends CEO and Co-Founder. "With FIRST also premiering in November, it's been the highlight of my career to know the promise of SomeFriends is now here to delight and entertain all listeners."
"At SALT we work every day to better ourselves at being able to tell stories from every corner of the globe in as magnetic and compelling a way as possible. We're extremely proud of what the team has done with Walks of Life," said Noah Gersh, SALT Chief Creative Officer. "As a whole, the series is a mosaic of what it's like to be young and alive in America today. Raw, unscripted, and most of all true to the stories of the young people it lifts up - Walks of Life is for this exact moment and we couldn't be more excited to have it out in the world for everyone to hear."
Listen
This is a press release which we link to from Podnews, our daily newsletter about podcasting and on-demand. This is reprinted verbatim; we may rewrite headlines and descriptions.
This page contains automated links to Apple Podcasts. We may receive a commission for any purchases made.