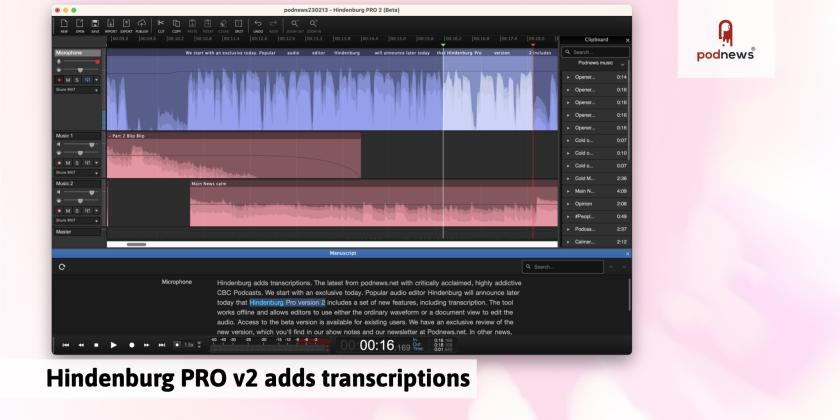 Exclusive: Hindenburg PRO v2 adds transcriptions
Exclusive: Popular audio editor Hindenburg will announce later today Hindenburg PRO v2, a new version of the editor with new features including transcription. The tool works offline and allows editors to use either the ordinary waveform or a document view to edit the audio; and transcribes English, French, Spanish, German and Danish. Access to the beta version, for existing users, will be available at this link.

Podimo is to enter the UK podcast market with more than twenty new shows. The company, which is the fastest-growing podcast subscription service in Europe, made the announcement this morning, and is working with a number of podcast studios.

Lemonada Media is to launch a new podcast with Julia Louis-Dreyfus - aiming to learn life lessons from women over 70. "In our culture, older women are rarely seen or heard. What a shame. We are missing out on the wisdom and experiences of a huge portion of the population," Louis-Dreyfus says.
Podtrics, a podcast hosting company, is to close. Owner Marc Beinder gives no reason for the closure, which will happen on Feb 28. It was launched in February last year, though by October it was only making $200 in monthly recurring revenue. The Podcast Index lists just two shows hosted by the company, and our sample has just one.

The brand new issue of Pod Bible magazine is out now, featuring interviews with cover stars Jane Garvey & Fi Glover from Off Air, and Jordan Gray from Transplaining. Johnny Vaughan picks his top 5 shows, and it also contains reviews and recommendations of podcasts you should be listening to.

Further reading: Semafor is the latest with a take on How Spotify's podcast bet went wrong. (If coming from nowhere and being #1 in most countries in less than four years is "going wrong", then what does that mean for Amazon Music, Google Podcasts or Samsung Free?) … Bianca Bush from Acast writes about why the brand-safe nature of podcasting is perfect for trustworthy, unfiltered conversations
Happy World Radio Day!
The Tech Stuff - with RSS.com
Podcast News

In the latest episode, the BBC's business podcast
The Bottom Line
asks: who is making money from podcasts, and how? Guests are Jack Davenport from Goalhanger Podcasts, Sam Shetabi from Acast, and media analyst Rebecca McGrath from Mintel.


It's 10 years since the tragic shooting at Sandy Hook Elementary School.
Still Newtown
, from WSHU Public Radio,
looks at the life of the Newtown community
, offering hope and illustrating resiliency in the face of great tragedy. The series has already had over 129,000 downloads since being launched two months ago.


The EFF's podcast,
How to Fix the Internet
, has returned for a new season. In the first episode: we can have it all – from better phones to cooler drones, from handy medical devices to fun Star Wars fan gadgets – if we're willing to share ideas and trade short-term profit for long-term advancement.

The hit podcast from Asian-American comedian and media star, Ivy Le, is back for a second season today. In
FOGO: Fear of Going Outside
, she plans to go outdoors to try hunting for food. Most nature shows like this are hosted by reckless white men, not a self-confessed "avid indoorswoman".

Democracy! The Podcast
has returned for a second season, with an in-depth miniseries on the war in Ukraine. Guests include the Mayor of Kyiv, Vitali Klitschko, and the head of President Zelenskyy's Anti-Corruption Task Force Oleksandr Novikov. It's produced by Simpler Media.
Podcast data for Feb 13
Pod Events - with Radiodays Europe 2023
Getting
the
five
latest
events
This section is continually updated. Data: Podevents. See more and add yours, free
Latest Pod Jobs
This section is continually updated. Data: Podjobs. See more and add yours, free