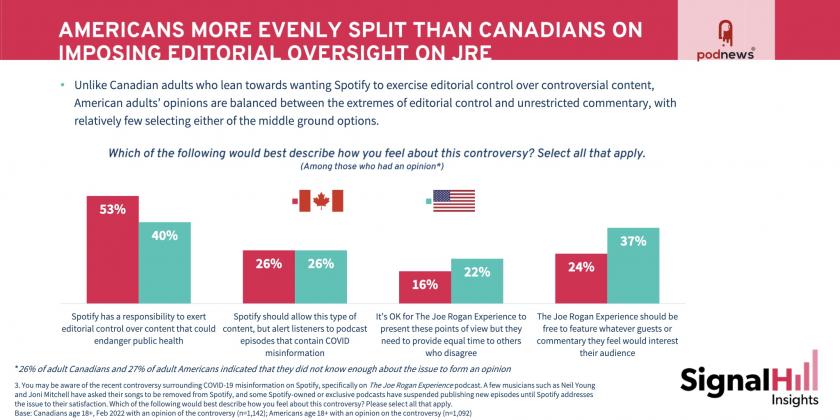 Should Spotify have editorial control? Research says yes; but opinions differ
LISTEN
· · 3.6 minutes to read
Exclusive: After the Joe Rogan controversy, 40% of Americans, and 53% of Canadians, think Spotify should exercise editorial control over controversial content. Opinions are highly polarised, however, with 37% of Americans and 24% of Canadians suggesting Rogan should be free to feature whatever guests or commentary he wants. The research, which will be released today, also shows a significant difference of opinion between listeners and non-listeners to the show; and reveals that, in Canada, 29% of paid subscribers are considering cancelling their Spotify subscription because of the controversy. The research was conducted by Signal Hill Insights, before the additional accusations of racial slurs.

Why did 70 Joe Rogan episodes disappear from Spotify over the weekend? They were removed by Rogan himself, according to a leaked note from Spotify CEO Daniel Ek. In the note, Ek also commits $100 million "for the licensing, development, and marketing of music (artists and songwriters) and audio content from historically marginalized groups". Ek adds: "I do not believe that silencing Joe is the answer".

Tickets go on sale for The Podcast Show 2022 in a week: the London event promises 350 world class speakers, inspirational content and more than 120 industry brands by day; and by night, you can expect a week-long programme of live podcast stage shows (including the Podland podcast, and possibly even a Podnews too). You can sign up to their mailing list today for the latest; we're a media partner.
Podcast News - with Quill
Pod Events
Getting
the
five
latest
events
This section is continually updated. Data: Podevents. See more and add yours, free
Latest Pod Jobs
This section is continually updated. Data: Podjobs. See more and add yours, free