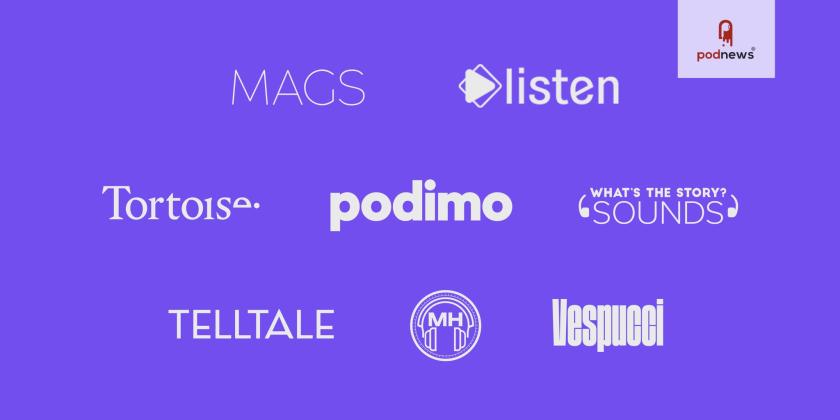 Podimo Announces Three Multi-Show UK Partnerships with Listen, Tortoise and What's The Story Sounds
Press Release · London, UK · via Carver PR ·
London, UK, Monday 13th February – Audio entertainment platform and podcast production studio Podimo has announced 20+ new podcasts made in partnership with leading UK production companies Listen, Mags Creative, Message Heard, TellTale Industries, Tortoise, Vespucci and What's The Story Sounds.
Founded in 2019, Podimo has become the fastest growing podcast subscription service in Europe, growing 5x Year-on-Year. The app is currently available in Denmark, Norway, Germany, Spain, The Netherlands, Finland, and across Latin America, and is expanding to more countries soon.
Podimo creates original content that can travel, amplifying the voices of creators from around the world, and has seen translation success across multiple markets with popular and award-winning shows like Forgotten: Women of Juárez and Murder In the North. Its previous productions in the UK include the chart-topping and award-nominated podcast The Missing hosted by Pandora Sykes, You Don't Know Me with Chloe Combi and Letters From A Killer with Sky Studios' Transistor Films.
Podimo is dedicated to celebrating and investing in local talent. Its new partnerships will deliver formats that showcase the UK's quality entertainment landscape and delve into its cultural conversations, while Podimo will also be bringing over its internationally successful European true crime and investigative podcasts.
Over the next year, Podimo will release 20+ podcast series in the UK, including:
5x weekly talent-driven series with Listen, starting with a chat series called Where's Home Really? which invites celebrity guests to examine the links between their identity, culture and heritage, hosted by author, journalist, and MasterChef food critic Jimi Famurewa.
5x weekly series with What's The Story Sounds, starting with a comedic and informative chat series hosted by Adam Kay and Matt Edmondson which explores the long list of absolutely everything that might kill you. Podimo and What's The Story Sounds have previously collaborated on The Missing which will be returning for a fifth series in 2023.
5x shows with Tortoise Media, including the previously announced weekly news series The News Meeting.
1x weekly call-in-advice show covering life, love, sex, relationships and everything else with Mags Creative hosted by Naked Attraction presenter Anna Richardson, featuring experts and celebrity guests.
1x weekly series with TellTale Industries titled Richard Wiseman's On Your Mind hosted by best-selling author and social psychologist Professor Richard Wiseman and BBC's CrowdScience presenter Marnie Chesterton.
1x limited series with Message Heard about the true story of the man who stole a piece of art from the world's most famous artist, Banksy.
1x weekly Tru**e Crime series The Darkness Vaults with Vespucci** which will make its English-language debut, having been translated across three languages to date.
Translations of Podimo's existing Nordic Noir true crime hits, including Murder In The North which has launched across 7 markets and reached Number 1 in the podcast charts in the Netherlands, Finland, and Poland.
As part of its wider UK strategy, these podcasts will be available on all podcast platforms globally via RSS.
Podimo's Global Head of Studios Jake Chudnow, said: "We've seen a great response from creators and listeners in the 3 years since we've been producing shows in the UK at a small scale. We feel the time is right to invest further in the market by collaborating with industry-leading partners and putting together a slate of exciting voices and shows that we think the UK audience will love. This is the next step in Podimo's exciting journey into the UK."
This is a press release from Carver PR which we link to from Podnews, our daily newsletter about podcasting and on-demand. This is reprinted verbatim; we may rewrite headlines and descriptions.