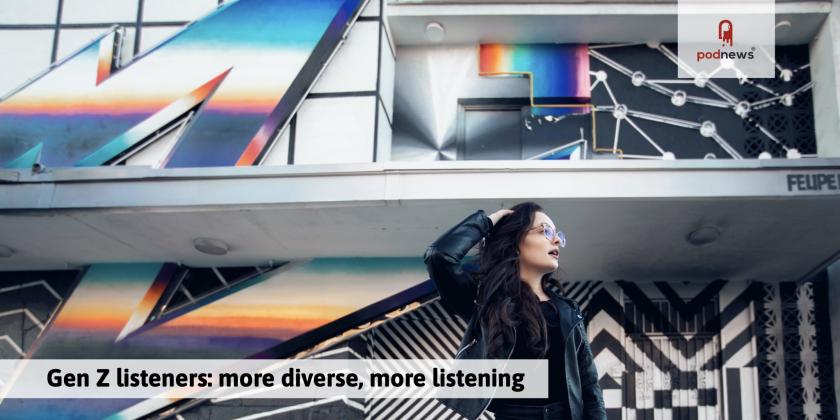 Gen Z listeners: more diverse, more listening
LISTEN
· · 3.1 minutes to read
Podnews Live
in MediaCity UK, Salford, is the first of a set of local day-long conferences that focus on sharing knowledge and networking in the business of podcasting. With speakers from Crowd Network, the BBC, MIC media and many more, Podnews Live is small enough to network, and varied enough to make sure that anyone can get the most out of the event.
Book your tickets for June 13 now
Podnews
Podnews Live
Podcast Movement
Podcast News

Media Roundtable
this week goes all international, with a new feature - the Editor of the Podcast Business Journal (and Podnews), James Cridland, talking through the week's podcast business news with Dan Granger, Neal Lucey and Jennifer Laine. The show then looks at the international growth in audio.
Podcast Business Journal



In the
Podnews Weekly Review
this week, Sam Sethi and James Cridland talk with Alban Brooke from Buzzsprout and Maxime Piquet from Ausha about their use of AI in podcasting. The title and description is produced by AI, too.
Podnews
Buzzsprout
Ausha

Gateway: Cocaine, Murder, & Dirty Money in Europe
is new from Project Brazen and PRX. The six-part podcast series from Peabody Award-nominated Project Brazen explores Europe's cocaine crisis through personal stories of cartel leaders, cops, journalists, and the victims caught in the middle.
PRX

Modern Love
, the based on the weekly New York Times column, is back for a new season. The show, hosted by Anna Martin, explores the complicated love lives of real people through conversation and storytelling.
Podcast data for Jun 2
#1 in Apple Podcasts

Scamanda (Lionsgate Sound)

Think Fast, Talk Smart: Communication Techniques (Stanford GSB)
#1 in Spotify

The Joe Rogan Experience (Joe Rogan)

RachReflects : Collective reflections on learning and living (Rachel Lim)
Over the last week, 211,925 podcasts published at least one new episode (up 1.0%). source
Events
Getting
the
five
latest
events
This section is continually updated. See more and add yours, free
Latest Jobs
This section is continually updated. See more and add your vacancies, free