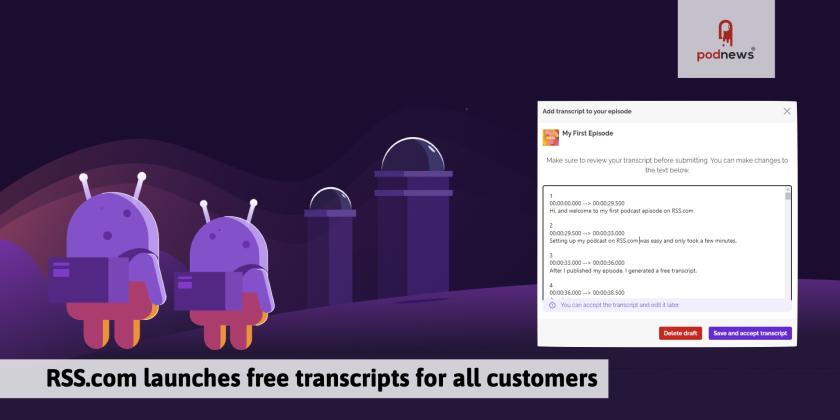 RSS.com launches free transcripts for all customers
LISTEN
· · Updated · 2.9 minutes to read
Podcast host RSS.​com is the first podcast host to have released fully free automatic transcripts for all its customers. The transcripts appear on episode pages on the RSS website, and should also appear within supporting podcast apps (like Podverse, Podbean or PodcastAddict). Users can choose different qualities, depending how fast they want the transcripts adding, and can also edit them before publication. The tool was built in-house and has been under development for a year; initially transcripts are available in English, Spanish, Arabic, Catalan, Dutch, French, German, Indonesian, Italian, Japanese, Polish, Portuguese and Turkish.

At Podcast Movement this week, CoHost will unveil B2B Analytics, a feature designed to help B2B brands and agencies uncover which companies are listening to their podcast.

CoHost Podcast Movement

Specialist audio agency Red Apple Creative, and audio post production house SNK Studios, have rebranded to Forever Audio.

Apple
Apple
Spotify
Apple Podcasts
Podcast Movement
Canadaland
Hindenburg Pro 2 beta has added Mandarin, Swedish, Norwegian and Italian to its supported transcript languages.

AdLarge has signed PANTS with Kate and Leisha to its network. It was with Acast.

Acast

Hmm: Spreaker's "free professional hosting", promised in a press release that Podnews covered on Friday, appears to be just a small tweak to the company's already existing free plan. After the press release's title, "Spreaker goes free", and the first paragraph, "Starting today, creators can use Spreaker's professional podcast platform at zero cost," we were misled into believing this was a new offer. Sorry.

Spreaker Podnews

BetterHelp, a company said to be the US's biggest podcast advertiser, has agreed to return $7.8mn to customers in an FTC settlement after it shared private health data with Facebook and Snapchat.

Alternative history: Serial was apparently only a hit because it was the subject of a parody in once-funny TV show Saturday Night Live. Really?
The Tech Stuff - with RSS.com
Podcast News
Podcast data for Mar 6
#1 in Apple Podcasts

The Coldest Case In Laramie (Serial Productions & The New York Times)

The Coldest Case In Laramie (Serial Productions & The New York Times)
#1 in Spotify

The Joe Rogan Experience (Joe Rogan)

The Joe Rogan Experience (Joe Rogan)
Over the last week, 220,072 podcasts published at least one new episode (up 1.4%). source