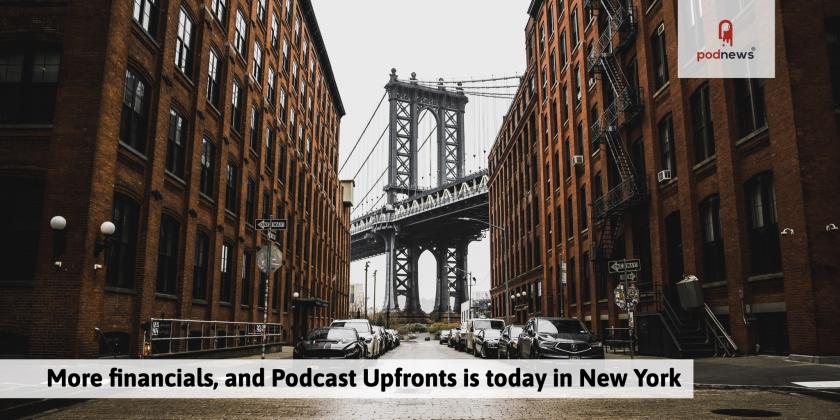 More financials, and Podcast Upfronts is today in New York
LISTEN
· · 3.8 minutes to read
Audacy published its Q1/23 financials. Excluding the loss of Crooked Media (which switched to SiriusXM in May), podcast revenues would have been up 14%; but they fell in real terms (the company didn't say by how much). However, locally-produced podcasts are the most profitable part of the business, the company said.

Crooked Media 🇺🇸 SiriusXM 🇺🇸 Audacy 🇺🇸

Meanwhile, The New York Times Company published its Q1/23 financials. Digital advertising revenue fell by 8.6%, mainly due to lower revenue from podcasts.

A correction to our coverage of Acast's Q1 financials yesterday: the announcement of a 15% staff reduction last year was, we're told, based on staffing levels in Q2, excluding Podchaser. By Q1/23, Acast staffing had reduced by 83 people, a 19% reduction. We're grateful for the correction.

Acast 🇸🇪 Podchaser 🇺🇸
In France, Paradiso Media has acquired Binge Audio, one of France's biggest podcast publishers. The combined company will have 50 employees in Paris, Los Angeles and New York, and more than 170 shows.
Paradiso Media 🇫🇷
Binge Audio 🇫🇷
Boomcaster has released v2 of the podcasting and live-streaming platform. The new version includes transcripts and closed-captions, an improved screenshare function, and automatic file generation.
The owner of The Podcast Bus, who we mentioned last month, has had $25,000 of podcasting gear stolen.
Triton Digital has entered into an agreement with Audacia, an ad network focusing on the Asia Pacific region.
Google unveiled a new household tablet with dock. During the launch the company, which owns YouTube, promoted Spotify as a way to listen to podcasts on the device. 🤦
Spotify 🇸🇪
One way to support Podnews is to subscribe to our podcast in Apple Podcasts. You get our shows ad-free, with additional content from time to time in Podnews Extra.
Apple 🇺🇸
Apple Podcasts 🇺🇸
Tips and tricks - with Podnews Live - where podcasting connects
Podcast News
Where the Internet Lives
Paid content
Guided by host Stephanie Wong, Where the Internet Lives is a Webby Award–winning podcast from Google about the fascinating world of data centers. Venture into places that very few people ever see firsthand – and learn about the technology, people, and places that make the internet run.
This season, explore how data centers change the world around us in surprising and beneficial ways. Hear stories about prairie restoration, the solar-energy boom, recycled canal water, and cities undergoing economic transformation – all enabled by data centers.
Find and follow Where the Internet Lives on Google Podcasts, YouTube, Apple Podcasts, Spotify, or anywhere you listen to your shows. The show is made by Post Script Media.
Spotify 🇸🇪
Apple 🇺🇸
Apple Podcasts 🇺🇸
Podcast data for May 11
Pod Events - with The Podcast Show 2023
Getting
the
five
latest
events
This section is continually updated. Data: Podevents. See more and add yours, free
Latest Pod Jobs
This section is continually updated. Data: Podjobs. See more and add yours, free