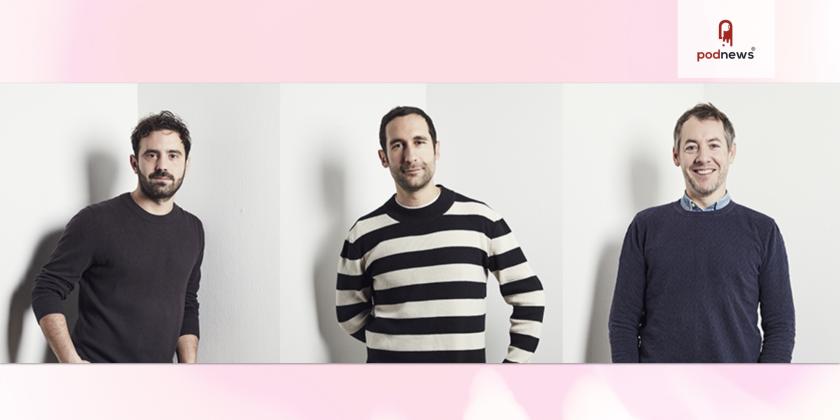 Paradiso Media acquires Binge Audio, forming a French & European podcast leader
Press Release · Paris, France ·
As the podcast market continues to grow (podcasts currently attract approximately 424.2 million active monthly listeners worldwide, with over 170 million in the United States and nearly 18 million in France), Paradiso Media is proud to announce its acquisition of a majority stake in Binge Audio, one of France's leading podcast production company/networks. Together, these two industry pioneers are poised to become a top player in the European podcast arena, offering listeners a diverse range of rich, compelling content. The combined entity forms the largest independent studio in France and is among the top 5 in Europe in audience and revenue, with more than 50 full-time employees based in Paris, Los Angeles and New York, 170+ shows including 15 owned and operated umbrella feeds and nearly 40 million downloads per year.
Founded in 2015, Binge Audio became known for its always-on documentary podcasts, with provocative audience favorites, such as Les Couilles sur la table (Balls on the Table), Le Cœur sur la table (Heart on the Table), À bientôt de te revoir (See You Soon), and Programme B. LVMH media subsidiary Groupe Les Echos, a Binge Audio minority stakeholder since 2018, collaborated closely with Binge on the production and distribution of audio content across the group's brands, helping Binge grow into a major player in the French podcasting industry with 2 million monthly downloads. By joining Paradiso Media, a company at the forefront of original podcast production and marketing, Binge Audio is seizing an opportunity to expand the podcast ecosystem in France and Europe.
Lorenzo Benedetti, CEO of Paradiso Media: "Through the acquisition of Binge audio, Paradiso Media is committed to consolidating independent podcast production in France. The union of our teams, as two major players with complementary editorial strategies, will allow listeners to access an even richer and more diversified offering. We are excited to work with the Binge teams, whose work we admire and accomplishments we salute."
Pierre Louette, Chairman and CEO of Les Echos – Le Parisien Group: "A heartfelt thank you to the Binge Audio team whose work was instrumental in establishing our company in the field of podcasting. We are also proud to have played a role, for five years, in the growth of Binge Audio. Its alliance with Paradiso Media bodes well for the future, not only for this new union, but more broadly for French podcast production."
Joël Ronez, President and Co-founder of Binge Audio: "A new era is dawning for Binge Audio, which has the opportunity to join a group that will evolve at the forefront of European podcasts. We look forward to bringing our expertise to bear in furthering the ambitions of Paradiso."
About Paradiso Media
Founded in 2019 by Lorenzo Benedetti, Louis Daboussy and Benoit Dunaigre, Paradiso Media creates original fiction and documentary podcasts, intended for adults and young people around the world. Through drama, comedy, intimacy, suspense, science fiction, youth culture, and more, the studio explores new creative territories, but also questions our societal norms and values.
Paradiso has produced more than 110 podcasts, including In the Ring with Daisy King, The Baker Street Four, Seventeen, A Gay in the Life, Love Under Lockdown, 75019 DAECH, Styx, Frootch, Free From Desire, The B52 Affair, Chosen, and Cornebidouille through partnerships with Spotify, Audible, Paramount, Stitcher, Deezer and Sybel, among others.
Paradiso Media has doubled its revenue every year since its formation. With a team based in the United States since 2020, Paradiso Media generates more than 30% of revenue abroad.
About Binge Audio
Binge Audio was founded in 2015 by Joël Ronez (president), Gabrielle Boeri-Charles (general manager) and David Carzon (editorial director). The company produces original audio content for a mobile and connected generation: an ambitious slate of podcasts that talk about today's world, offering perspectives on culture, emotion, and artistic choices. Binge Audio produces, publishes and broadcasts its podcasts online on all platforms: Apple Podcasts, Podcast Addict, Castbox, Google Podcasts, PocketCasts, Spotify, Deezer, YouTube, SoundCloud, Sybel, Amazon Alexa, and Google Home. In addition, Binge Audio produces podcasts for brands, institutions, and media platforms. Binge also has a publishing arm, launched in 2019.
About Groupe Les Echos – Le Parisien
A media subsidiary of the LVMH Group, Groupe Les Echos – Le Parisien reaches 25 million readers each month across all of its brands, including more than 20 million online. Now a media tech company, it boasts over 700 journalists in its newsrooms. Its news portfolio consists of the Parisian Today (one of the most powerful news brands in France) and Les Echos (the leading daily business publication), as well as thematic media, including finance (Investing, Boursier.com, Better Living Your Money), classical music (Classical Radio, Mezzo, Medici.tv, EuroArts) and art (Connaissance des Arts, InFine Edition, Citadelles & Mazenod, Paris Fine Arts, Salon du Dessin).
This is a press release which we link to from Podnews, our daily newsletter about podcasting and on-demand. This is reprinted verbatim; we may rewrite headlines and descriptions.