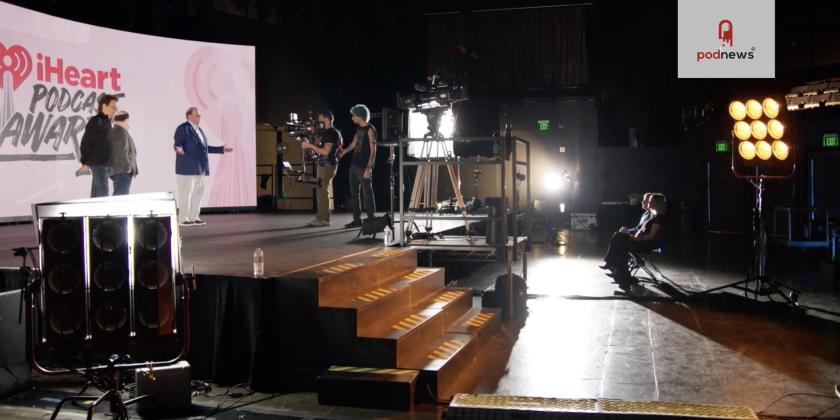 iHeartMedia Celebrates The Best in Podcasting During The Fifth Annual iHeartPodcast Awards
Press Release · New York, NY, USA · via iHeartMedia ·
Tonight, the fifth annual iHeartPodcast Awards hosted by actor and comedian Brian Baumgartner brought together the most influential names in podcasting to honor the most entertaining and innovative podcasts of 2022, celebrating the incredible talent and wide variety of leaders across the podcasting industry. The virtual awards event was exclusively video streamed on iHeartRadio's YouTube Channel and Facebook Page and broadcast across iHeartMedia radio stations nationwide and on the iHeartRadio app.
The night featured a variety of appearances by award nominees, celebrity presenters and special guests including Jason Alexander and Peter Tilden, Jason Bateman, Sean Hayes and Will Arnett, Mayim Bialik, Alex Borstein, Zach Braff and Donald Faison, Nicole Byer, Charlamagne Tha God, Colin Cowherd, Bob Costas, Malcolm Gladwell, Draymond Green, Bethany Joy Lenz, Matt Rogers and Bowen Yang, Enrique Santos, Iliza Shlesinger, Questlove, Angela Yee and more.
Host Brian Baumgartner kept one lucky audience member entertained throughout the night with hilarious comedic skits about chili, celery and bone breaking and of course, podcasting.
The full list of 2023 iHeartPodcast Awards winners are:
Social Impact Icon Award: Dr. Laurie Santos and Dr. Joy Harden Bradford
Audible Audio Pioneer Icon Award: Kara Swisher
Innovator Icon Award, presented by Planet Oat Oatmilk: Ashley Flowers
Best Overall Host: Nicole Byer
The 2023 iHeartPodcast Awards is part of iHeartMedia's roster of nationally recognized events including the iHeartRadio Music Awards, the iHeartRadio Music Festival, the nationwide iHeartRadio Jingle Ball Concert Tour, iHeartRadio Fiesta Latina, iHeartCountry Festival, iHeartRadio ALTer Ego and iHeartRadio Wango Tango.
Executive producers for the 2023 iHeartPodcast Awards are John Sykes, Tom Poleman, Conal Byrne and Bart Peters for iHeartMedia, and Deviants Media Studio founder Ivan Dudynsky and show runner Jayson Belt. Proud sponsors of this year's event include Audible, Autonomy, Planet Oat Oatmilk and Progressive Insurance. More information can be found at iHeartPodcastAwards.com.
This is a press release which we link to from Podnews, our daily newsletter about podcasting and on-demand. We may make small edits for editorial reasons.