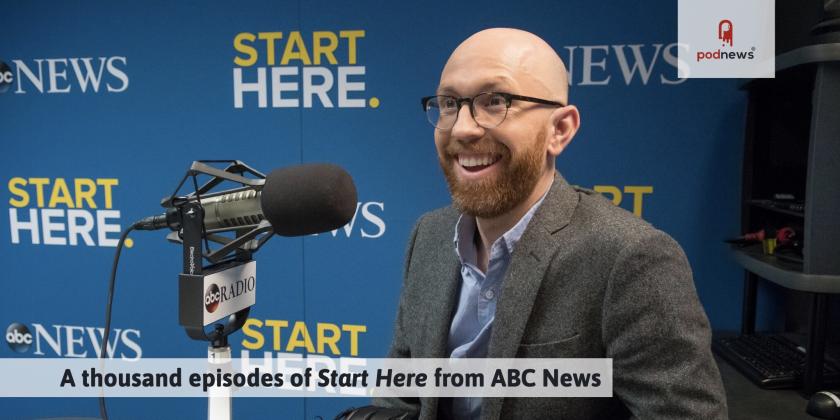 A thousand episodes of Start Here from ABC News
LISTEN
· · 4.2 minutes to read
Caila Litman writes for Sounds Profitable this week with Gumball, looking at Good Data - highlighting growth in younger audiences and why listeners find podcasting compelling.
In the US, the flagship podcast from ABC News, Start Here, marks 1,000 episodes today. Since its launch in March 2018, the podcast's host, Brad Mielke, has interviewed the country's biggest newsmakers and earnt an Edward R. Murrow Award for Excellence in Innovation. Speaking to Podnews, he said he's learnt "how much importance simple facts carry … Facts needs to be the most important thing you're imparting. … It's a big deal."

Apple Podcasts has launched "Listen With", a podcast playlist service to help listeners discover new shows. The first podcast guide is Jay Shetty; creators can request to be included in Spotlight, Listen With, and Kids & Family using this form.

Podca$h is giving $100,000 to budding podcasters, offering sponsorship to US podcasters. You've until March 4th to apply.
Moves and hires - with Pod People
Tips and tricks - with Podpage
Podcast News - with Quill
Share your work with the internet's best
Paid content
Prove you're the best at Podcast production. Enter the 26th Annual Webby Awards. Your last chance to enter is Friday, February 11th, 2022!
For over two decades, The Webby Awards has honored the creativity and ingenuity around the world. Just by entering, you show that your team can compete with the most impressive media companies, brands and leaders in the industry. Past winners include Crooked Media, Vox Media, WNYC, Wondery, Pineapple Street Media, and beloved shows like Keep It!, Why Won't You Date Me, And That's Why We Drink, Tai Asks Why and more.
To honor your work in the 26th Annual Webby Awards, enter by the Extended Entry Deadline on Friday, February 11th, 2022!
Pod Events
Getting
the
five
latest
events
This section is continually updated. Data: Podevents. See more and add yours, free
Latest Pod Jobs
This section is continually updated. Data: Podjobs. See more and add yours, free