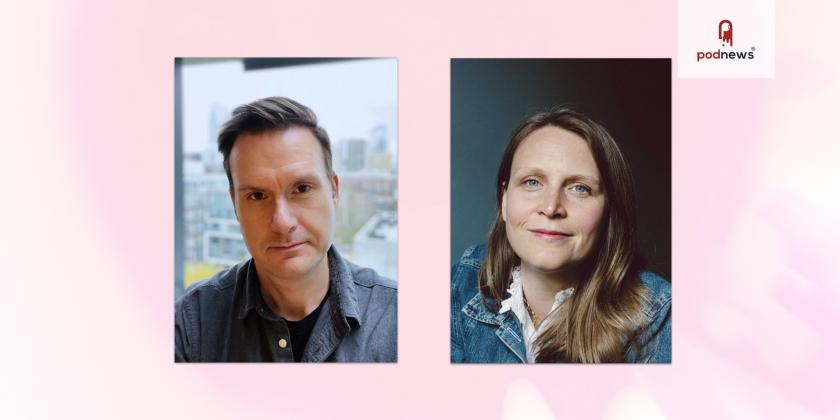 Podcast company Blanchard House signs with WME, hires doc producer Laurence Grissell
Press Release ·
WME has signed Blanchard House, an independent podcast company telling true stories that have the power to endure.
Founded in 2021, the team is made up of Co-Founder and CEO Kimberly Jung, Co-Founder and Creative Director Rosie Pye and Co-Founder and Host Alex Wiltschko.
Pye, pictured above, previously worked at the BBC and The Economist, while Wiltschko hosts Google Ventures' podcast, Theory & Practice.
The company already secured a $1 million seed investment last November and set up a partnership with THE SHRINK NEXT DOOR podcast Journalist and Presenter Joe Nocera. The team has won many industry awards and produced flagship shows including STORIES OF OUR TIMES, BEYOND TODAY, HOME BABIES, MURDERABILIA, PSEUDOCIDE and more.
In addition, Blanchard House has hired multi award-winning Producer in the BBC's Documentaries Unit, Laurence Grissell (above), who will be joining the team in March, as Head of Content.
His shows include THE CALIFORNIAN CENTURY, WIRELESS NIGHTS and THE UNTOLD. He's the winner of Prix Italia, as well as recipient of two awards from the Third Coast International Audio Festival.
He joins a team of 14 acclaimed UK Producers drawn from The Economist, BBC and The Times of London, to create journalism-rich mini series for the US market.
The company continues to be represented by Scott Goldman of FKKS (Frankfurt Kurnit Klein & Selz) and William Schnoor of Goodwin Procter.
This is a press release which we link to from our daily newsletter about podcasting and on-demand. This is reprinted verbatim; we may rewrite headlines and descriptions.