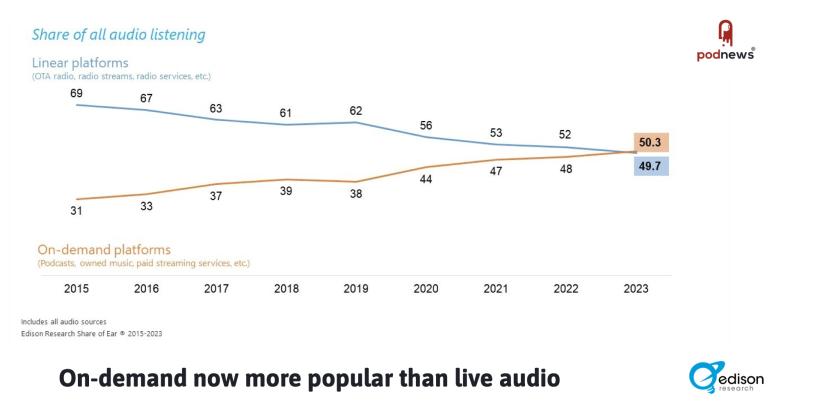 On-demand now more popular than live audio
LISTEN
· · 2.3 minutes to read
For the first time ever, Americans are listening to more on-demand audio (like podcasts and music services) than live, linear audio (like radio), according to data from Edison Research released this week. Larry Rosin, the company's President, says that though there will always be a place for linear radio, the trend will continue into the future.

Edison Research

What happens when Elon Musk mentions your podcast? Last week, a day after we mentioned it in Podnews, apparent Podnews reader Elon Musk (hi Elon) tweeted about Airwave's The Explorers Podcast, in a tweet that got 18 million views. Rephonic looks at the numbers to see what happened next.

Podnews

Business, true crime and comedy are the top categories increasing for podcast ad spend, says MediaRadar in a new study released this week. True crime podcasts might be mostly about murder, but brand suitability tools haven't stopped the category seeing the second highest growth in ad spend, rising 26% year-over-year.
Google
Tips and tricks - with Pod Predictor by Coleman Insights
Podcast News - with Airwave
Podcast data for Aug 25
#1 in Apple Podcasts

Over My Dead Body (Wondery)

The Trial of Lucy Letby (Mail Metro Media)
#1 in Spotify

The Joe Rogan Experience (Joe Rogan)

The Joe Rogan Experience (Joe Rogan)
Over the last week, 192,578 podcasts published at least one new episode (up 0.3%). source
Events
Getting
the
five
latest
events
This section is continually updated. See more and add yours, free
Latest Jobs
This section is continually updated. See more and add your vacancies, free