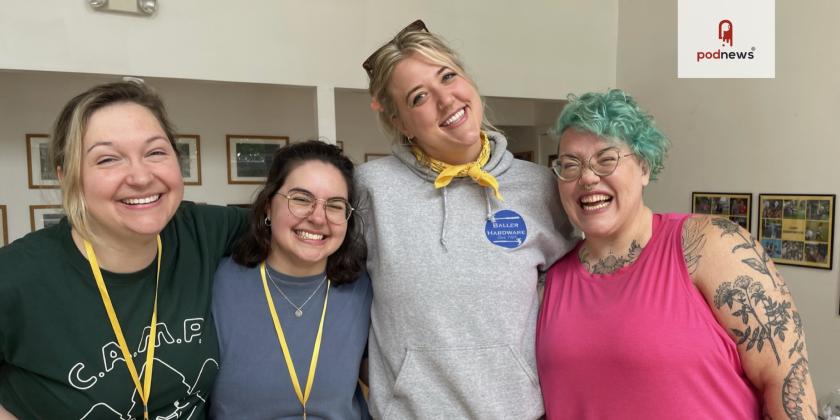 Feminist Production Company Launches Material Girls, a Scholarly Podcast About Pop Culture
Press Release ·
The team behind beloved feminist podcast Witch, Please has launched a new flagship show, Material Girls, a scholarly podcast about pop culture.
Upon the conclusion of an eight-season run of Witch, Please (a podcast teaching critical theory through Harry Potter), hosts Hannah McGregor and Marcelle Kosman turn their academic expertise towards new objects of study in the zeitgeist.
For fans of Witch, Please and shows like Pop Culture Happy Hour, Maintenance Phase and You're Wrong About, Material Girls offers a fresh approach to discussing pop culture of the past and present by asking: Why this, why now? Why do we like what we like, and what can pop culture teach us about how the world works?
"In every episode we begin with a piece of pop culture that has been a major part of the zeitgeist, whether that's the Queer Eye reboot in 2018 or Barbie dolls in the 90s, and then we ask what was happening in the world at that moment that drew us to that piece of culture," says McGregor, host of Secret Feminist Agenda and author of A Sentimental Education. According to Kosman, who also co-hosts Gender Playground, "Our favorite part of podcasting is how it brings together the best of our work as feminist researchers and scholars by allowing us to map out the often-invisible webs of influence that make up the zeitgeist, while making complex theory accessible to mainstream audiences."
Together, the veteran hosts offer a fun and insightful approach to pop culture, bringing the best of what their previous show had to offer and expanding the reach of what they discuss from episode to episode.
Material Girls launches July 25th with a deep dive into Prince Harry's memoir, Spare, and Tender Masculinity. The first season also features episodes on Avatar, Bridgerton, and Oxford English Dictionary's 2022 Word of the Year, 'Goblin Mode.'
Material Girls is produced by Witch, Please Productions: Creating feminist media for a radically inclusive world.
Listen
This is a press release which we link to from Podnews, our daily newsletter about podcasting and on-demand. We may make small edits for editorial reasons.
This page contains automated links to Apple Podcasts. We may receive a commission for any purchases made.