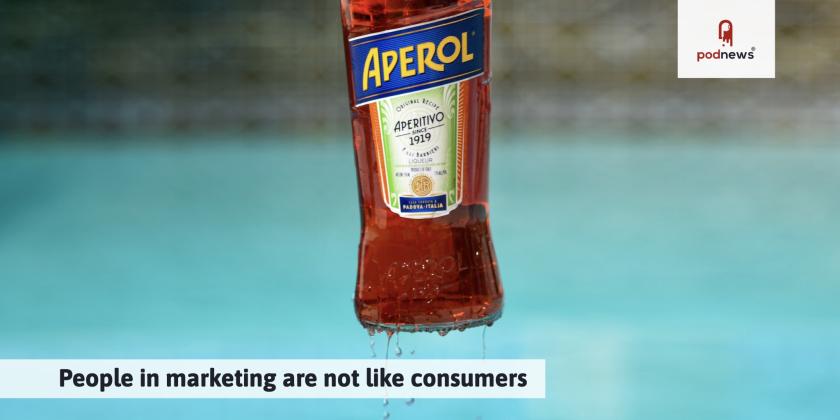 People in marketing are not like consumers
LISTEN
· · 3.9 minutes to read
Have you heard of an Aperol Spritz? 50% of all consumers haven't: but almost every marketer knows about the Italian wine-based cocktail. It's one example, according to new research from Pushkin Industries and iHeartMedia, of marketers increasingly not understanding the consumers they're trying to reach. The data claims that marketers often chase the 'shiny and new' at the expense of reflecting the values and priorities of real consumers.

Pushkin Industries

The data also says that snacks and podcasts are the two hardest things for consumers to give up. The hardest thing for marketers to give up was… online shopping.

Podcast Movement has released video and audio recordings from PM23. They're available to all Plus, Pro, and Virtual ticket holders. Find links in Swapcard.

Alitu has launched the Alitu ShowPlanner, an entirely AI-powered tool that auto-generates an entire podcast action plan for free. It also has a podcast name generator and an auto-generated script for the show's initial trailer.
SMI data from Guideline, which captures agency invoicing data, says that podcast ad spend grew +57% in Q2 YoY, with overall digital audio up +6%. Host-read podcast placement spend is up +91% in Q2 YoY.

Nearly 1 in 4 podcast dollars were spent in the tech category.
Travel Services and Wellness both more than quadrupled last year's investment.

In the UK, Persephonica launches Political Currency today - a new political podcast to compete with Goalhanger's The Rest Is Politics and the company's own The News Agents. The show is hosted by George Osborne, a former UK Chancellor, and Ed Balls, Shadow Chancellor (positions similar to the Treasury Secretary in the US).

Persephonica

Jack Rhysider has added "up to date podcast stats for my podcast on my website" - using an API from AdvertiseCast. He adds that it's been a five-year project, and demands better tools from podcast hosts.

AdvertiseCast

The better tools he's demanding? OP3, which is open and free; here are our stats and those of many others. We'd agree that an API into Apple and Spotify's proprietary data would be useful, though.Apple

Coleman Insights has launched a new brand lift study service. Called Ascend℠, it allows advertisers to assess the performance of their creative and overall campaign.

Bucking the trend, financial newspaper The Economist is adding a new Podcasts+ subscription tier; and moving almost every show behind the paywall. The Intelligence will remain free. Current subscribers will get included access.

CBS News and Paramount Audio announced a Q3/23 slate of new and returning shows.
Podcast News - with Airwave
Podcast data for Sep 14
#1 in Apple Podcasts

After Bedtime with Big Little Feelings (Audacy and Big Little Feelings)

After Bedtime with Big Little Feelings (Audacy and Big Little Feelings)
#1 in Spotify

The Joe Rogan Experience (Joe Rogan)

The Joe Rogan Experience (Joe Rogan)
Over the last week, 204,583 podcasts published at least one new episode (up 1.5%). source
Events - with Podnews Live: where podcasting connects
Getting
the
five
latest
events
This section is continually updated. See more and add yours, free
Latest Jobs
This section is continually updated. See more and add your vacancies, free