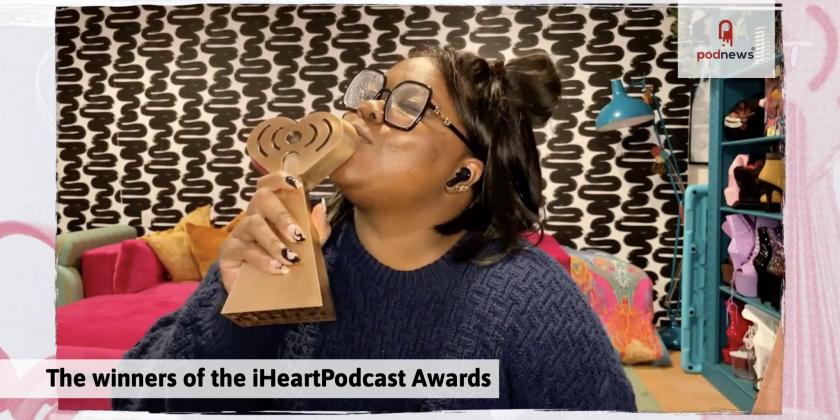 The winners of the iHeartPodcast Awards
LISTEN
· · Updated · 3.3 minutes to read
The iHeartPodcast Awards were announced in New York, hosted by actor and comedian Brian Baumgartner. The Podcast of the Year Award went to Las Culturistas, but in our list of the winners, which includes links, production companies and podcast hosts, you'll see that out of 28 awards, iHeart won four (similar to last year). Unlike last year, no Spotify shows won any award; only two were nominated.

Spotify

The Podcast Show 2023 in London has announced a number of speakers, including Adam Buxton, The News Agents, Nish Kumar and Alice Levine. Our Editor will also be speaking. Use code PODNEWS for a discount!

Agreements: Audacia has signed with AdsWizz to represent marketplace ad inventory across streaming and podcasts in Asia … Backyard Ventures has signed with Libsyn's Automatic Ads to help monetise their content.
Moves and hires
Tips and tricks - with Phantom Producer
Podcast News - with Left Over
Podcast data for Mar 15
#1 in Apple Podcasts

The Deck Investigates (audiochuck)

The Deck Investigates (audiochuck)
#1 in Spotify

The Deck Investigates (audiochuck)

The Joe Rogan Experience (Joe Rogan)
Over the last week, 222,339 podcasts published at least one new episode (up 0.5%). source