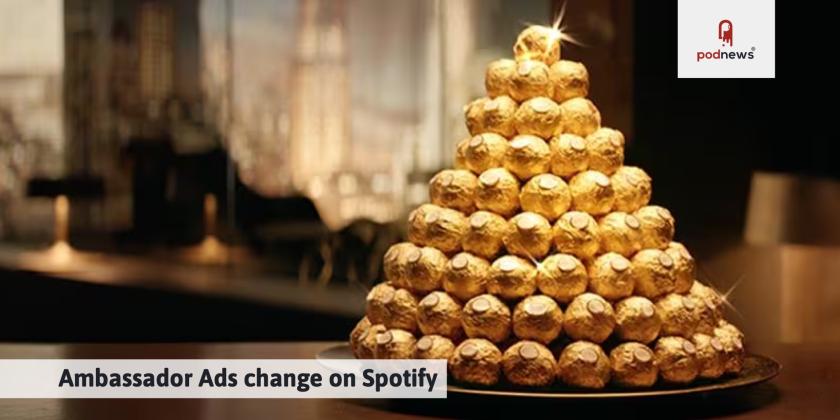 Ambassador Ads change on Spotify
Spotify has changed the eligibility for the company's Ambassador Ads that can be used to earn money from podcasts. From Oct 1, creators must have 1,000 unique Spotify listeners within the past 60 days to qualify (the old limit was 100), and "we will limit the types of content eligible for this program", the company has said.

Spotify

The company is also to introduce "a new revenue share model for creators using Automated Ads". We've no more detail as yet on that; they're being expanded outside the US.

Remote recording tool Zencastr has launched an iOS app for paid customers. The company has also launched ZenAI, an AI-driven clips creator for social platforms, for $299 a month.

Another former Kast Media creator has spoken out against the company. Hawk vs Wolf's Jason Ellis posted on Instagram that the company "had decided to not pay us the money that they owe us".

Last night Podnews spoke with Kast Media's Colin Thomson, who told us that he has no confirmed future role at LiveOne, who are acquiring many Kast Media shows: and that his aim with the deal was to help creators as much as possible given the circumstances.Podnews
Podnews
Podtrac measured 9.2% of all episodes released in August. It's the highest share for the company ever. Spotify's trackers are measuring 7.4%.
Spotify has announced a new masterclass about "building a loyal fanbase". It's on Wednesday at 12pm ET, and is expected to focus on Spotify's interactivity tools.
Spotify
Podshorty, a tool to "turn any YouTube video into an AI-summarized podcast" which we mentioned last month, has closed and refunded its users.
YouTube
Moves and hires
The Tech Stuff - with RSS․com
The Podcast Index has released the Podcasting 2.0 Music Top 100, a list of songs played in podcasts and their earnings. The top track by Corey Keller earnt $171 during the measured period.

Taddy's podcast API has enhanced its search functions, allowing searching by phrase and date. "Our most frequent search queries were for names", the company says.
Podcast News - with Airwave
Podcast data for Sep 4
#1 in Apple Podcasts

Strike Force Five (Strike Force Five)

Strike Force Five (Strike Force Five)
#1 in Spotify

Strike Force Five (Strike Force Five)

Strike Force Five (Strike Force Five)
Over the last week, 197,009 podcasts published at least one new episode (up 1.7%). source
Events
Getting
the
five
latest
events
This section is continually updated. See more and add yours, free
Latest Jobs
This section is continually updated. See more and add your vacancies, free