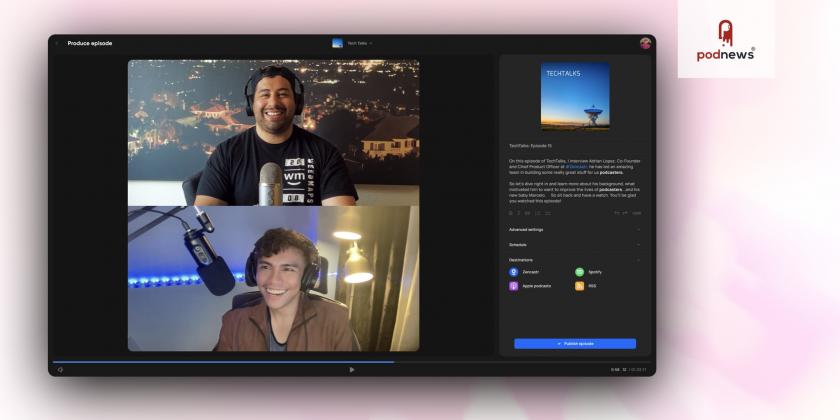 Zencastr Announces General Availability of the First End-to-end Video Podcasting Platform
Press Release · Dallas, TX, USA ·
Today at Podcast Movement in Dallas, Zencastr announced the general availability of the first end-to-end video podcast platform targeted at creators and brands around the world. Zencastr also released new features, including remote HD 4k video recording, team plans, distribution, monetization and more. Now Zencastr creators – creatives, brands, agencies, and more – are able to record, edit, launch and host podcasts quickly and easily, all in one centralized end-to-end platform.
The podcasting industry has grown at an exponential pace over the past two years and experts do not foresee a slowdown – the Interactive Advertising Bureau predicts it will be a $4 billion industry by 2024. Demand for podcasts and technology advancements in podcast creation, such as the addition of video, are accelerating investment from advertisers and brands as they find new and innovative ways to reach new audiences.
"Zencastr has always been a home for audio podcasters and we are very excited to help them expand their reach through video distribution," said Josh Nielsen, founder and CEO of Zencastr.
With the release of this new audio-to-video technology Zencastr is enabling audio podcasters to reach larger audiences than ever by helping them distribute to major video consumption platforms.
"At Zencastr, we believe the future of podcasting depends deeply on helping podcasters easily create and find their audience. Our platform was built by the creator, for the creator – we make it simple for anyone to record, edit and launch high-quality studio level podcasts quickly and easily from anywhere. By launching our platform and video offering to all, we are lowering the barrier to entry and making it even easier for anyone around the world to create high-quality video podcasts to grow their audience quickly," Nielsen continued.
Now, as part of the Zencastr platform, podcast creators have access to new features, including:
Record in HD 4k Video
High quality HD 4k remote video recording (premium feature)
Audio-only recording if preferred
Solo recording or the ability to record with up to 12 guests
Edit Audio and Video
Automated editing using smart filters (premium feature)
Ability to convert audio-to-video for increased engagement
Post-production AI technology for professional sound in seconds
Host and Distribute to Major Players
Audio and video hosting on all major directories that support secure RSS
Distribute to Spotify, Apple and Google podcasts
Unlimited storage and audio downloads
Monetize and Unlock Brand Opportunities
Connect with, accept or deny prospective advertisers
Ad Campaign attribution and tracking
Access "boosts" to grow reach of your podcast/shows
Self-service analytics and real-time performance data and insights
"Since the beginning, we have been on a mission to address some of the toughest podcast creation challenges – notably the fragmentation that exists in the market today. With Zencastr's latest product release, we are saving podcast creators time and money by consolidating 14+ tools into one platform. Without Zencastr, it can take six hours to publish a single episode. Now they can now get up and running in just a few clicks, which can mean hundreds of hours saved annually," said Adrian Lopez, Chief Product Officer and co-founder of Zencastr.
Since Zencastr was founded, the company has continued to expand its product offering over the years to deliver the highest value to podcast creators of all levels. Today the company rolled out new pricing tiers with varying levels of functionality for premium individual and team plans: https://zencastr.com/pricing.
As part of Zencastr's commitment to creator growth on the network, the company also introduced the Zencastr Creator Network – a podcast advertising program designed to accelerate monetization for creators and accelerate advertising opportunities for brands. Zencastr has tested its podcast ad solutions with a variety of top 10 podcast ad agencies and top 20 podcast ad brands. Creators can apply to join the Zencastr Creator Network today by submitting an application at zencastr.com/creator.
To learn more about Zencastr's platform and the Zencastr Creator Network, please visit: https://zencastr.com/.
Zencastr will be exhibiting at Podcast Movement in Dallas August 23-26, 2022 (booth 610).
About Zencastr
Zencastr is an end-to-end podcast creation software company used by thousands of creators globally, including many of the largest brands in podcast advertising. Its centralized platform makes it easy for creators to record, edit, launch and host podcasts in just a few taps, and access a whole suite of self-service analytics and monetization tools. Since 2014, Zencastr has been on a mission to empower creators around the world with studio quality podcast recording software. Today Zencastr creators are recording hundreds of thousands of hours per month and in more than 150 countries around the world. To learn more about Zencastr, please visit https://zencastr.com/ and follow the company on Twitter, Instagram, Facebook, LinkedIn, TikTok and YouTube.
This is a press release which we link to from Podnews, our daily newsletter about podcasting and on-demand. This is reprinted verbatim; we may rewrite headlines and descriptions.